New York Mets' starting catcher Travis d'Arnaud enters the 2017 season with a revised batting stance. Will that translate to more success?
O
ne of the bigger let downs for the
New York Mets
in 2016 was the lack of production from catcher
Travis d'Arnaud
. In 2015, Travis proved he had the potential to be a real star in this league, but 2016 was a different story.
TDA had a very underwhelming hitting performance last season. Let's take a look at some of his batting statistics from 2016:
BA: .247
HR: 4 (a home run every 63 at bats)
RBI:15
162 game pace (played in 75 games):
This spring, it appears as if something has clicked for Travis. Although it is a smaller sample size, let's look at his spring production:
In 217 fewer at-bats, d'Arnaud has already reached 50 percent of his home run total and 40 percent of his RBI total for all of 2016.
What (thankfully) happened?
The "bat wrap" TDA implements in his batting stance (bat pointed toward pitcher before the pitch, causing him to have an extremely long swing), appears to have disappeared. While watching extensive film with new coach Glenn Sherlock, the two made the discovery that almost every single bad at-bat Travis had last year, he was wrapping his bat.
Before: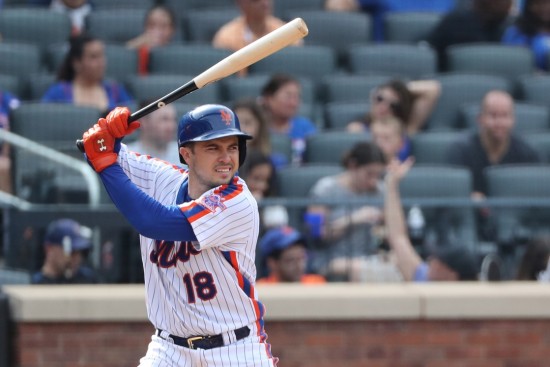 Notice how the bat is pointed toward the pitcher, causing him to need to wrap the bat around his body when he swings.
After: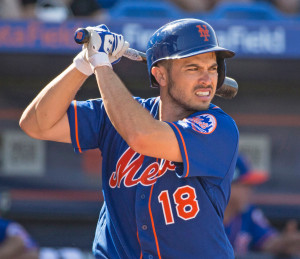 The bat wrap is an issue not only because it causes Travis to have such a long swing, he also was unable to make solid contact on balls on the outer half of the plate.
But, with the significant improvement in batting production already this spring, and d'Arnuad saying, "I know now where to start my hands to stay consistent," it appears as though the Mets have got their catcher back, via Kevin Kernan of the New York Post. 
The Mets desperately need this to be true. The catching position was a black hole in the Mets lineup last season. In order for the Amazins to overtake the Nationals in the NL East, they must get better production from the catcher position.
To put it into perspective, in 131 games last season, Washington Nationals catcher Wilson Ramos posted the following batting statistics:
These numbers, compared to the offensive production in which the Mets received from the catching position, are almost un-comparable.
Hopefully, the offensive numbers Travis d'Arnaud is producing this spring will reciprocate to the regular season. If they do, the Mets can expect him to have a huge season.