The 2017 season for the New York Jets has already had many ups and downs. With half the season almost already gone, what have we learned?
The New York Jets have an incredible history of snatching defeat from the jaws of victory. The losses the Jets have suffered the last two weeks are nothing new to Gang Green fans that have watched this team since they were in diapers.
I know those fans. Fans who cried their eyes out at seven years old when Richard Todd was intercepted by Bill Simpson to end the 1981 Wild Card Game at Shea Stadium. Fans who were emotionally distraught when Mark Moseley ended the Jets season with a field goal in double overtime in the 1986 Divisional Round. With four minutes remaining in that game, they were celebrating at 10-point lead and a trip to the AFC Championship Game. Such memories can permanently scar a young fan's heart.
After their Week 5 win over the Cleveland Browns gave them a 3-2 record and a share of first place, fans started to think positively. For fans of the New York Jets that is a very, very dangerous mindset to have.
If you ask any real long-time, long-suffering New York Jets fan what it is like to root for this franchise, the majority of them would warn you to never brag. Never assume. Never get comfortable. Never celebrate until the game clock hits zero.
What made the last two losses so hard for the New York Jets fan to take is the similar consequences that this franchise is forced to deal with. Last week it was horrible officiating. This past Sunday it was horrible offensive playcalling that led to blowing their first 14-point fourth quarter lead since 1995.
Sunday marked just the second time in the Jets' 58-year history that they lost a road game in which they led by 14-or-more points in the fourth quarter.  The Jets' only other loss of that type came just over 50 years ago, in the 1967 season opener at Buffalo. Until Sunday's loss in South Florida, the Jets had won the last 69 road games in which they held a fourth-quarter advantage of 14-or-more points.
While that might seem like an impressive stat, keep in mind that this is a franchise that has blown a lead of 21 points four times and 18 points twice at home in their history. That is a big reason why New York Jets fans have such emotional experiences when things start to turn against them.
For the longtime New York Jets fans, they are constantly aware of the consequences of the damage that looking forward to something can do. Perhaps no better example of this was the New York Jets 1999 season.
After winning their first division title since the NFL-AFL merger and losing to the Denver Broncos in the 1998 AFC Championship Game (which they held a 10-0 third-quarter lead), great things were expected out of the 1999 New York Jets.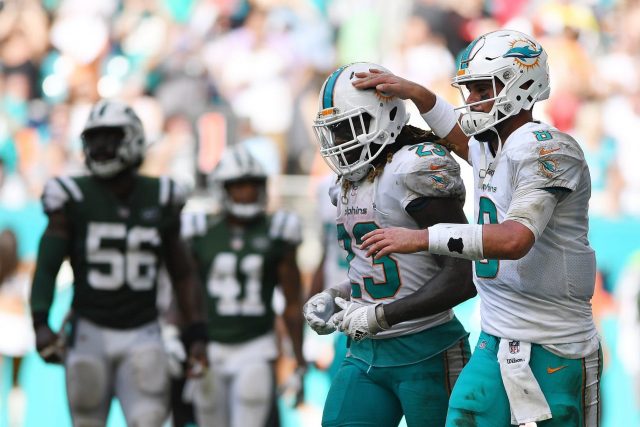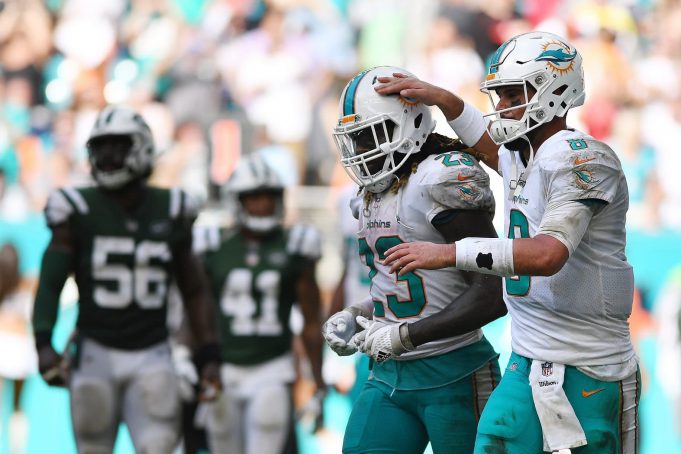 They had a Hall of Fame coaching staff led by Bill Parcells and Bill Belichick. Charlie Weis was an outstanding offensive coordinator. Vinny Testaverde was coming off an incredible 1998 season in which he threw 29 TD and just 7 INT in winning 13 of his 15 starts (includes postseason). They had offense weapons at WR (Keyshawn Johnson and Wayne Chrebet), running back (Curtis Martin and Leon Johnson) and a great offensive line led by center Kevin Mawae.
Their defense was the perfect mixture of veterans, playmakers and role players and coached by Belichick, who always seemed to come up with a game plan to hide any deficiency.
However, in just the second quarter of their season opener, Curtis Martin fumbled, which led to Testaverde reacting to try and recover it and tearing his Achilles. Unlike the previous seasons where the Jets had capable backups (1997 they had Glenn Foley and 1998 they had Testaverde), Parcells gambled that Testaverde would not get hurt (he had made at least 13 starts in 11 of his previous 13 seasons). Thus, he didn't have a capable backup to plug in if an injury occurred. Instead, Rick Mirer, who had just been acquired on August 21 and had little knowledge of the Jets offensive playbook, was forced into action.
What should have been a Super Bowl season turned into a 1-6 start. In what actually would be Parcells best coaching job, the Jets did turn their season around and finished 8-8. However, it was not good enough to make the postseason.
Why am I saying this? Why the horrible trip down memory lane? My point is that this franchise usually finds a way to embarrass and humiliate their fan base over and over again. Young Jets fans that proudly wear their gear to school these days are horribly mocked by Patriots and Giants fans, who have won seven combined Super Bowls since 2000.
Is there any good news? Yes. Jamal Adams and Marcus Maye definitely look to be the real thing. A big reason for Sunday's loss was the short field that Miami had on their TD drives (42 and 54 yards). Perhaps if the New York Jets offense was more efficient in the fourth quarter (13 plays for -22 yards), the Jets defense would have had more chances to force a turnover.
This roster is still young enough to learn from their mistakes. As much as New York Jets fans love to live in the past, there is hope for this franchise. Despite being in his third season, Todd Bowles is still learning. John Morton will hopefully learn from his questionable play choices. This is what winning franchises do and what the entire point of this season can be if the coaches and players allow it to be.
Next week is another learning experience as the Atlanta Falcons come into town. The Falcons are 0-3 against the AFC East this season, with two of their losses coming at home. How the Jets respond to Sunday's loss will go a long way in determining how their future will play out.