New York Knicks' president Steve Mills and general manager Scott Perry deserve credit for their patience and stubbornness in trade negotiations.
The New York Knicks have, for years, been a laughing stock of the entire NBA, mostly due to decisions made by the front office. However, despite the recurring negative notion surrounding the organization, president Steve Mills and general manager Scott Perry deserve credit for their approach to potential trades.
Sunday afternoon, Pheonix Suns point guard Eric Bledsoe went to Twitter to say, "I Don't wanna be here" — which many are portraying as the electric guard saying he wants out of Phoenix.
Monday afternoon, various teams emerged as potential suitors for a trade, the Knicks being one of them. According to ESPN's Ian Begley, the Knicks reached out to the Suns about what it would take to get Bledsoe off their hands.
Roughly two hours later, Basketball Insider's Michael Scotto reported that the Suns asked for rookie point guard Frank Ntilikina and second-year center, Willy Hernangomez in return for Bledsoe.
Phoenix Suns asked New York Knicks for Frank Ntlikina and Willy Hernangomez in exchange for Eric Bledsoe, league sources told @BBallInsiders

— Michael Scotto (@MikeAScotto) October 23, 2017
The Knicks, though, per Begley, are reluctant towards trading either youngster.
Knicks, to this point, have been opposed to dealing Ntilikina or Hernangomez for Bledsoe, per sources: https://t.co/HbdaBUjv5v

— Ian Begley (@IanBegley) October 23, 2017
Acquiring Bledsoe could potentially grant the Knicks the point guard they've so desperately craved in years past.
Bledsoe, an athletic and quick guard, is adept at putting the ball in the cup. Last year, he averaged 21.1 points per game while also dishing out 6.3 assists. Bledsoe's ability to be a go-to scoring outlet, while holding his own defensively, could make him an intriguing addition to the Knicks' young core.
Under contract for two more years, at roughly $14.75 million per season, the Knicks would have Bledsoe for the duration of this year as well as the 2018-19 season.
But a line has to be drawn in a trade for the Suns guard, as trading away two young pieces is not worth it; Mills and Perry realize that. They deserve all the credit in the world for coming to that realization.
The Knicks have attempted to rebuild in the past, but it ultimately has ended up in the franchise attempting to make a quick fix, win-now move. Ever since Perry's hiring in mid-July, the Knicks have operated with more caution regarding trade negotiations.
The most notable example is how they handled the Carmelo Anthony conundrum. All summer long, Anthony and the Houston Rockets made it clear that they were a match made in heaven, so the Knicks attempted to pursue a deal to ship him there. However, the two hit an impasse in trade talks when the Knicks were reluctant to take back forward Ryan Anderson.
Anderson, under contract for the next three years at approximately $20 million per season, was portrayed as a liability in any deal for Anthony. As a result of his not-so-friendly contract, the two sides were unable to come to terms on a deal based on an inability to match salaries with players that intrigued the Knicks.
In mid-September, the Knicks ended up shipping Anthony to the Oklahoma City Thunder. In return, they acquired center Enes Kanter, forward Doug McDermott and a 2018 second-round draft pick.
While Kanter is under contract the next two years, he's due $2 million less per year than Anderson and the shorter contract makes his deal more plausible. Plus, the Knicks have started Kanter and he's made an impact on their offensive play. Operating in the post and hitting the glass on both ends, Kanter has been a welcome addition to the Knicks' frontline. McDermott gives them a young, perimeter-shooting wing, who could be a free agent at year's end; if it doesn't work out, the two sides can part ways in the summer without any hard feelings.
Kanter's presence may delay Hernangomez's development and temporarily cloud up the team's cap space, but he's a better catch than Anderson — who plays Kristaps Porzingis' position and tends to gravitate towards standing out on the perimeter.
The Knicks continued to be stubborn in their demands for Anthony. They wanted a young player, some kind of draft compensation and a contract that wouldn't kill them in the long run for Anthony. Kanter's deal is cheaper, in terms of both money and years, than Anderson, McDermott (25) is an intriguing addition to their young core and, while not great, a second rounder has its value.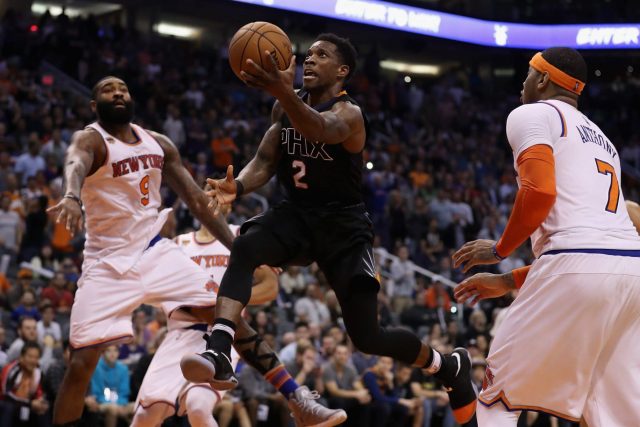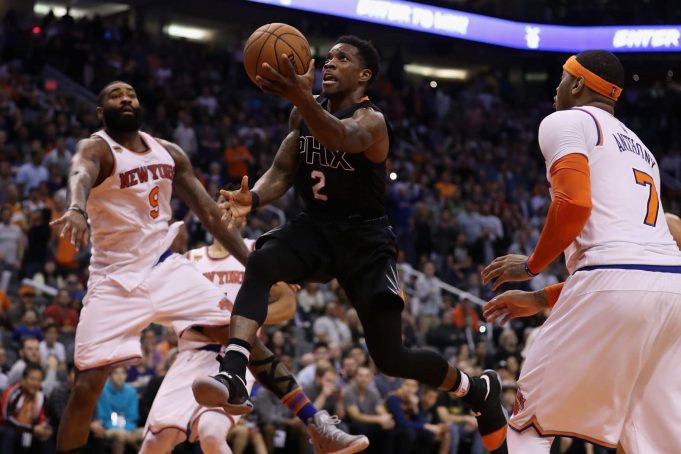 Three months later, the Knicks find themselves on the other end of a potential trade — looking to get the better player in a deal. Bledsoe is a proven commodity and would, for sure, be the Knicks' answer at point, but it's crucial that it not be at the expense of a youngster with potential.
Hernangomez may not be logging major minutes, but he's still just 23 and has a post-up game in his arsenal. Ntilikina has gotten off to a rough start, but was still taken with the number eight pick in the draft — they cannot give up on him after three games.
Mills and Perry have taken the right approach when it comes to handling trade negotiations — keep the youth off the table. Refusing to deal away their up-and-comers and waiting for the right deal to present itself for Anthony are signs that the organization is, at the very least, beginning to become more patient with its youth.
Adding a player who could be an instant solution can be intriguing, but it's important to take your shots at the right time; overpaying for a point guard via trade is not the best course of action for the Knicks at the moment.
Mills and Perry have handled trade discussions accordingly.