Fourth-year forward Doug McDermott is an intriguing addition to the Knicks' young core.
N
early two weeks ago, the New York Knicks traded
Carmelo Anthony
 to the Oklahoma City Thunder. In return, they netted big man 
Enes Kanter
, a 2018 second round pick and forward
Doug McDermott
. The biggest name in that package is the veteran Kanter, but McDermott is simultaneously an enticing and underrated addition to the Knicks' young core.
In a 2014 draft-night trade, the Chicago Bulls got their hands on McDermott, a four-year Creighton University product. After showcasing the ability to be an offensive focal point, in addition to playing out on the perimeter, the Bulls believed that McDermott could come in and provide a scoring punch for head coach Tom Thibodeau. But after struggling to garner playing time and enduring a knee injury, he was unable to get into any sort of rhythm. The following year, though, the Bulls' first-rounder began to come into his own.
By staying healthy, McDermott was able to make an impact on the Bulls offensive attack. Putting forth 9.4 points per game, while shooting just under 43 percent from beyond the arc in 23 minutes a night, McDermott began to become an offensive threat for Chicago. But he also showed how he's more than just a perimeter threat.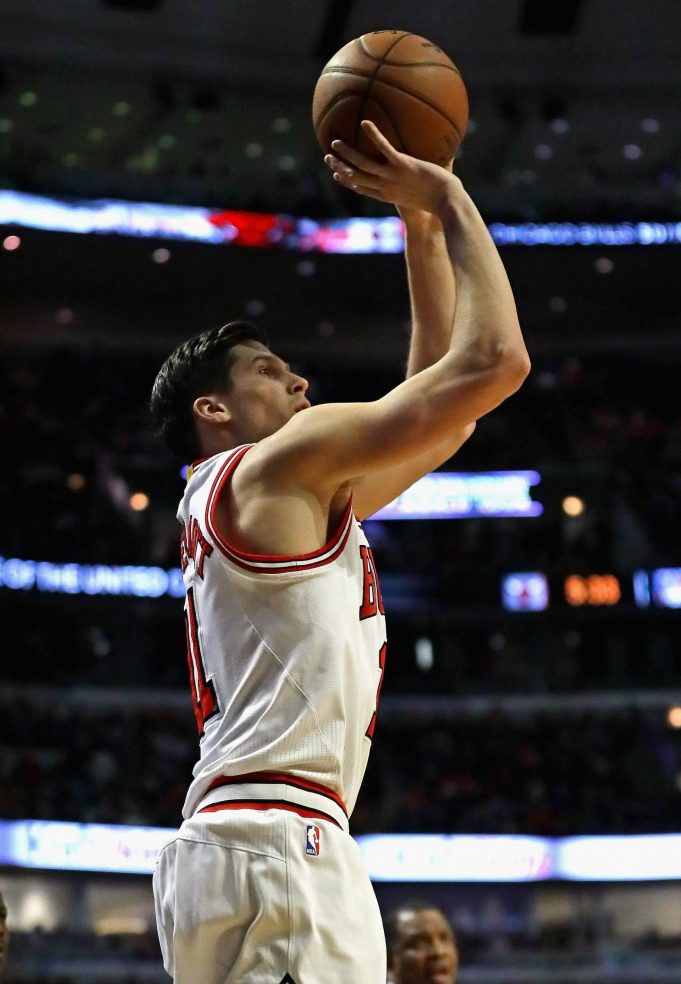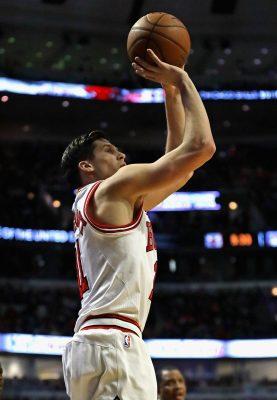 Outside of playing the long-game, McDermott attacked the rack, forcing the issue at the rim. Based on his encouraging 2015-16 play, many believed that McDermott could improve even more last season. However, the addition of Dwyane Wade limited his production a bit.
With Wade and Jimmy Butler starting on the outside, McDermott was unable to play more minutes and/or assume a starting role. But despite being shoved back a bit, he still produced.
Posting 10.2 points per game in the midst of the chaos surrounding the Chicago Bulls, McDermott made a solid showing for himself. But Gar Forman, John Paxton and friends opted to deal him and Taj Gibson to the Thunder at the NBA trade deadline — where he wasn't a major factor or piece to the puzzle.
Playing under 20 minutes a night in both the regular season and the Thunder's first-round matchup with the Houston Rockets, McDermott was granted a limited role in Billy Donovan's offense.
The silver lining for McDermott is that he's now on a team with no identity and one where he could potentially start.
The Knicks have a bundle of youthful players with upside under contract. With Kristaps Porzingis, Tim Hardaway Jr., Frank Ntilikina, Willy Hernangomez, Ron Baker and now the additions of Kanter and McDermott, the Knicks have a bunch of minutes and roles for the taking. And despite his suspect defense, it appears as if McDermott, at the very least, has head coach Jeff Hornacek contemplating starting him, per ESPN's Ian Begley.
For what it's worth: the first lineup in today's Knicks scrimmage features Porzingis, Hardaway Jr., Ntilikina, Kanter and McDermott.

— Ian Begley (@IanBegley) October 1, 2017
In such a starting five, McDermott, who doesn't celebrate his 26th birthday until January, would be the oldest player on the floor — which puts into perspective just how committed the Knicks are to their youth movement.
Regardless of whether that starting five holds to be true for the moment, McDermott will have competition if he aspires to crack Hornacek's opening night starting five.
With veterans Courtney Lee, Lance Thomas and even Michael Beasley all in the mix, getting the starting nod is certainly not going to be a walk in the park for McDermott. In order for him to have the edge on the rest, McDermott will most certainly have to become more adept at defending the perimeter and isolation sets.
But his ability to play beyond the arc and attack the rack make him an intriguing option for the Knicks. After Porzingis and Hardaway, the Knicks are going to be searching for offensive outlets and with McDermott potentially playing a bigger role, he could serve as another source of offense.
Being that they don't have an identity, the Knicks are looking to stack up young pieces and McDermott fits that bill. His offensive arsenal makes him a welcome addition and, just maybe, he'll be able to get his name called by public address announcer Mike Walczewski on opening night as a member of Hornacek's starting five.