The Phoenix Suns placed point guard Eric Bledsoe on the trading block. Despite losing Jeremy Lin, the Brooklyn Nets need to resist engaging in trade.
The Brooklyn Nets are down one point guard, and the Phoenix Suns are selling one for a low price. Despite his veteran stature and physical ability on the court, General Manager Sean Marks shouldn't inquire about Eric Bledsoe.
After losing starting point guard Jeremy Lin to injury, it seems inevitable that Brooklyn will reach out to Phoenix, among other teams looking for his replacement. Nonetheless, there's no reason to pull the trigger on this trade.
Background
Originally drafted with the 18th overall pick of the 2010 NBA Draft, Bledsoe has seen more downs than ups in his seven-year career.
He started his career with the Los Angeles Clippers, but the point guard saw little production due to the acquisition of All-Star Chris Paul. He was later traded to the Phoenix Suns, once Paul's place as face of the Clippers' franchise was cemented.
Bledsoe arrived in Phoenix, and was immediately promoted to the starting five. Producing at a very high level, Bledsoe averaged 17.7 points and 5.5 assists per game his first year. Unfortunately, he dealt with a shin injury early on that forced him into missing nearly three months.
His health would continue to be a problem for the most of his Suns career, having missed 107 games over the last four years. Mostly related to an meniscus tear he suffered in 2014.
It's hindered his transcendence into the top tier of NBA point guards, and turned his career into a question mark.
Now, Bledsoe is ready to contend while Phoenix is not. In their first three games this season, the Suns have lost by an average of 31 points per contest. He's watching the "back nine" of his career waste away in losing efforts for a team that simply can't compete.
As if the rumors weren't enough, Bledsoe made sure his team knew his intentions. Early Sunday morning, the point guard tweeted "I don't want to be here," prompting a meeting with the Suns front office staff Monday.
I Dont wanna be here

— Eric Bledsoe (@EBled2) October 22, 2017
The two sides have agreed to move forward towards a divorce, and the Suns have been engaged in trade talks since the meeting broke. The Brooklyn Nets aren't a team that's been reported as being interested, and it needs to stay that way.
Before explaining why Bledsoe isn't a fit for the Nets, let's first explore what Brooklyn has to offer.
Potential Trade
Now, the Suns have made clear that they have no intentions of winning this year, despite top-NBA talent Devin Booker expecting a breakout year. Adding Booker and Kilpatrick aren't win now acquisitions, and they're both on expiring contracts.
Bledsoe gives the Nets a point guard presence unlike any that they have on roster, and fill's the void left behind Lin's injury. It would limit Russell's production, but add another ball handler and offensive option to the mix.
Now, as decent as that sounds, why it won't work:
---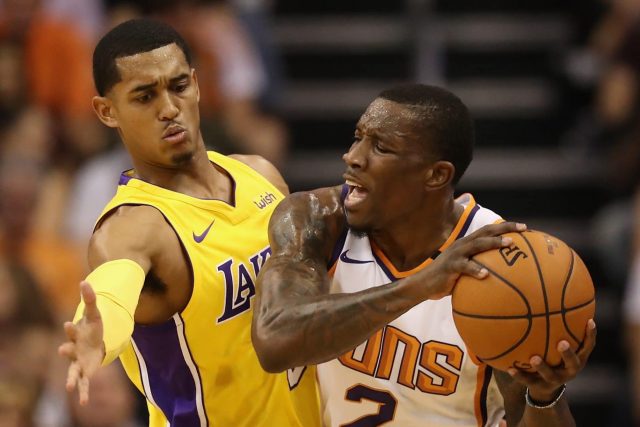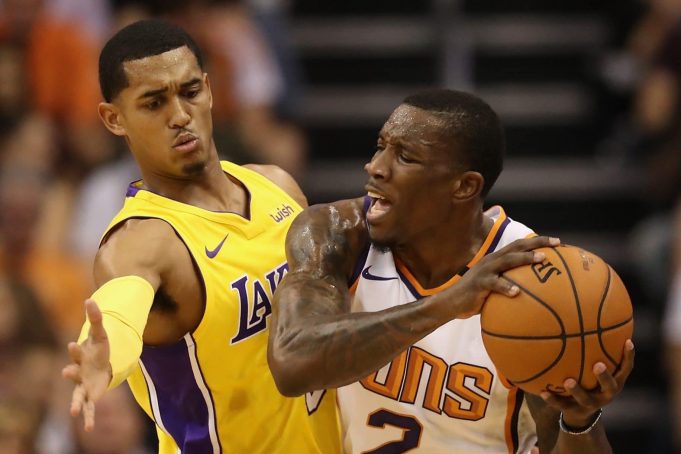 ---
The D'Angelo Show Must Go On
The Brooklyn Nets traded their franchise player of seven years (Brook Lopez) for new franchise face D'Angelo Russell this summer. While adding a veteran point guard like Bledsoe could certainly aid the young guard, it's more likely to deter him on the road to his breakout year.
Russell has scored 33 points and dished 16 assists in his first two games without Lin, and he looks really good. He's taken over as lead facilitator for this Nets team and emerged a true star of the show.
While Russell doesn't necessarily need the ball in his hands to put this offense into motion, he does need access to it. Bledsoe posted a 28 percent usage rate last year with the Suns, which ranked him 29th in the league.
Russell was 10 spots behind him at 39, on a 26.7 percent usage rate.
The two aren't going to mix well, and I know what you're thinking. Yes, Russell was going to have to share the ball with Lin all year, but that's different.
Lin has experience sharing the ball with a dominant facilitator. He played shooting guard next to Kemba Walker quite often in his short stint in Charlotte. Obviously Lin's out, but that doesn't make Bledsoe an option here.
Instead, the Nets should call on one of their backup guards, who've already risen to the occasion. Spencer Dinwiddie posted 16 points, 5 assists, and 5 rebounds in the Nets win over the Magic last Friday.
He's certainly qualified to assist Russell in the backcourt, without necessarily taking over.
The Nets Are a LONG Way from Contending
It was reported by Chris Haynes of ESPN that in the meeting with front office staff, Bledsoe made clear of one thing. He would prefer being traded to a team "in a winning situation." The Brooklyn Nets, well, let's just say they won't be in the discussion this year.
Should they make the move on Bledsoe, he would be in a better situation than in Phoenix; that much is clear. The Nets are out to prove they're a real basketball club this year, and will play with some spunk that the Suns seem to have lost.
Yet Bledsoe still doesn't get what he wants, a shot at a championship. Beggars can't be choosers, but at the same time, an unhappy point guard makes for negative chemistry. That's the last thing Brooklyn needs in what is such a pivotal year for the franchise.
It's also worth noting this Nets average age of 25 (without Lin), and Bledsoe is only months away from 29. He doesn't fit the mold and direction of this team's rebuild, which is focused on young talent.
---
Though a very qualified point guard, the Brooklyn Nets won't benefit (much) from a trade for Eric Bledsoe.
His preferred career path, age, and likely hindrance to the individual success of D'Angelo Russell make this an obvious no.
The Brooklyn Nets will continue without a starting caliber point guard tonight in their rematch against the Orlando Magic. Tip-off is at 7:30 PM EST.