The New York Islanders forwards are starting to find their flow, and the last three games have been testament to that.
It all starts with a catalyst, and Head Coach Doug Weight is just that.
Now don't get me wrong, there are still plenty of areas that need adjustment. The powerplay is still an all-around mess and the Islanders need to be more patient with the puck and make better passing plays to name a couple of blemishes. Overall, however, the Islanders have shown the most life this season in their last two games.
With the way this team has pulled off not wins, but losses, it's a reassuring sign early on. They have been "in" every game lost thus far with the exception of the season opener, losing by one goal margins in all of their following two regulation losses.
Thus far, Weight has made some interesting choices in regards to who stays in the lineup and who sits. The scratching of Anthony Beauvillier for three games left many puzzled, and inserting Pulock in five games into the season was a surprise for some. That being said, leave it to someone who has been around this team since the 2008-2009 season (and a coach since 2011-2012) to know his roster.
Weight was in the stands watching Ho-Sang and the extras skate this AM. Looked like he was watching his own kid on the ice.

— Arthur Staple (@StapeAthletic) October 21, 2017
Among the scratched forwards, Josh Ho-Sang has been the most interesting case. Since being benched for the majority of the third period against the Rangers, Ho-Sang was scratched against the San Jose Sharks on Saturday night. Ho-Sang netted four assists in his first four games, but after being figured out in his next two contests Weight felt it would be best for the up-and-coming stud to take some time off and sit out Saturday's contest.
The Awoken Captain
John Tavares also finally got on the score sheet on Saturday night, notching a much-needed goal and two assists.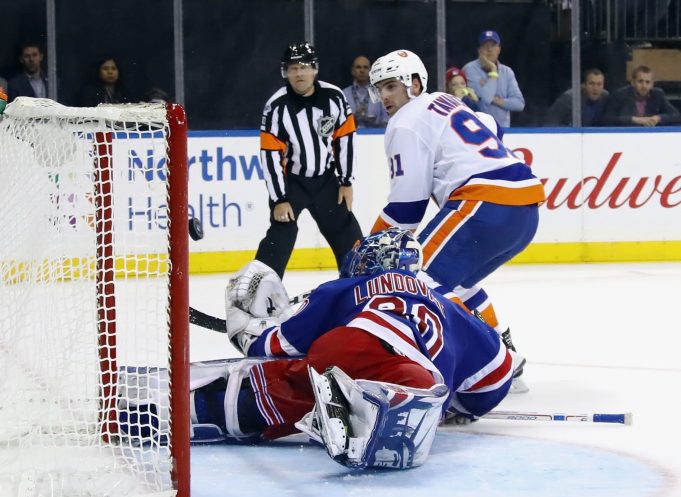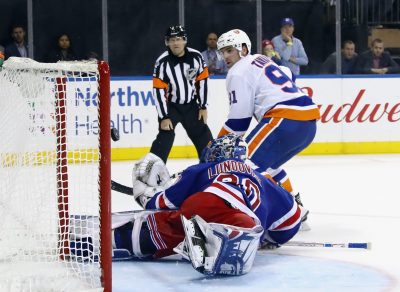 Tavares said this in his post-game interview, per Brian Compton of NHL.com:
"I'm counted on to produce," Tavares said. "Definitely when I have my opportunities, I want to put them in and obviously create as many as I can. I obviously want to be consistent as well, so I'll try to build off today."
The captain had been held scoreless in five consecutive games heading into Saturday, but nobody was worried about the captain's production, including linemate Anders Lee who backed up his captain following the win Saturday:
"I was never worried about Johnny," Lee said of Tavares' scoring drought. "He's making plays each and every night. It's a game of bounces, and he's creating plays all the time. He continued to do that again tonight."
Depth Improvement
Josh Bailey's terrific play has been overshadowed so far this season with the development of younger rookies, but his highlight-reel goal Saturday night put him at center-stage, and the numbers are promising.
Bailey had a career-highs in assists (43) and points (56) in the 2016-17 season, and many doubted his ability to carry that into the 2017-18 season. So far, with three goals and six points through eight games, he's been putting those fears to rest.
Mathew Barzal is another player who is looking more and more comfortable at the NHL level, notching a goal and two assists in his last three games after being scoreless in the first five games.
Ryan Pulock finally has been getting a look in the lineup, and will likely stay for a good look after Weight praised his game Saturday night.
Liked him again. #Isles https://t.co/K8rZ0x8z5Q

— Brian Compton (@BComptonNHL) October 22, 2017
Pulock had an assist on the lone powerplay goal of the season, and if he's able to comfortably settle on the first powerplay unit he'd start seeing some immediate scoring results.
With the team now sitting above NHL .500, now's the time to start a nice winning streak, and the winless Arizona Coyotes provide a fantastic opportunity when they come to visit the Islanders on Tuesday night.