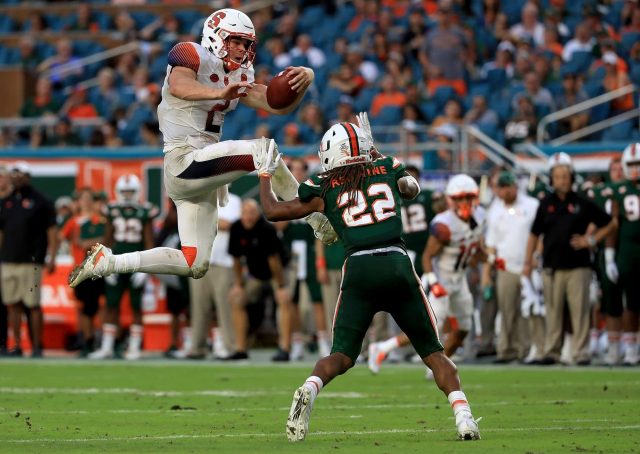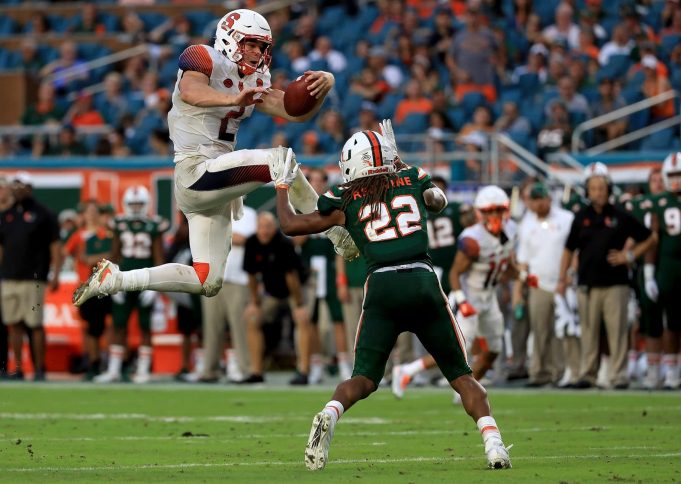 Syracuse quarterback Eric Dungey continues his fearless play on Saturday when he karate kicked a Miami Hurricane defender up high.
Double Dragon, anybody?
Whether it was Billy or Jimmy, the brothers knew how to perform a jump kick. Obviously, it was the only move prior to picking up that unstoppable tornado kick.
Only those as old and decrepit as me would understand. But hey, let's celebrate our old age for a few minutes.
On Saturday, there was an athlete who did the best Double Dragon impression in quite some time.
Syracuse quarterback Eric Dungey — a kid who's never displayed an ounce of fear on the gridiron — hurdled into a Miami Hurricane defender:
Is that Billy or Jimmy prior to picking up that tornado kick? Double Dragon. #Syracuse pic.twitter.com/MYc3ZPkWQQ

— Elite Sports NY (@EliteSportsNY) October 21, 2017
It's been two years now that Dungey's showcased a ridiculous hurdle propensity on the field. It' worked as his Syracuse Orange are playing an exciting brand of ball.
On this day, however, Miami took the game by the final of 27-19.