Starting point guard Jeremy Lin is set to miss the entire 2017-18 season. With that in mind, the Brooklyn Nets have some choices to make.
T
he Brooklyn Nets were well prepared to put a new backcourt experiment into motion. Unfortunately, one half of that backcourt has been ruled out for the rest of the year.
Adrian Wojnarowski of ESPN reported that point guard Jeremy Lin suffered a ruptured patella tendon in the Wednesday night season opener . He is expected to miss the entire 2017-2018 season.
Brooklyn Nets guard Jeremy Lin suffered a patellar tendon rupture and will miss rest of season, source tells ESPN.

— Adrian Wojnarowski (@wojespn) October 19, 2017
That being said, Brooklyn's coaching staff will have to rebound, and make a hasty decision. Their point guard depth is full enough to make it through the regular season, but there are other options.
A look at some moves the Nets can make in light of Lin's absence.
Give One Backup Guard a Promotion
The Nets have Isaiah Whitehead, Spencer Dinwiddie, and Sean Kilpatrick at the point guard position. There isn't that much need to panic.
Yet one has to wonder if any one of them fits the bill for the starting job, through the next 80 games.
Out of all three, Dinwiddie's got my vote. When Lin went down with injury last year, he really picked up the slack. In last night's win over the Magic, the backup guard posted 16 points, 5 assists, and 5 rebounds.
It's not crazy to think that with the right minute exposure he could (at least) maintain a steady contribution as a starter. Dinwiddie can keep the offense moving, while continuing to serve as an offensive option.
Sign Another Point Guard
Fortunately for the Nets, there are more than a couple free agents on the market for cheap.
With $3.4 million in cap space, acquiring a replacement on a one-year deal isn't out of the picture. They would have to make room in the roster by waiving another player, but the money's there.
General Sean Marks told The New York Post the Nets are weighing the options at hand.
"We're looking at all kinds of options. That's one tool we potentially have."
Jameer Nelson, among others, is a free agent point guard on the market. In order to make room for veteran forward Richard Jefferson, the Denver Nuggets waived him just days ago.
Nelson has seen a lengthy career in the league, now in his 14th year. He's played with some winning basketball teams, including a title run with the 2009-2010 Orlando Magic.
Last season, Nelson posted averages of 9.2 points and 5.1 assists per game. His passing ability could seriously benefit the Nets in absence of Lin.
---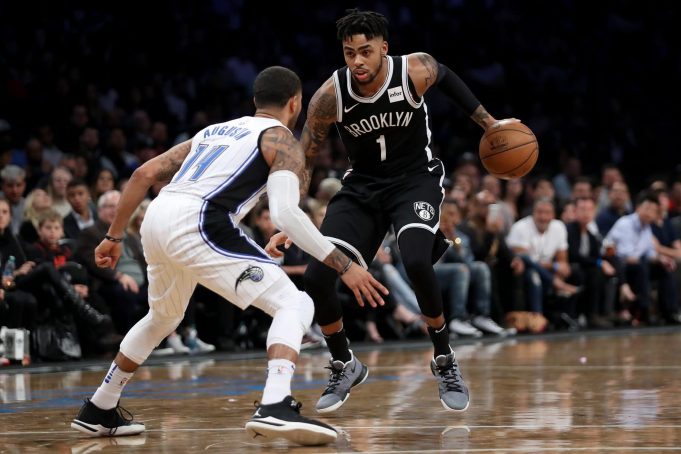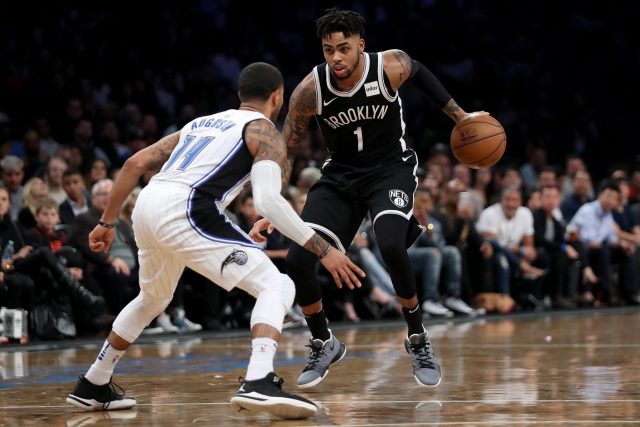 ---
It's not the worst idea. Though he notably plays better when off the ball, Russell could effectively manage an abstract offense such as the Nets. It's what he did with the Lakers, though their business model isn't the most sound.
He earned a start at the one (instead of the two) for Friday night's home opener against the Orlando Magic. The team came out with a win and he dropped six dimes, but, he also had eight turnovers.
Obviously his playing at the point doesn't have a direct correlation to turning the ball over,  (he holds a career average of 2.4 when playing point) but why take the risk?
If it ain't broke don't fix it.
More notable, the Nets have to ask if any of their other guards are ready for a starting job at the two. Allen Crabbe started next to Russell last night, and he only put up a measly 9 points on 20 percent shooting.
Then there's Caris LeVert, who's only seen shooting struggles when put on the spot. He's gone 9-26 to start the season, and just can't seem to catch stride. Starting him and exposing him to more minutes could help, or just make things worse.
Russell has looked his best when playing the two next to Jeremy Lin, so to switch him back to the one (and to being the main facilitator) seems like the fool's choice.
With a plethora of point guard options at hand, it's hard to see this become any kind of long-term solution.
---
Jeremy Lin has a player option for the 2018-2019 season. Whereas before it looked as if he'd assuredly be opting out, it's hard to see an outcome where he doesn't know.
With that in mind, finding a temporary replacement or letting one of the young guys step up is the only option. Russell can still lead this team without running the point.
The Brooklyn Nets will play their next game Sunday, hosting the Atlanta Hawks. Opening tip is at 3:30 p.m. ET.