It may have only been one week since the New York Giants switched their play-calling duties to OC Mike Sullivan but now it's sure to become a regular thing.
T
he MVP of the New York Giants' first win of the 2017-18 season spoke with reporters on Thursday afternoon.
No, it's not Orleans Darkwa. Good guess though. Try again, those who chose Jason Pierre-Paul. Close, but no cigar, fans of Evan Engram.
That would be offensive coordinator Mike Sullivan, who was bestowed playcalling duties prior to last Sunday's primetime tilt against the Denver Broncos, a fact the public learned during NBC's broadcast. To the shock of many, the Giants' offense did a number on the lauded Broncos defense. They scored on their first drive for the first time since Week 15 of last season and put up 148 rushing yards on the ground en route to a commanding 23-10 victory.
Sullivan, however, had no interest taking credit for the victory when he spoke to reporters on Thursday afternoon.
"It was a great night for the organization. (I'm) so proud of the players and appreciative of their efforts and buying into the plan," Sullivan selflessly said. "The assistant coaches did a great job and after all we've been through, for us to be able to go out there in that environment against that defense and to come out on top was something very gratifying and very happy for those guys."
Sullivan's playcalling has earned positive reviews from not just fans, but from players and coaches alike.
"We kind of have a lot of things scoped out, so you kind of know what plays are coming," quarterback Eli Manning said. "So, I think he had good rhythm and mixed up his play-calling."
"I think he's great. I'm happy Mike is here," added defensive coordinator Steve Spagnuolo. "I'm glad we both got back together whatever year it was. It's been a few years now. I got a lot of respect for the person he is and the way he coaches football. He's a great asset to us."
Despite his increased leadership role, Sullivan did turn to McAdoo at certain points on Sunday evening. McAdoo has insisted that it was his own call to give Sullivan the extended duties, and the offensive coordinator spoke of McAdoo's support.
"He was excellent throughout the week, very supportive, and certainly on game day as well," Sullivan recalled. "There were occasions (I'd turned to him), just in terms of him giving some feedback and a suggestion here or there. But he was very, very good."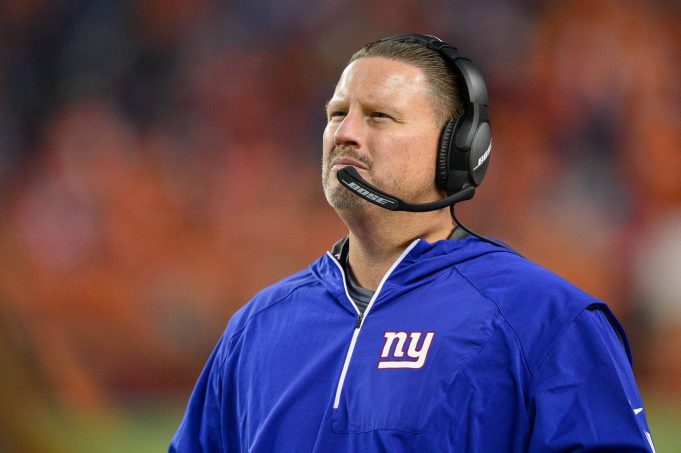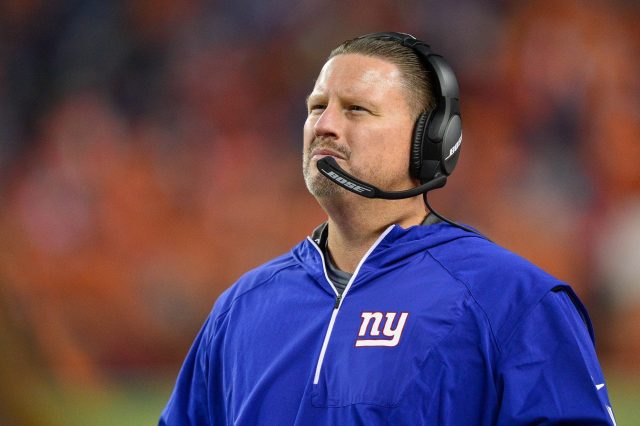 The Mile High victory featured many offensive heroes, including Darkwa, who picked up a career-high 117 yards on the ground, and Engram, who tallied 82 yards and a touchdown. While Sullivan praised their efforts, calling Darkwa (quote), he was quick to point out the offensive line's role in the win. Often the scapegoat for the Giants' offensive struggles, the line rose to the occasion against the mighty Broncos' defense.
Sullivan explained that a big play from an offensive lineman can energize a team just as much as big play from a skill player. He highlighted a big block D.J. Fluker made on Denver defensive end Adam Gostis to illustrate his point.
"(It) was really just a three or four-yard gain," Sullivan recalled. "But it was just such a devastating block that everyone sees on the sidelines, some of the defensive guys see and you look at the film room afterward, and it does bring about just a sense of pride in the unit. (It makes) guys feel confident, more confident I should say, in one another."
The enthusiastic Sullivan praised his line by name and lit up even further when asked about center Brett Jones, who has subbed in for Weston Richburg (concussion).
"I always love getting a Brett Jones question because all he does is work his butt off and he's very smart," Sullivan said of the Canadian import. "He's another guy that doesn't have necessarily a lot of the eye-opening blocks that people will see up on TV … but he has an ability just to be very persistent, stay on guys, particularly when he's blocking back."
Save for a two-year term as Tampa Bay's offensive coordinator in 2012-13, Sullivan has been with the Giants since 2004. Previously a quarterbacks and receivers coach, he has served in the offensive coordinator spot for the past two seasons. As a result, he has developed a strong rapport with long-time quarterback Manning.
"We have a great communication always during the week in our meetings, what we like, and being on the same page," Manning said. "I have great confidence in Sully, we have been around each other. It's the first time that he's called a game that I've played in, but I think he's done a good job."
The Giants return home this week, ready to take on perennial NFC West contender Seattle (4:25 PM, CBS). It'll likely be the MetLife Stadium faithful's first look at a Sullivan-run offense.
That works for Sullivan, who was jokingly thankful that his play-calling debut came on the road.
"That (Denver) game being on the road actually may have been a good thing," Sullivan said with a smile. "So that you're not showered down with the boos after a 2nd-and-10, or a 2nd-and-11 because we were going to be patient!"
That patience, much to the delight of Giants fans on Sunday night, paid off.
Geoff Magliocchetti is on Twitter @GeoffMags5490