Entering the 2017 NFL season little was expected of the New York Jets this season. Most experts predicted that they would finish with the worst record in the league.
W
e've all heard it. The 2017 New York Jets would finish as the worst team in the league. However, after six games everybody's favorite underdogs already have three wins.
After watching this team for six weeks, it's obvious there is nothing that they do phenomenally as their key offensive and defensive statistics rank 20th or worse.
They have allowed 21 more points than they have scored. Only seven other teams have a worse point differential than the New York Jets.
While fans enjoyed the New York Jets three-game win streak, the rest of the schedule is immeasurably more difficult than the first five games. Starting with last Sunday's home loss to the Patriots, the final 11 games on their schedule featured nine teams currently with a winning record.
After traveling to Miami this Sunday, the New York Jets play four of their next five games at home. The good news is the Jets have won two of their three games at home so far this season and played well in those games. The bad news is that all four of those teams currently have a combined record of 15-7.
What can we say is the New York Jets staple? What have they done really well this season that they can currently build on and use to give them an advantage over their remaining opponents?
Still, there's a lot of exciting things going on that need a close eye to watch the rest of the campaign.
Young Improving Defense
Despite being tied for allowing the ninth most points in the AFC, the Jets have plenty of reasons to be excited about the future of this defense. Jamal Adams, Marcus Maye, Darron Lee and Demario Davis have all played very well during the Jets last four games. After allowing 66 points in their first two losses, the defense has allowed just 64 points in their last four games.
Figure Out How To Pressure the QB
Through six games, the Jets have just seven sacks. Only the Tampa Bay Buccaneers have fewer so far this season (six), but they have only played five games.
Leonard Williams and Muhammad Wilkerson have had very little impact on games the last few weeks. While Williams was active earlier in the season in helping against the run, he has struggled majorly getting to the quarterback. Neither player has a sack yet this season.
While Williams is a vital part of this teams future, Wilkerson's future is clouded. If he doesn't start performing close to the way he did in 2015 he will eventually find his way to the bench and off the roster.
The Jets inability to get to the QB has been a major issue so far. If they can improve on that it will make a major difference in how this team performs defensively.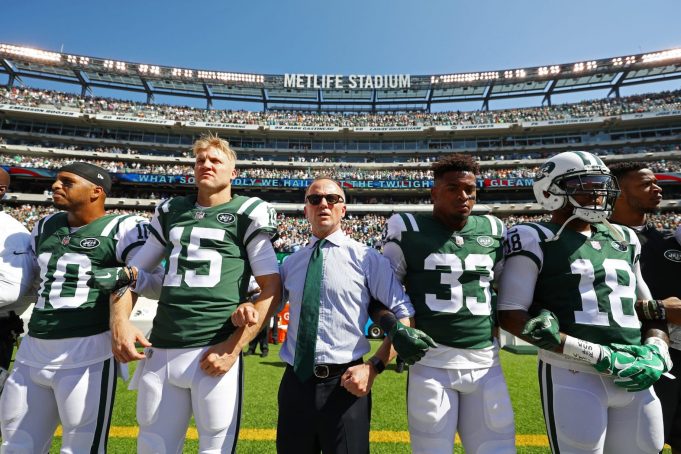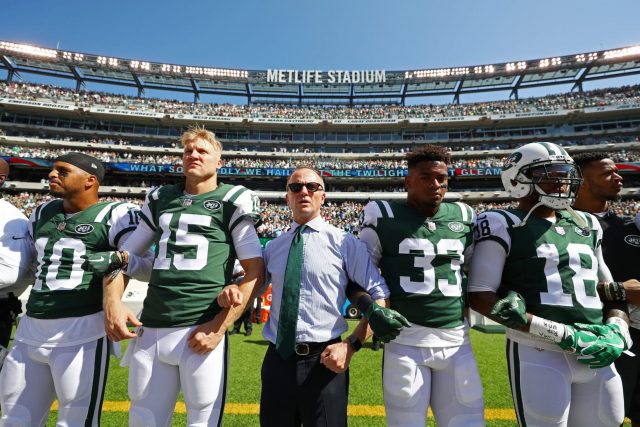 Figure Out What They Have in Offensive Rookies
ArDarius Stewart has responded when called upon this season; however, he has not been consistently featured in the offensive game plan. After seeing just five snaps in his previous four games, Chad Hansen was on the field for 11 offensive snaps against the Patriots. However, he has not been targeted once.
Jordan Leggett has yet to play because of injuries, but the Jets liked what they saw in rookie workouts and training camp. Featuring a lineup with Leggett and Austin Seferian-Jenkins lined up could be very lethal against opposing defenses.
What Josh McCown's Future Holds
While Josh McCown has played much better than anyone would have thought through six games this season, ranking second in the NFL in completion percentage at 70.2 percent, what advantage does playing him provide this roster?
The next few games will obviously determine how the rest of the season will go for McCown and the Jets quarterback position. If McCown plays well and the Jets managed to win three of their next four games, then he will most likely continue to play as he gives the Jets the best chance to win now.
However, if McCown continues to do what he has done — which is play well but not be dynamic — the Jets best option is to see just how successful Bryce Petty can be given consistent playing time.
The Development of Elijah McGuire
The one New York Jets offensive rookie that has consistently seen playing time has been Elijah McGuire. He has shown wonderful game-breaking ability as both a runner and receiver coming out of the backfield.
With the injuries to the other Jets running backs, seeing McGuire develop will be a welcome sight for the rest of the season.