In a season full of sideshow silliness, the suspension of Dominique Rodgers-Cromartie is perhaps rock bottom for the Giants' 2017 season.
T
he
New York Giants
have lost another star player, but this time it's due to anything but injury.
Cornerback Dominique Rodgers-Cromartie will be suspended for Sunday night's prime-time tilt against the Denver Broncos (8:30 p.m. ET, NBC), as the Giants quest to earn their first elusive win has now become much more difficult.
Rodgers-Cromartie, coming off an All-Pro season in 2016, did not practice on late Wednesday morning, and head coach Ben McAdoo made the curious announcement afterward.
"We had a conversation yesterday. He came into the building this morning," McAdoo explained. "He decided to leave and we will put him on suspension."
That's not, however, how Landon Collins saw it.
"I wouldn't say [Rodgers-Cromartie] left the team," Collins said. "He just felt differently about the altercation that happened."
The suspension of Rodgers-Cromartie, whose "altercation" with McAdoo is theorized to have happened during Sunday's loss to the Los Angeles Chargers, is just the latest deranged carnival show for the Giants this season.
Yet in the midst of it all, McAdoo shot down the idea that he has lost the team.
"I'm not concerned about perception. I'm concerned about reality," McAdoo said when asked.
Giants fans are likewise not concerned about perception but they're equally concerned about reality—the reality that Ben McAdoo has lost this team.
With this Rodgers-Cromartie silliness, the clock has officially begun ticking on the McAdoo era in New York, as if it wasn't wound up already. Yes, McAdoo was at the helm last season, when he helped end the Giants' five-year postseason drought with an 11-5 mark. Warning signs, like the defense picking up the slack for an offense that has failed to muster 30 points over the past two season, were present, but a good portion of the Giants faithful, perhaps delirious over a shot of postseason action, were convinced that big things were in store for 2017.
Big things were in store, all right … big losses and big mistakes.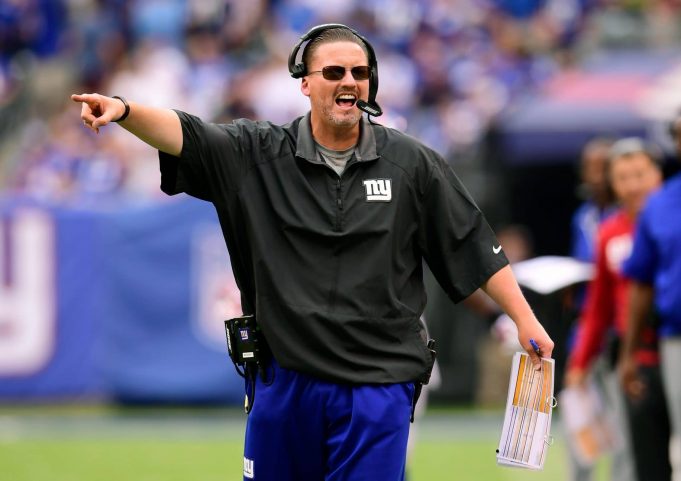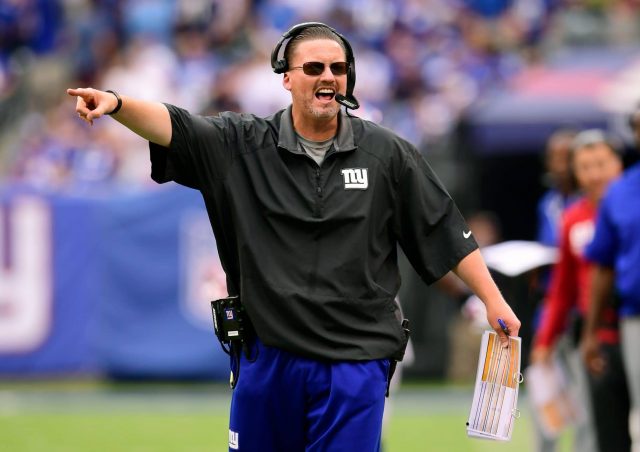 The Giants' season is somehow over before the Yankees', as they sit at 0-5 and fresh off a loss to the likewise hapless Chargers at home on Sunday afternoon. What the Giants have lacked in wins, they've more than made up for it in the sideshow antics department. McAdoo's playcalling has been in question all season, spotlighted by absurd decisions in Tampa Bay and Philadelphia that took points off the board. Opposing defenders have flat out told receivers that they know what plays the Giants are going to run.
A defense that kept the Giants in the national conversation last season has suddenly forgotten how to tackle and create turnovers. Even touchdowns have been a disaster for the team, as their first two of the year, scored by Evan Engram and Odell Beckham Jr., picked up 15-yard unsportsmanlike conduct penalties for lewd gestures. If you told a casual football fan about these incidents, but only told them it was happening to a New York team, their assumption would likely be that the Jets were the perpetrators.
This all reflects back on the head coach. McAdoo's gruff demeanor worked when the team was winning games, but now he just seems like a Bill Belichick-impersonator that has nowhere near enough cache to pull off the Belichick schtick. This season has tarnished the reputation of a once-proud organization, and the head coach is the one who needs to keep that in check. If the Giants were younger and more reserved, an 0-5 start really wouldn't make too many headlines outside of New York. The Browns, for example, are again off to a poor starting, down and out with a duplicate 0-5 record, but at least people expected Cleveland, who is full of young talent, to undergo a season of growing pains.
The Giants, on the other hand, were built to contend, built to challenge for a Super Bowl, hence their marquee moves this summer. Alas, the spending spree has been less Yankee-like, and more Nets-esque.
In typical Giants fashion, Giants players have mostly been reserved and respectful toward their staff, though cornerback Eli Apple, who admitted to not knowing much about the Rodgers-Cromartie situation, made curious comments to NJ Advance Media's Dan Duggan after Sunday's Chargers loss.
"It's not just one guy. It's the whole culture," Apple said. "It's everything. We've got to fix it."
The Giants are not a team known for midseason firings. The last time they did so was back in 1976 when an 0-7 start cost Bill Arnsparger his job. If McAdoo and his staff aren't careful, deja vu could strike all over again come the Giants' bye in two weeks.
Geoff Magliocchetti is on Twitter @GeoffMags5490.