The New York Rangers' AHL affiliate, the Hartford Wolf Pack, gets underway on Oct. 6, and there will be plenty of prospects to watch.
W
ith the start of a brand new hockey season, the excitement in the air can be overwhelming for fans of all 31 teams, especially those with serious aspirations of a potential Stanley Cup victory.
This can be said too for New York Rangers fans, who hope a deep group of young and veteran forwards, to go along with a revamped defense and one of the best goaltenders of all-time, can carry the Blueshirts for their first Stanley Cup since 1994.
And while plenty of attention should be placed on the present for the New York Rangers, there should be some given for the future Rangers, and many of those are currently residing in Hartford, Connecticut, as the Rangers' American Hockey League affiliate, the Hartford Wolf Pack, get ready for a new season of their own.
The Wolf Pack get their season started on October 6 at home against the Carolina Hurricanes' AHL affiliate, the Charlotte Checkers, and the Rangers and Hartford general manager Chris Drury has just recently finalized their Opening Night roster. Here's a look at how they stack up:
Goaltenders
Alexandar Georgiev, Chris Nell
The Wolf Pack will have two intriguing prospects in the cage in 21-year old Alexandar Georgiev, and former Bowling Green University goaltender Chris Nell. Georgiev played last year in Finland in the Liiga for TPS Turku, and the young Russian had himself quite the year, posting a 1.70 GAA and a .923 SV%, and that was enough to convince the Rangers to sign him to an entry-level deal in July. Georgiev also got into game action in the preseason, playing in one game and stopping 15-of-16 shots, and earned a victory against the Devils. Georgiev looked good in his brief appearance with the Blueshirts, looking calm in the net and showed good movement in the crease, and the Rangers will want to see more of that in Hartford this season.
Nell will also get his fair share of starts, as Nell had a very good collegiate career, finishing as Bowling Green's all-time leader in GAA (2.07), SV% (.922), and shutouts (11). The 23-year old also saw time in the preseason, stopping all six shots that he faced in his lone appearance, and both will be counted one to give the Wolfpack stability in net and to give the Rangers two more goaltending prospects to watch for in their system.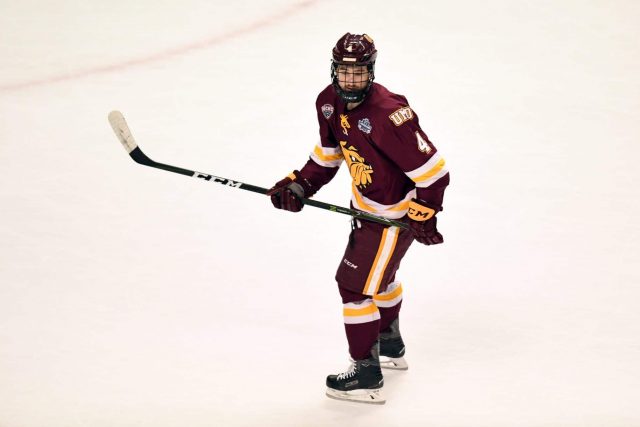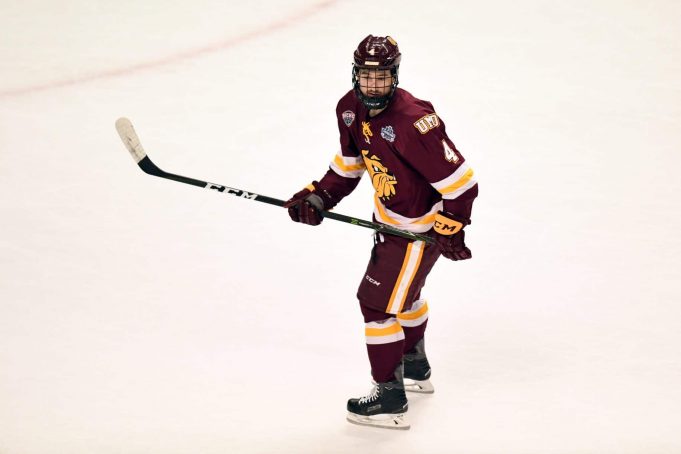 Defensemen
Alexei Bereglazov, Brandon Crawley, John Gilmour, Ryan Graves, Garrett Noonan, Vince Pedrie, Neal Pionk
The Wolf Pack look to have a strong group of blue-liners on their roster, as the Blueshirts have made quite a few additions over the past few months to add their depth. These moves include the signings of Vince Pedrie out of Penn State, Neal Pionk from Minnesota-Duluth, and Alexei Bereglazov out of the KHL.
Pedrie had a strong year, putting up 30 points in 39 games last year for the Nittany Lions before the 23-year old signed with the Rangers in March, and he added five points in nine games with the Wolf Pack late last season. Pedrie is known for his puck-moving abilities, as is Pionk, who signed with the Blueshirts in May, right after he helped lead the Bulldogs to a Frozen Four appearance. The 22-year old had quite a year last season, putting up 34 points in 42 games, which was fifth-best among defensemen in the NCAA last season. In addition, he showed off why several teams were interested in him, scoring a GWG against the Islanders in the Rangers' first preseason game, and did a good job of staying in position defensively.
Two more new additions to the Rangers organization were Alexei Bereglazov and Brandon Crawley. Bereglazov, who signed with the Rangers in April, showed good skating ability in the KHL, as well as a strong ability to clear the defensive zone. He struggled in the preseason, but the Rangers will hope that he shows improvement in his play in the AHL. Crawley, who was drafted by the Blueshirts in the fourth round this past June, was not known primarily for his point-producing ability (27 points in 61 games) with the London Knights in the Ontario Hockey League, but impressed in training camp, as well as in the preseason, scoring a goal in the lone game he played in. The Glen Rock, New Jersey native earned himself an entry-level contract just a few days ago, and the Rangers will look for the 20-year old to continue his development this season.
Lastly, John Gilmour and Ryan Graves are two returned to Hartford to watch for this season. Gilmour, an offensive-minded defenseman, had 25 points in 76 games, while Graves had 30 points in 76 games. According to the Hockey News, Graves, a fourth-round pick in 2013, has the potential to be a productive defenseman thanks his size, as well as a great shot from the point, but will need to improve defensively. The Rangers will also want to see defensive improvement from Gilmour, as this group of defensemen has the potential to be quite good, with several having the potential to be contributors in the NHL.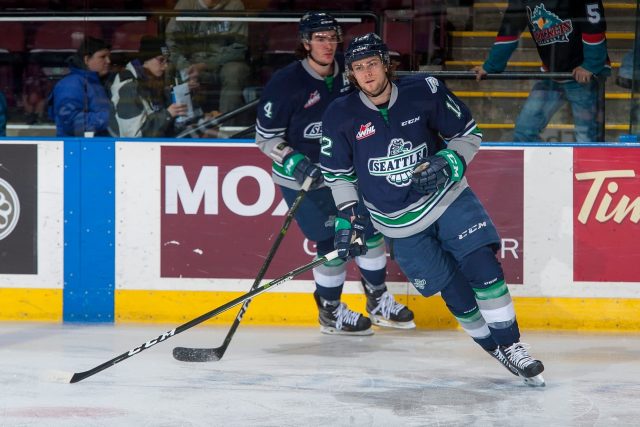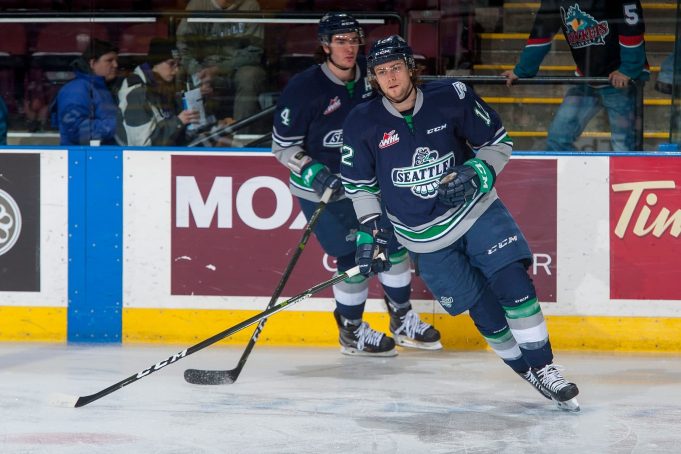 Forwards
The forward group has several prospects to watch for, such as Ryan Gropp, Vinni Lettieri, Cristoval "Boo" Nieves, and Gabriel Fontaine. Gropp, a second-round pick in 2015, will be called upon to build on after an overage season with Seattle in the Western Hockey League, where he put up 35 goals and 84 points last season en route to a WHL Championship. Gropp has good size, and the Rangers will be keeping a close eye on their top draft pick from two years ago, and how he will develop in his first full season in the AHL.
Vinni Lettieri, who was signed by the Rangers out of the University of Minnesota in March, had a strong senior season, putting up 37 points in 38 games, and also had a strong preseason, scoring two points in four games while showing good sense and the ability to play in all three zones.
Boo Nieves, the former second-round pick in 2012, will look to stay healthy this season after a year where he played just 40 of the team's 76 games, and the Rangers will want him to be on the ice given his good two-way playing style. Gabriel Fontaine is another forward to watch, as the Rangers drafted him in 2015 in the sixth round, and has shown steady improvement since he was picked. Fontaine had 52 points in 59 games last season with Rouyn-Noranda of the Quebec Major Junior Hockey League, as well as 11 points in 13 postseason games, and while he has shown the ability to create plays, there is more to his game than that.
The 20-year old is also a good defender, as he received some penalty kill time with the Rangers during the preseason, as well as a good skater and forechecker, demonstrating a solid all-around game.
Other forwards to watch for include Malte Stromwall, Adam Tambellini, and Matt Puempel. Stromwall only had six points in 44 games last season, but with a new coach in Keith McCambridge, it may be a fresh start for the 23-year old Swedish forward, who showed off a good scoring touch two years ago, when he had 42 points in 49 games for AIK in the Allsvenskan hockey league in Sweden. Tambellini, a third-round pick by the Rangers in 2013, will be looked upon to have a strong year and try to put himself in a spot to be recalled should there be an open spot, as the 22-year old had 35 points in 68 games last season for the Wolf Pack.
Puempel will also look to do the same, as the former 2011 first round pick will try to get back to Broadway after a season which saw him score nine points in 40 games in the NHL last season. Tambellini and Puempel, along with Boo Nieves, could be potential call-up options for this season, as the Rangers will start with 13 forwards, and it is still unclear whether Filip Chytil will stick with the Rangers for the remainder of the season.
The Wolf Pack will look for a fresh start after a year after they had a record of 24-46-6, and the Rangers fired Wolf Pack head coach Ken Gernander in May and replaced him with Keith McCambridge. That fresh start will come on October 6, as the Wolf Pack start a new season, and the players on the team will look to improve as players and continue their road to the NHL.