The New York Jets nailed the 2017 NFL Draft when they took Jamal Adams. Can they find their next Adams under center in 2018?
The crew here at Elite Sports New York lauded New York Jets general manager Mike Maccagnan after the selection of LSU safety, Jamal Adams. For many of us, we felt that not only was he the best player available at the sixth selection, but he was the best player in the draft.
Against the Miami Dolphins on Sunday, confirmation of the great things to come for Adams and the Jets defense were realized. A bright spot for Maccagnan's resume, in his young general managerial career.
Jamal Adams is already one of the best safeties in the NFL. Can do it all, deep half, edge, centerfield and get after the passer. #Jets pic.twitter.com/snSd71gORu

— Elite Sports NY (@EliteSportsNY) September 24, 2017
While the defense looks to be on the rise, there still remains a giant void at the most important position on the team: Quarterback. While it remains to be seen whether or not the Jets faithful will get a peek at Bryce Petty or Christian Hackenberg, Josh McCown will hold down signal-calling duties until further notice.
That only gives further affirmation to why loyalists of Gang Green should keep an eye on the college ranks and the talents that will grace the stage of the 2018 NFL Draft. The potential quarterback class has had their ups and downs during the first quarter of the college schedule.
Our attention was mainly focused on three names: Sam Darnold, Josh Rosen and Josh Allen. As games have been played, we've added Mason Rudolph and Baker Mayfield to that list.
It would be a rare sight to see all five selected in the first round. Which means maybe we are putting too much stock into this group. Then again, maybe we're not.
With plenty of games left to play and time for a prospect to separate himself from the rest, here are this week's power rankings.
Waittt a minute…Lucas Duda is playing in Baltimore tonight but at the SC game holding up a Sam Darnold Jets jersey?!? ? pic.twitter.com/EtfNJUODSd

— Brian Biscotti (@brianbiscotti) September 23, 2017
1. Sam Darnold, USC
Result: 30-20 Win vs. Cal
Sam Darnold regains the top spot, where many Jets fans believe he belongs, despite throwing his seventh interception of the season on Saturday.
Look, I get that he hasn't been perfect. But talent has overcome some less-than-stellar decision-making. Remember, Quarterbacks aren't finished products when they are in college. No player, at any position, is.
I repeat, quarterbacks aren't finished products when they are in college. This is the most important thing Jets fans need to understand.
While you may see a handful of mistakes—including interceptions—Darnold has the poise, arm strength and profile to be an outstanding NFL quarterback. A theme that will be echoed with a few of the names on this list.
Final Stat Line: 26-of-38, 223 YDS, 2 TD 1 INT
Where to watch: 9/29 vs. Washington State, 10:30 p.m. ET, ESPN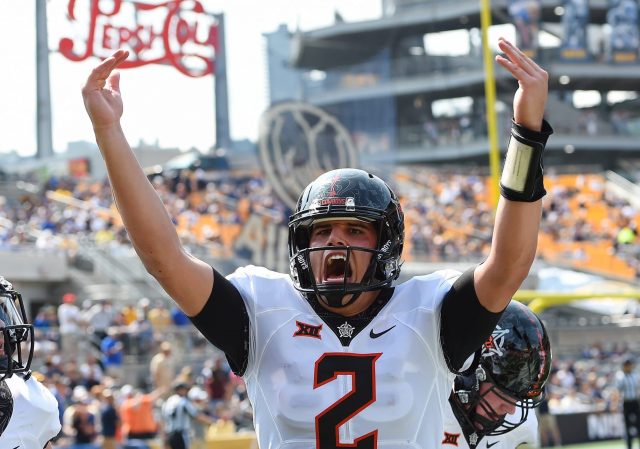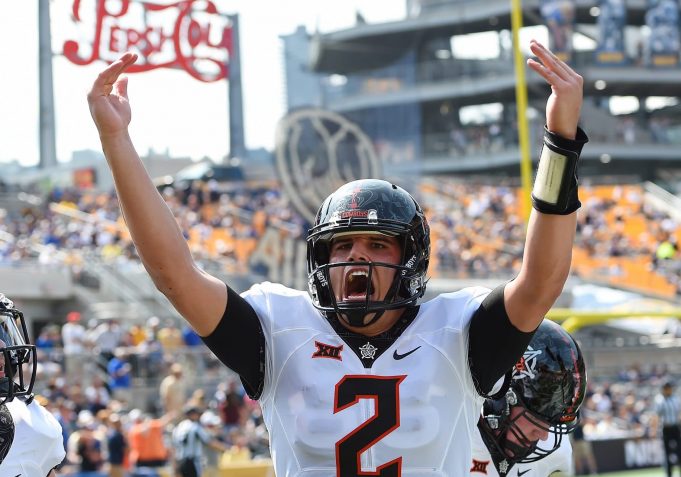 2. Mason Rudolph, Oklahoma State
Result: 44-31 Loss vs. TCU
No question, the TCU defense rattled Mason Rudolph early with a strip-sack in the second quarter. It seemed like it was all downhill after that moment.
I'll chalk this up to a really good defense just having a quarterback's number on this day. Rudolph's touchdown drives still impressed from an evaluation standpoint.
Of course, the first interception was one he will wish he could have back. And the second was thrown in desperation, which in the grand scheme of things isn't so much a knock, but something we see at the highest levels of the game.
Mason Rudolph is for real. Like Darnold, he isn't a finished product but has shown that he belongs in the conversation as a future franchise QB, not only the New York Jets, but any team looking for its future under center.
Final Stat Line: 22-of-41, 398 YDS, 2 TD 2 INT 1 FUM
Where to watch: 9/30 vs. Texas Tech, 8:00 p.m. ET, FOX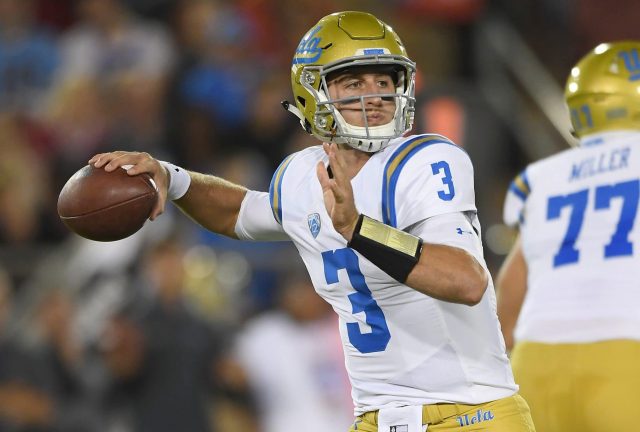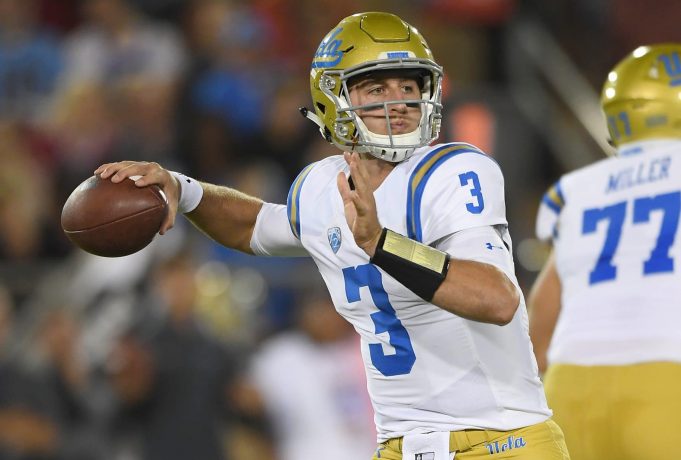 3. Josh Rosen, UCLA
Result: 58-34 Loss vs. Stanford
Back-to-back losses for Josh Rosen, as his UCLA Bruins fell to an angry Stanford team, who themselves were coming off a loss to USC. Again, you can't take too much stock in the result, based on how superior Stanford's roster is to UCLA's.
Rosen was asked to do a lot against Stanford, throwing the ball 60 times in defeat. He has already attempted 200 passes this season, an average of 50 per game.
At this rate, he may not have an arm left when he auditions for teams at the NFL Combine. Still, the 4-to-1 touchdown-to-interception ratio has impressed many fans who have clamored for Rosen on "The Largest Facebook Group of New York Jets Fans."
For now, I find Sam Darnold and Mason Rudolph a bit more appealing than Rosen for the Jets. However, I will agree with the argument that Rosen is doing more with less than the others on this list. Will that play a factor in Maccagnan's ultimate decision?
Final Stat Line: 40-of-60, 480 YDS, 3 TD 2 INT
Where to watch: 9/30 vs. Colorado, 10:30 p.m. ET, ESPN2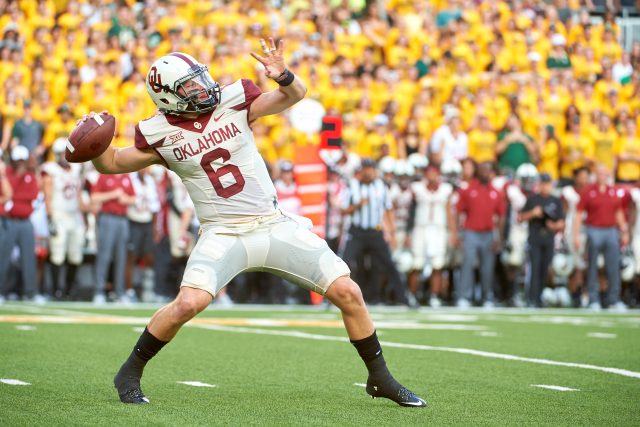 4. Baker Mayfield, Oklahoma
Result: 49-41 Win vs. Baylor
I love Baker Mayfield's confidence ? https://t.co/Ynb7hZIbTD

— Chad Johnson (@ochocinco) September 23, 2017
Not to take anything away from Baker Mayfield, but he has benefited from a tremendous running game. But don't let take away from how efficient he has been.
With zero interceptions on the season, Mayfield has led the Sooners to an impressive four-game winning streak that includes a road victory over Ohio State.
While relying heavily on the running game, his first two touchdown passes set the tone for what would be quite the shootout against Baylor. Mayfield was flagged for an unsportsmanlike conduct penalty in the third quarter.
This is the type of incident that has some talent evaluators shying away from Mayfield. Though there have been plenty of fiery quarterbacks, I would think that most head coaches prefer a "cool as a cucumber" competitor like a Peyton Manning or Joe Montana.
Final Stat Line: 13-of-19, 283 YDS, 3 TD
Where to watch: 10/7 vs. Iowa State, TBD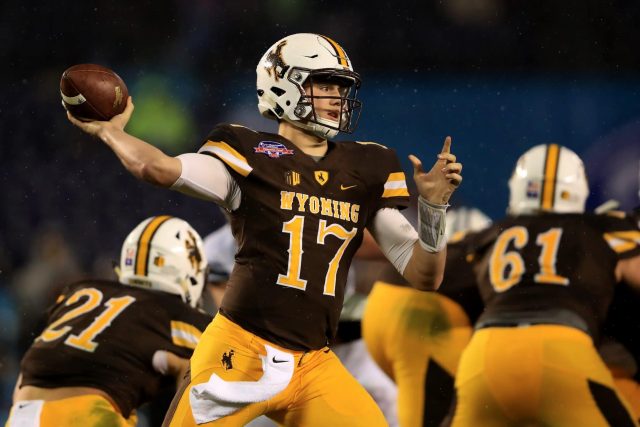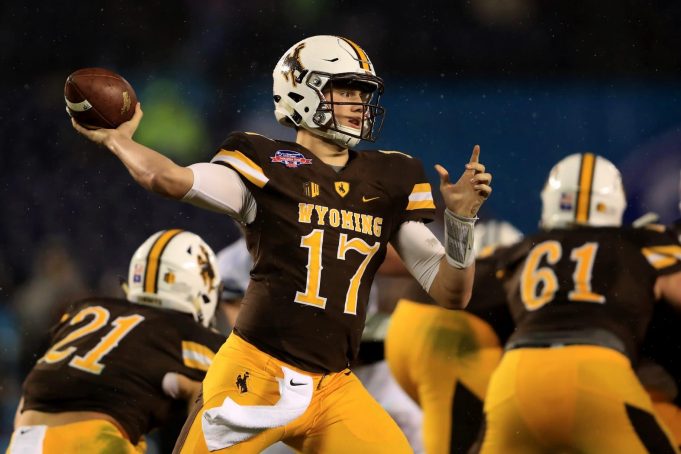 5. Josh Allen, Wyoming
Result: 28-21 Win vs. Hawaii
It's easy to look at Josh Allen's stat line and say he's not very good. If that is the approach you are taking when evaluating these young prospects, then you may miss how special Allen could be.
There is no doubt that Allen has been subpar this season. The 2016 season for Allen was a coming out party and a special year for the Wyoming program.
Much of the talent that aided the growth of Allen is gone. Tanner Gentry, who accounted for 14 touchdowns and over 1,300 yards a year ago, graduated and is working on an NFL career.
If you rewind to last season and watch some of the pass-catch connections between the two, you'll see the specialness that kept Allen high on early mock drafts. The arm strength is unquestionable. The decision-making needs some work.
Final Stat Line: 9-of-19, 92 YDS, 1 TD
Where to watch: 9/30 vs. Texas State, 4:00 p.m. ET, Local Sports Network