A pair of split-squad games awaits the New Jersey Devils Monday night as the preseason continues.
T
he New Jersey Devils have split-squad games tonight against the Ottawa Senators and New York Islanders. The game against the Senators is at 6:00 p.m. ET on the NHL Network, and will be held on Prince Edward Island in Canada for Kraft Hockeyville. The game against the Islanders is at 7:00 p.m. ET, can be seen on MSG and will be played at the Barclays Center in Brooklyn.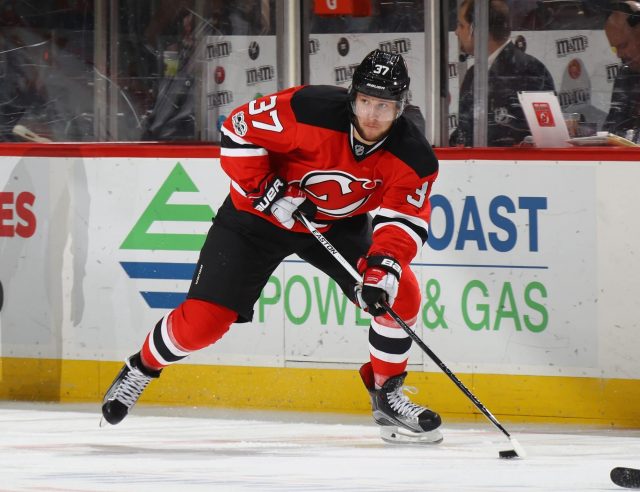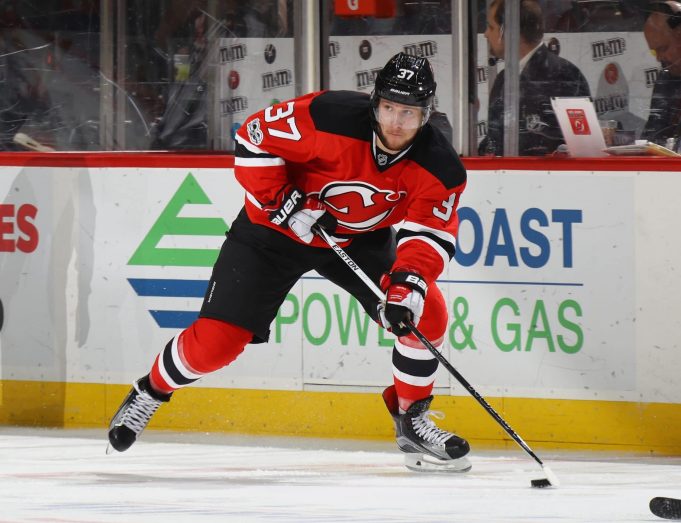 Here's who will take the ice against the Senators:
Forwards: Nathan Bastian, Jesper Bratt, Blake Coleman, Taylor Hall, Adam Henrique, Nico Hischier, Marcus Johansson, Ryan Kujawinski, Jan Mandat, Kyle Palmieri, John Quenneville, Drew Stafford, Pavel Zacha.
Defensemen: Will Butcher, Tim Erixon, Andy Greene, Viktor Loov, Mirco Mueller, Dalton Prout, Steven Santini
Goalies: Cory Schneider, Mackenzie Blackwood
The Devils are sending most of their NHL players to Prince Edward Island tomorrow night which makes a lot of sense. It'll be interesting to see if Nico Hischier, Taylor Hall and Kyle Palmeri remain on the same line. They seemed to build chemistry in their last game and I'm excited about what they could do together in the regular season.
Keep an eye on defensemen Will Butcher and Mirco Mueller. Both players come with a lot of upside and both have looked pretty good this preseason. Mueller already has two goals, so let's see if his streak can continue. I also want to see if Butcher can take control of the power play at the NHL level. Tonight will be a great opportunity to see if he can do that.
Finally, there are a few players that are fighting for roster spots, a group that includes Nathan Bastian, Jesper Bratt, and John Quenneville. Bratt has definitely made the case for himself by notching two goals so far in this preseason. Quenneville has the most NHL experience out of these players and I think is developing nicely. And Bastian is a player the Devils drafted 41st overall in 2016, but I'm not sure if he's quite NHL ready yet.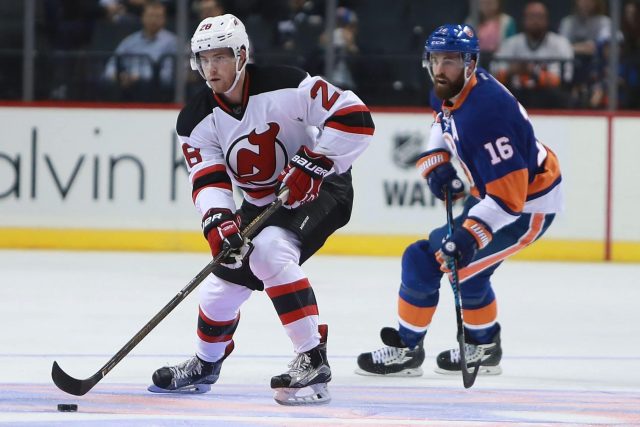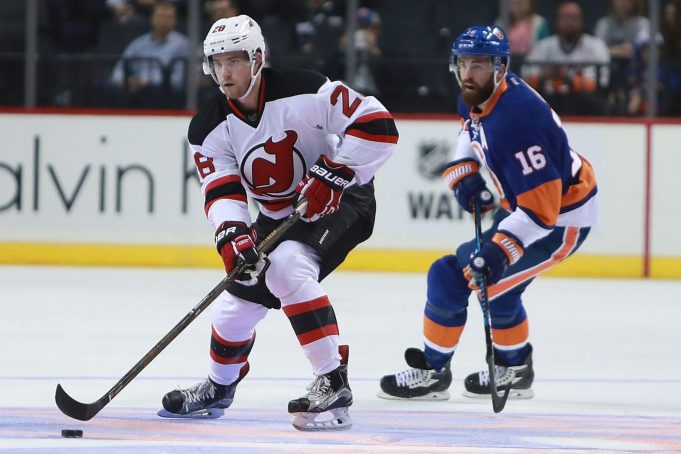 Here's the group that will be taking on the Islanders in Brooklyn:
Forwards: Brandon Baddock, Joseph Blandisi, Austin Cangelosi, Brian Gibbons, Jimmy Hayes, Bracken Kearns, Nick Lappin, Michale McLeod, Stefan Noesen, Blake Pietila, Kevin Rooney, Blake Speers, Ben Thomson, Miles Wood
Defensemen: Yaroslav Dyblenko, Michael Kapla, Joshua Jacobs, John Moore, Damon Severson, Brian Strait, Colton White
Goalies: Kieth Kinkaid, Scott Wedgewood, Ken Appleby
Even though most of the Devils NHL players will be playing in Prince Edward Island tonight, there is still a lot to look for in the game against the Islanders.
Roster battles are also the top thing to keep an eye on in this game. Joseph Blandisi, Michael McLeod, Nick Lappin and Miles Wood round out the guys who probably have the best chance to make the roster.
Blandisi spent time both in Albany and New Jersey last season, and I think this is going to be a make or break season for him. I expect him to at least start the season in the NHL. Miles Wood also spent a lot of time with the Devils last season, so I also expect him to be on the team. McLeod was the Devils first round pick in 2016 and led Mississauga all the way to the OHL finals last season. It will be interesting to see how his game translates to the NHL. As for Lappin, he's a left-handed shot that can play on the right wing. On a team that lacks depth at right wing, and after playing 43 games in the NHL last season I'm expecting him to be on the roster.
On defense, I'm interested as to what we will see from Michael Kapla and Colton White. I'm not sure that either one of these guys will be on the final roster but I think both players can be on this team in the future. Kapla had 92 points in 152 games at UMass Lowell, so there is offensive upside in his game. He played five games in the NHL at the end of last season, but expect him to start in Binghamton, the Devils new AHL affiliate. White is another player that has offensive upside, but I also expect him to be in Binghamton. Head coach John Hynes and his staff definitely want to see a lot out of these guys, in case of injury to some of their top seven defensemen.
Devils fans, enjoy tomorrow night. It's not often that you get to watch your team play two games at the same time.