Ben McAdoo's New York Giants have struggled at the outset of the 2017 season, but with a little work, they can turn the corner.
T
he
New York Giants
aren't a bad football team, but they've sure played like one. With the exception of a good drive here and a forced fumble there, the Jints have been completely uninspiring.
Through the first two games of the season, Big Blue has sputtered and slogged trying to get something – anything – going. It hasn't worked. Despite colossal expectations, the Giants have struggled to put things together.
The numbers speak for themselves: a -30 point differential, worst in the NFC; an 0-2 record, tied for last in all of football; 97 rushing yards, lowest in the league by a dozen; and eight consecutive games of less than 20 points scored.
This is the same club that many predicted would finish atop the NFC East (they could still be proven correct). So what happened?
The truth is, much of the team's struggles have to do with certain players simply not producing. But there were also signs of concern during the offseason that went largely undetected. If Ben McAdoo can correct them, then Big Blue will be on its way to the playoffs. If not, well, it could be a long season.
Two seasons ago, when Marshall and Eric Decker combined for 2,600 yards and 26 touchdowns, the consensus was that, for at least a couple more years, the duo would make the Jets contenders and get QB Ryan Fitzpatrick the recognition he deserves.
This didn't happen. Marshall, Decker and Fitzpatrick are no longer with the Jets, and that 2015 success has not even come close to being replicated. What many have concluded is that that season was an outlier, not the norm. This is especially true for Marshall.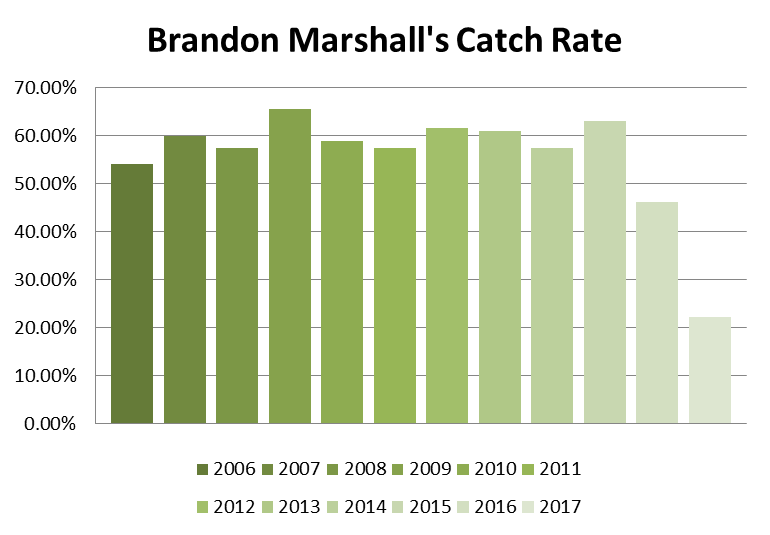 The six-time pro bowler has seen a steady decline in a number of statistics. Most notably, his catch rate, which measures the percentage of passes thrown his way that was completed, dropped from 63.4 percent in 2015 to a league-worst 47.2 percent last year. His 2017 totals aren't any better.
This could be the result of a number of things: a lack of concentration, miscommunication, or even the natural consequence of growing older. But excuses aside, Marshall needs to step up. Preferably sooner rather than later.
Traffic Cones on the O-Line
In all fairness, John Jerry stepped it up after a woeful showing in Week 1. But his counterparts on the offensive line — ahem, Ereck Flowers and Bobby Hart — didn't.
The Lions recorded five sacks — their most since '15 — against a quarterback who does a fairly good job of avoiding sacks. Much of it had to do with Flowers, the former ninth-overall pick. His struggles in pass protection have been well documented, but the big concern is that he really hasn't improved.
It's not just him. Despite boldly claiming before the season that "I'm the best right tackle in the league," Hart was horrid against Dallas and injured against Detroit. Meanwhile, center Weston Richburg and tackle/guard Justin Pugh have been good — but not good enough.
The likely remedy to this problem would be to adjust protection schemes so that tight ends and running backs contribute more to the blocking. But that isn't ideal because it takes players like Evan Engram and Shane Vereen out of the open field.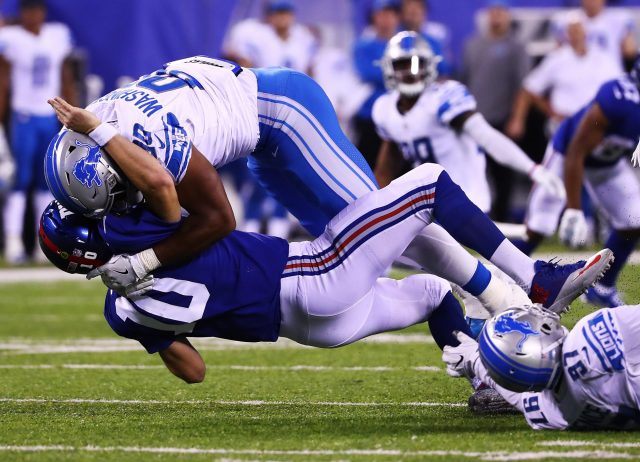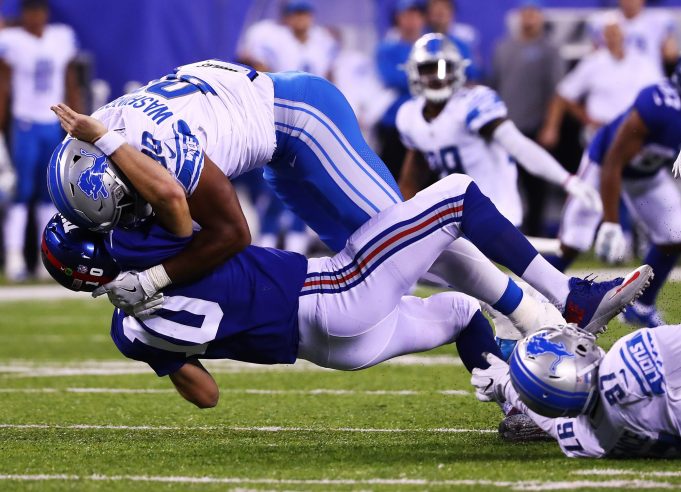 3rd-and-Long Struggles
Steve Spagnuolo's defense was phenomenal on 3rd-and-long last season. And while they didn't lose any key personnel over the spring, the on-field product has varied wildly from 2016, when the club finished with the first wild-card spot in the NFC.
Just a year ago, Giants opponents were just 84 of 238 (35.3%) on third down. This year, they're a whopping 15 of 30 (50%). The sample size is obviously key, but as Howard Cross kept saying on Monday night, it is imperative for the defense to get off the field. And that just hasn't been happening (both of Detroit's first-half touchdowns came on third down).
It's not just in short yardage situations that Big Blue is struggling to make stops. Against both Dallas and Detroit, the Giants' secondary struggled immensely on third-and-long as well.
Predictably, there's a pretty strong correlation between making stops on third down and having a top-ranked defense. The Giants won't be able to sustain success on 'D' if they can't figure this out.
***
So… what's next for Big Blue? Ahead of the club's pivotal Week 3 matchup against Philadelphia, McAdoo says, "We're going to … evaluate things as we go each and every day." He's open to "drastic" changes, which could entail relinquishing control of the offensive play-calling.
But here's the thing: at the end of the day, the Jints will succeed if, and only if, the guys who are paid to show up actually show up. If they do, they'll start to play an inspiring brand of football again.