Which young point guard on the cusp of a breakout season would you rather have in 2017-18: Brooklyn's D'Angelo Russell or Orlando's Elfrid Payton?
T
he NBA season is quickly approaching, and with that, a potential breakout year for D'Angelo Russell. After being traded to the
Brooklyn Nets
, he's been put in a situation designed for him to thrive.
Yet in the same setting, would you rather have the also young Elfrid Payton of the Orlando Magic?
Background
Russell is coming off a sour tenure with the Lakers, following a scandal involving teammate Nick Young. He was traded to the Nets along with Timofey Mozgov in exchange for Brook Lopez and the 27th pick of the 2017 NBA Draft.
Payton is entering his fourth year with the Magic, who've failed to come even close to the playoffs in any of his three seasons. Even with one more year of experience, he's just as much success as Russell has with the Lakers. Not much at all.
A look at each guard's individual game, and impact for their respective teams.
Elfrid Payton: Strengths and Weaknesses
Payton is a pass-first point guard. It's what's kept his name among the young and talented point guards of this league.
In his first three years with the team, he's managed to averaged at least 6.4 assists per game each season. That's quite impressive, especially on a roster of young inexperienced guys like the Magic.
Per nbawowy.com, the Orlando Magic shot 46 percent from the field when Payton was on the court last season. That's in comparison to shooting 41 percent when he wasn't. It may seem like a frivolous five percent difference, but that could be the difference between a basket for the win, and another loss.
His presence on the court was felt more than just team wide, as it impacted individual players as well. The core of Evan Fournier, Bismack Biyombo, and Aaron Gordon shot an average of 16.3 percent better with Payton on the floor.
A look at one of Payton's best passing games, and the third of his five triple-doubles recorded last season.
---
---
Where his passing exceeds most guards his age and he nearly always finds a way to score, Payton sees most struggles behind the arc. Last season he posted 29 percent shooting from deep, and connected on only 81 three-point shots.
For the Orlando Magic, who ranked 29th among the league in three-point percentage last year, Payton isn't helping their case. Furthermore, his 61 percent free throw shooting is absolutely horrid for a guard of his size.
The Magic ranked 25th among the league in that regard. It seems Payton's low points translate to the team as a whole, making them all the more important to improve.
---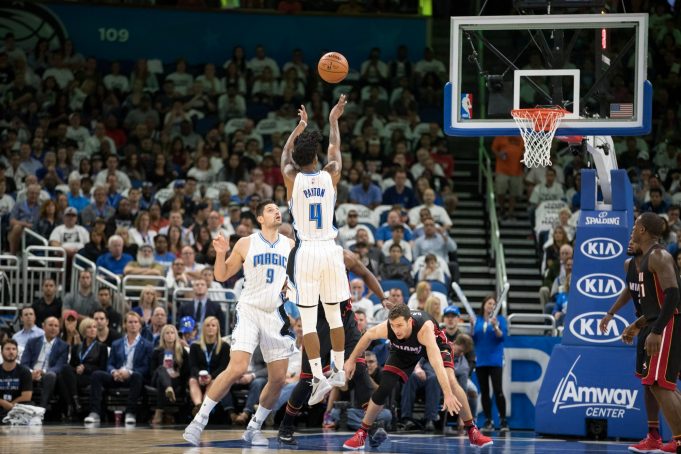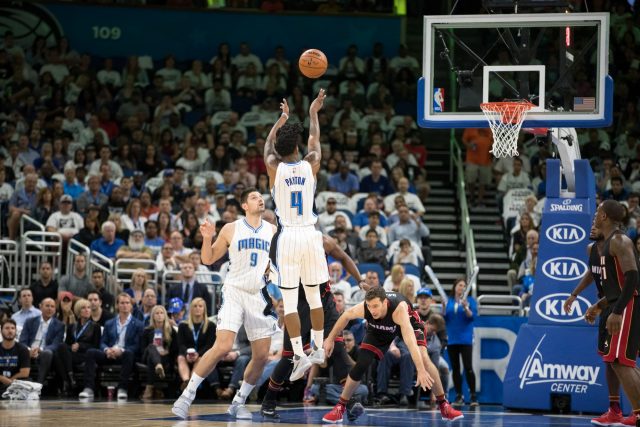 ---
D'Angelo Russell: Strengths and Weaknesses
Though nearly as talented as Payton when it comes to passing the ball, Russell is a more talented scorer. Which is why most project him as a shooting guard starting next season.
Last season the former number two overall pick averaged 15.6 points per game, ranking him in the NBA's top 15 for point guards. He can pull up from the mid-range, and is an excellent pop up shooter along the perimeter.
As he prepares to step into a bigger role with the Nets, Russell's Per 36 minute average of 19.6 points per game last year seems all the more relevant.
Though the Lakers would go on to lose the game, take a look at his career-high 40 point performance against the Cleveland Cavaliers, who were then reigning champions. There's no doubt that this performance is partly responsible for his landing in Brooklyn.
His ability to take over games and make the tough shots was certainly appealing to General Manager Sean Marks.
---
---
Though Russell can score, he's had plenty of issues in the past with offensive efficiency.
His shooting percentages could be better, as he connected on only 35 percent of his three-point shots last season. Though considerably better than Payton, Russell will need to improve if he has his eyes on the Most Improved Player award. Or a potential Eastern Conference All-Star appearance (but more on that later).
His 1.72 assist-to-turnover ratio places him in the bottom tier of the league, and more assists next season aren't entirely out of the equation. After playing in Luke Walton's system, Russell may see an increase once playing in the fast-paced Atkinson offense.
A higher paced offense may also mean more free throws, which would be welcome on a team like the Brooklyn Nets, who ranked 7th in attempts last year. Russell averaged a lowly 2.3 free throws on 3 attempts last season.
In Contrast
Though Payton is 22 and Russell 20, I set the stat lines of both guards next to each other through the 2016-2017 season (per basketball-reference.com).
A look at how the two guards compare between the numbers:
Points Per Game

Russell 14.3, Payton 10.8

Assists Per Game

Payton 6.5, Russell 4.0

Rebounds Per Game

Payton 4.2, Russell 3.5

Steals Per Game

Russell 1.3, Payton 1.3

Offensive Rating 

Payton 102, Russell 98

Defensive Rating

Russell 113, Payton 108
For the Nets,
Russell is easily the best fit. Brooklyn's depth at point guard is a formidable one, featuring Jeremy Lin, Isaiah Whitehead, and Sean Kilpatrick. The ability to play Russell at the shooting guard makes him the optimal choice for a team like the Nets.
Yet, for an unidentified team with a similar rebuilding makeup, could Payton be the better option? He's older, more established, and is a team friendly guard when considering his passing ability. Only time can tell at this point, and with Payton a year ahead, it could take years to answer the question.
---
Overall, these two young guards are both suiting up for future stardom. Though one would think Russell more so than Payton will actually meet that feat.
Where Russell is a more prolific scorer with passing tendencies, Payton relies on his pass-first mentality and puts scoring on the back burner.