Why in the world would Giants QB Eli Manning throw a route that's six yards when a first down is 10 yards? Well, there's a real reason.
I
t's a classic. It's such an all-timer that John Madden made sure he made it one of the more well-known bits of play-by-play commentary in video game history.
Why would any quarterback throw to a receiver who's short of a first down?
Why would any quarterback in his right mind throw a six-yard pass when 10 yards are needed to move the chains? It literally drives the fan outside his or her mind. They can't figure it out and get so loud when it happens, you'd think a turnover had just commenced.
To cap off Week 2 in the National Football League, this all-timer reared its ugly head in the form of New York Giants quarterback Eli Manning.
In the Jints 24-10 loss to the Detroit Lions, we witnessed the "throw short of the first-down play" on numerous occasions. Manning, working Ben McAdoo's timing offense, continually found a weapon short only to see the play not gain the necessary yards to move the sticks.
Calm down. There's a real reason for this maddening sight out of a future hall of fame quarterback. In fact, it's Eli who actually makes the play possible in the first place. Without No. 10, the play wouldn't even move to the status of positive yardage on most plays in this ridiculously flawed offense.
First and most important is the fact this Giants offense faces the most pass-happy defensive looks in the league and it's not even close. Defenses line up with a two-deep look and a light box on every play. This automatically allows Odell Beckham Jr. to be doubled on every play, especially over-the-top.
Why? Well, it's easy: no defensive coordinator fears the Giants rushing attack. They can afford to keep just seven in the box on base or six or five in nickel or dime and easily stop the run. The Giants finished dead last in rushing a season ago and currently rank last again this season with just 97 combined rushing yards.
So right off the bat, Eli Manning faces the toughest looks of any QB in the NFL.
Then comes the fact his offensive line can't even block a standard four-man rush. Rarely, do defenses blitz in the Jints.
In 2015, the Giants offense saw the least amount of blitzes, yet ESPN ranked Manning one of the five worst QBs under pressure that season.
Eli Manning: No quarterback was blitzed less frequently last season. Opponents sent pressure at Manning on just 16.3 percent of his dropbacks, but on those occasions, he performed poorly. Manning's 67.7 passer rating against the blitz was ahead of only Foles and Bradford. In the past three years, Manning's passer rating against the blitz (82.0) ranks in the bottom five league-wide.
What's funny is NFL Network's Pat Kirwan ranked Manning as the very best QB who handled the pressure that same very season:
According to Pat Kirwan of the Real Football Network, Manning is the best in the league against the blitz. Looking sun-splashed on-board his boat, the former NFL general manager talked about the best (and worst) quarterbacks in the NFL when facing a blitz.

For the sake of this analysis a blitz is at least five pass rushers, according to Kirwan.

According to Kirwan's analytics, Manning was tops in the NFL against the blitz, with just one sack every 94 blitzes.  Coming in second was New York Jets quarterback Ryan Fitzpatrick, who was sacked once every 47 blitzes. That is a pretty sizable difference and shows just how thorough the Giants quarterback's understanding of defenses and his own receivers' route trees in getting rid of the ball to avoid the sack.
Forget the head-butting analysis. What's important to realize is the Giants are rarely blitzed — for obvious reasons. If you can get to the QB with a standard four or even three-man rush, that leaves seven or even eight men to play the pass. Simple, really.
No NFL QB can find consistent success if he's facing a two-deep look every play without the ability to rush the ball as a legit threat. Against Detroit, again, it was obvious and it resulted in short passes that didn't make it near the sticks.
After a first down run that resulted in no gain, New York came out in its infamous 11 personnel, 3 WR, 1 TE, 1 RB. Naturally, Detroit countered with a nickel but more importantly, with a light box and two-deep safeties: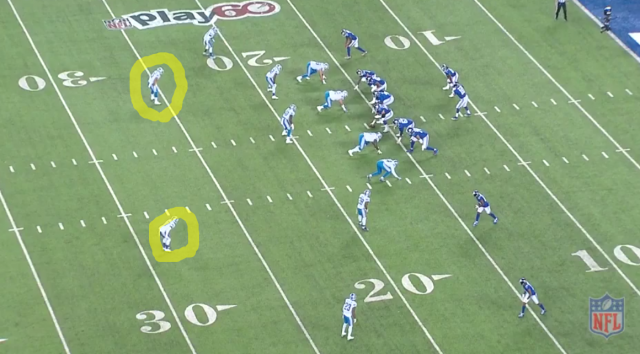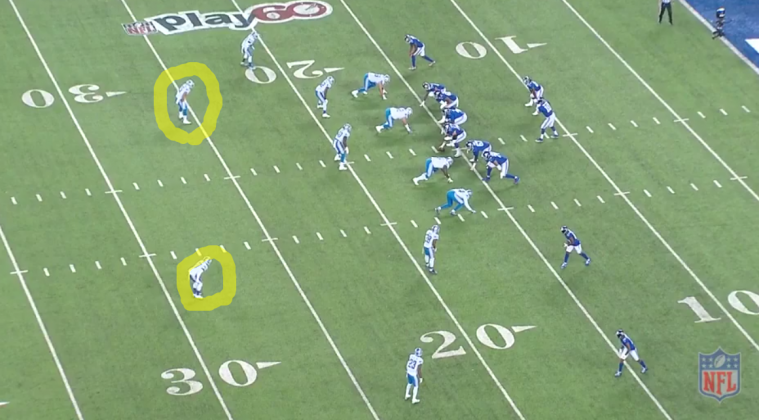 Here's the disastrous play, resulting in a Lions TD only to be reversed due to an incomplete pass:
Where is Eli supposed to go with the ball? On this one,
Brandon Marshall
severely misreads the secondary. Although he was put on a stop-and-go, based on the two-deep look, he needed to sit and drift towards the middle where space was. That's exactly where Eli was looking to go. In any event, Manning actually did a good job in not losing too much yardage due to the pressure from the right side.
In the second quarter, McAdoo dialed up a double play action call with only three men in the route on a 2nd-and-20. It's a strange play call in that situation. However, the Jints had a little success running the ball prior, so in McAdoo's mind, perhaps he could move the safeties who were playing in another zip code.
The result was disastrous:
Where is Eli supposed to go with the football? What's worse is there's really nowhere he can legitimately throw it away. There are no throwing lanes and the pocket is a mess.
The next play, on a 3rd-and-23 (after an encroachment call), the Jints went with a slant/middle screen to OBJ. There's just no way to pick up 23 with a sagging defense as the turnover risk is incredible. Smart teams just don't attempt it at this early stage in the game.
A drive later, Eli was faced with a 3rd-and-6. Of course, the Lions play two-deep: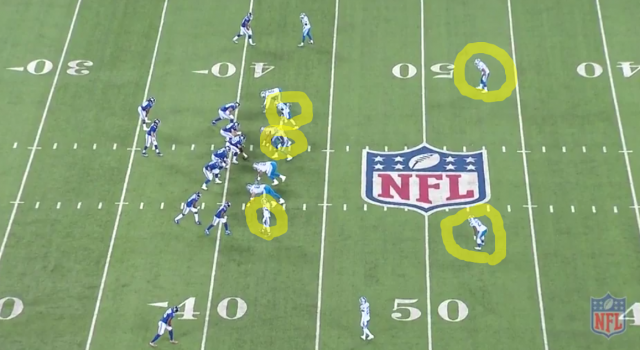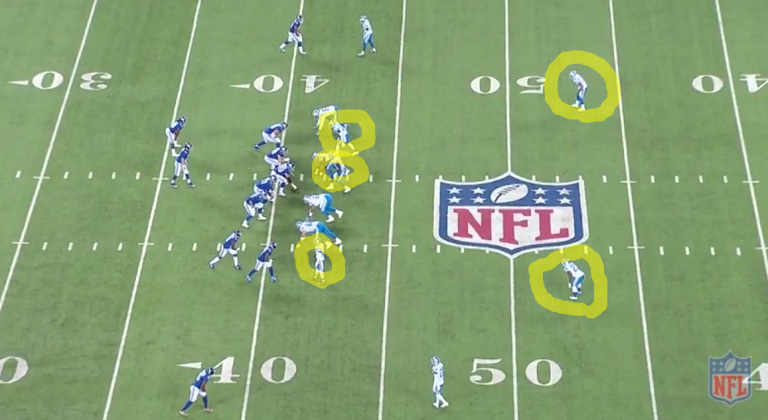 Here's the sack:
Again, where is Manning supposed to go? Everybody is blanketed. In order to make the defense pay for their transgressions of sagging so far, the offense line must be able to handle a standard four-man rush. Manning must be afforded more time here against a lousy four-man rush.
If both edges weren't pushed in his face, Manning probably would have found the running back in the left flat.
On the second play of the second half after a Paul Perkins nice four-yard gain, a 2nd-and-6 faced the offense. Amazingly, Detroit provided Eli with a one-deep look: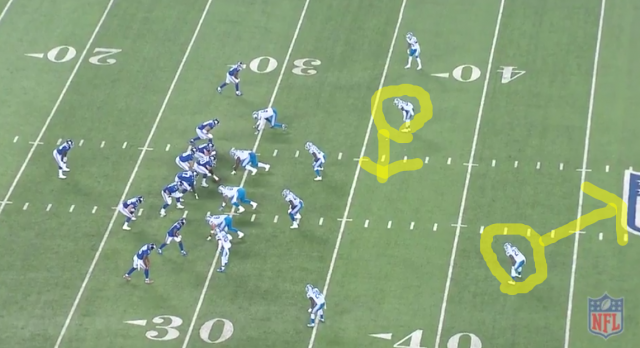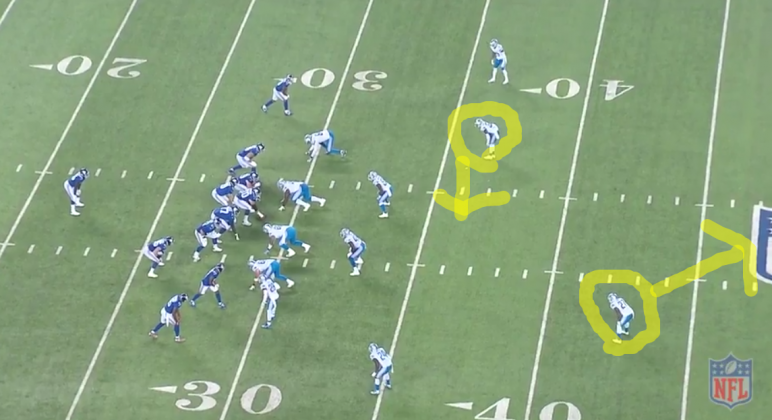 This look, which the Giants never see, allows one-on-one coverage on the outside. This is where either OBJ or B-Marsh can do serious damage in the intermediate outside game.
Unamazingly, they rushed just four:
OBJ was wide open on the post. Manning had zero time to get it done thanks to
Ereck Flowers
.
Now we get to the good stuff, the stuff that forces fans to yell at Eli Manning.
On the very next play, a 3rd-and-9, Detroit was back in a two-deep look: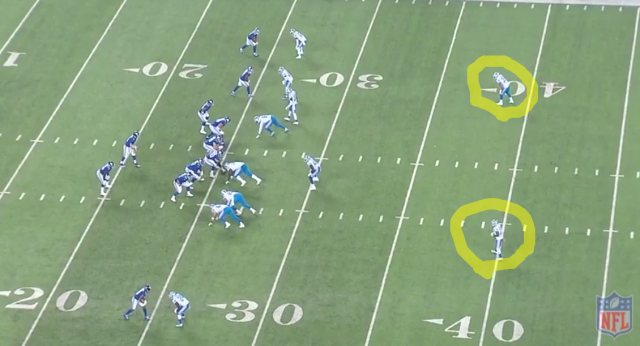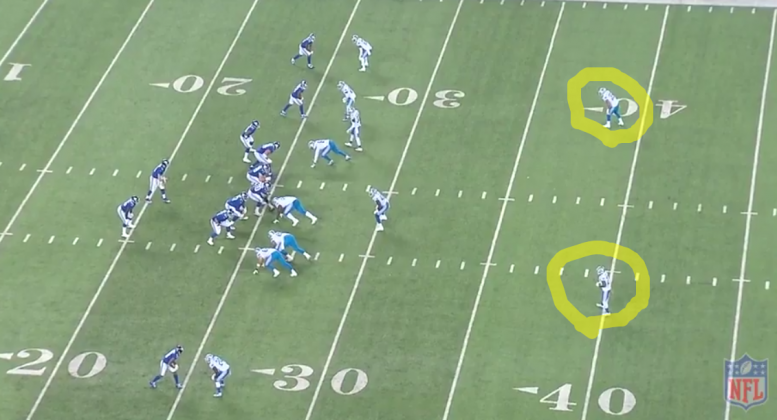 Here's the play:
What Eli is looking at are matchups.
The left side weapons each run 10-yard hooks, both covered in man. The right side weapon runs a nine-route which will never be hit on thanks to the other-the-top safety. Manning is forced to go short of the sticks with Orleans Darkwa out of the backfield. Darkwa beat his linebacker and had a nice jump as his after-the-catch provided a great scenario in picking up nine yards.
The throw wasn't great. But look at the right tackle. Although he wasn't beaten cleanly, getting pushed back so badly affects Manning's throw. It's a brutal situation for a QB.
Two drives later, Eli once again threw it short of the sticks on 3rd-down:
In needing eight yards, the Giants fell one-yard shy. Where is Manning supposed to go with this ball?
OBJ and Sterling Shepard were taking out of the play thanks to the nature of each's deep patterns. Both safeties took that away. B-Marsh could have been hit on the shallow drag, but he would have come up short. The play to Engram was the best shot at the first down.
Meanwhile, Eli's looking to gain the first while firmly knowing a four-man rush can beat his five-man O-line at any time.
A drive later, Manning did it again. He threw short of the sticks again.
But again, I'll ask you the same question of, "Where is he supposed to go with the ball."
Both outside receivers ran comebacks. The problem in hitting them is that each corner can use the trail technique and play underneath because they're fully aware that they have help deep (two-deep safeties). Manning is put into a situation in which he either forces a ball into coverage and risks the interception or allow a run after the catch to possibly snag the first down.
We don't get to see the coverage on television. We have no idea what the situation downfield looks like, yet we're getting on Eli for not throwing the ball past the sticks.
It makes no sense.
In fact, think of last season's big plays. Were any of them really Manning going downfield? I don't think so. Most came via Odell Beckham Jr. or somebody else catching the ball short and taking it to the house after the catch. Due to the offensive line and lack of rushing attack, defenses set up so deep and relaxed that there's literally no option but to take the underneath stuff and pray for the best.
The Detroit Lions were in a two-deep look on all but about six-to-eight plays. They also rushed either four or three on all but five plays. I don't care if you're Joe Montana. When facing those numbers and realizing that the defense has the upper hand on every play, literally, success through the air will be impossible to come by.
We can claim that Eli has regressed a bit. If you feel that need, go for it. But the real film suggests otherwise. He's in a no-win situation and is actually using his veteran mind to put his offense in better situations than they actually deserve to see.
I can't say Eli Manning has regressed. This O-line hasn't afforded us the opportunity to properly evaluate him.