Sam Darnold, Josh Rosen or one of the other recent risers? This is the New York Jets 2017 quarterback prospect power rankings by the Mix Take. 
J
ust when you think you've bought into a savior for the
New York Jets
, a cowboy rides in. While
Sam Darnold
battled the prospects of a catch game and
Josh Rosen
found himself in a shootout, it was
Mason Rudolph
who stole the Saturday spotlight.
Rudolph put his throwing talents on display against a perennial spoiler Pitt. Though last year's game came down to the wire, Rudolph's five first half touchdown passes put the Panthers to bed early.
Because most of the offseason talk surrounded Sam Darnold, Josh Rosen and Josh Allen as first round talents based on their 2016 campaigns, Rudolph flew a bit under the radar. That is no longer the case as he has the Cowboys shooting up the college rankings.
As for Sam Darnold and Josh Rosen, there were mixed reviews for the Hollywood worthy pair. Darnold added a pair of interceptions to his resume, as USC survived their counterparts in the "greatest college football game ever played," Texas.
Rosen, on the other hand, unsuccessfully did everything he could to avoid an upset to Memphis. While the loss is a black-eye to his overall winning percentage, Rosen really was key in keeping the Bruins in the game.
Three weeks in and it's still a three quarterback race, just not the three we expected. Here is this week's power rankings:
1. Mason Rudolph, Oklahoma State
Result: 59-21 Win vs. Pitt
It is early in the college football season. Many conference games have yet to be played. But it is hard not to look at this potential class of quarterback and start thinking about, Eli Manning, Ben Roethlisberger and Philip Rivers.
Two, possibly three, Hall of Famers graced the top of the 2004 draft. Is that a possibility for the 2018 NFL Draft?
It remains to be seen. But as the top five and possibly six, with the addition of Lamar Jackson. The Jets are hoping to hit on a franchise quarterback like the Giants, Steelers and Chargers did, more than a decade ago.
For the sake of all Gang Green supporters, let's hope it's one of the big three and not J.P. Losman. I'm not sure the fan base that was sold on a rebuild could survive that letdown.
Final Stat Line: 23-32, 497 YDS, 5 TD (first half) 1 INT
Where to watch: 9/23 vs. TCU, 3:30 p.m. ET, ESPN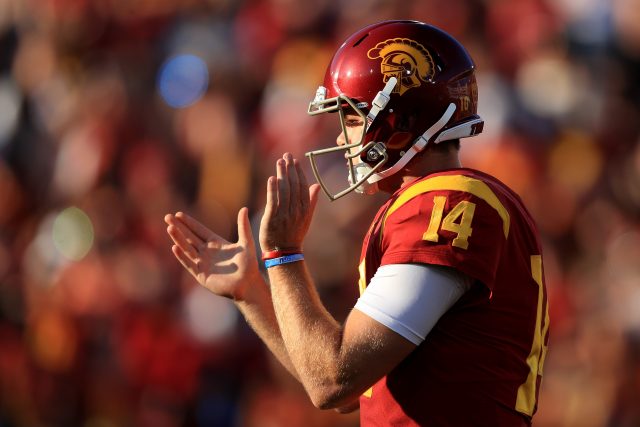 2. Sam Darnold, USC
Result: 27-24 Win vs. Texas
Assume Mike Maccagnan can get past the interceptions, some Sam Darnold's fault, some on the wide receivers. Darnold is a stud NFL prospect.
There will be rumblings that he will stay in school depending on which teams end up picking in the top five of the NFL Draft. Ignore this! Sam Darnold won't make the Jake Locker mistake of staying in school too long.
Unlike Mark Sanchez, who Jets fans will bring up when talking about USC quarterbacks, Darnold talent seems much superior to the former Jet. I'd expect Pete Carroll to bless a move for Darnold, one that he refused to do for Sanchez.
"Suck for Sam," will be growing to new heights over the next several weeks, as USC are set for some marquee matchups. Keep an eye on what could be the future subject of many cheers and jeers.
Final Stat Line: 28-49, 397 YDS, 3 TD 2 INT
Where to watch: 9/23 vs. California, 3:30 p.m. ET, ABC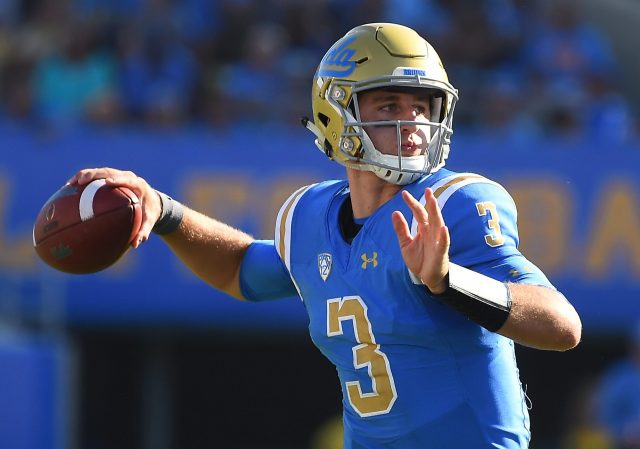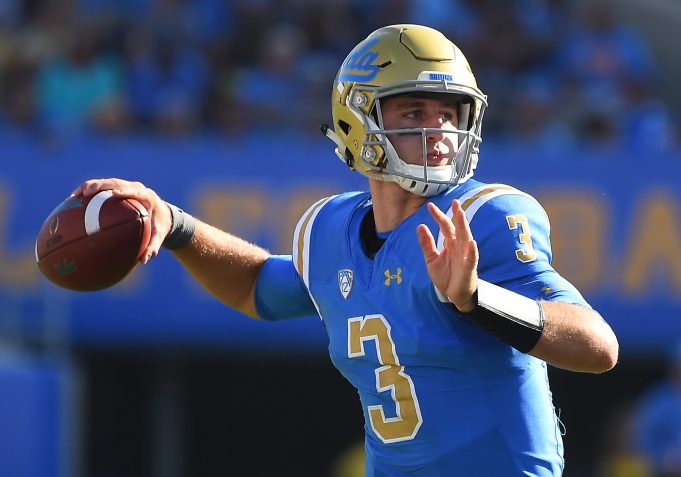 3. Josh Rosen, UCLA
Result: 48-45 Loss vs. Memphis
There is an abundance of New York Jets faithful that have already proclaimed Josh Rosen as the "chosen one." They have witnessed enough of a sample to cash that what undoubtedly will be a top five pick in the NFL draft, pick in for the UCLA junior.
Yet many of us, still remain skeptical. The comeback, the rout and now the shootout has left some of the questions from the 2016 injury riddled season still unanswered.
Many of those questions of health and poise will be answered in the coming weeks, with a tough slate of PAC12 games. The first, a Stanford team that boasts one of the toughest and most physical defenses in the country.
Final Stat Line: 34-56, 463 YDS, 4 TD 2 INT
Where to watch: 9/23 vs. Stanford, 10:30 p.m. ET, ESPN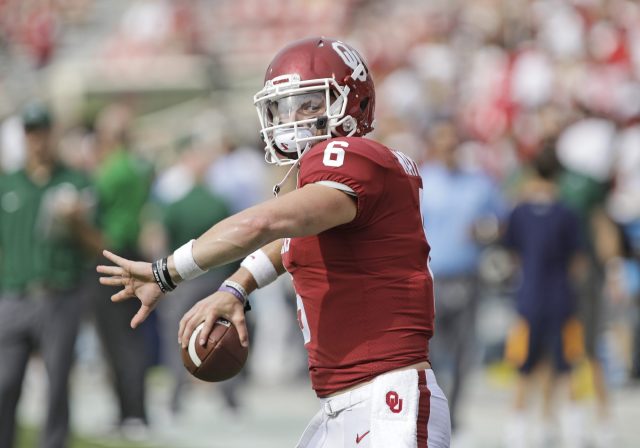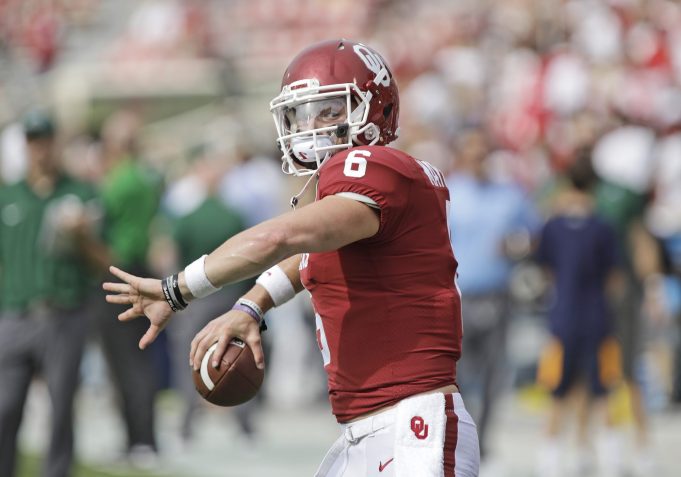 Result: 56-14 Win vs. Tulane
Why is it so hard to buy into the Baker Mayfield hype? Is it because he was a walk on at Texas Tech? Or because he had some issues with the program before transferring to Oklahoma and lost a year of competitive play.
Off the field issues incidents? Sure, he has one on his record.
Is it because he is a few inches shorter than prototypical size? Drew Brees and Russell Wilson are rare successes in the pro game.
What Baker Mayfield and the Oklahoma Sooners, he had led into the Horseshoe, should give us all pause before we dismiss the senior signal caller. If you thought the flag he planted at the 50-yard line in Columbus was glorious, wait until the match up against Mason Rudolph.
Final Stat Line: 17-27, 331 YDS, 4 TD
Where to watch: 9/23 Baylor, 6:30 p.m. ET, Fox Sports 1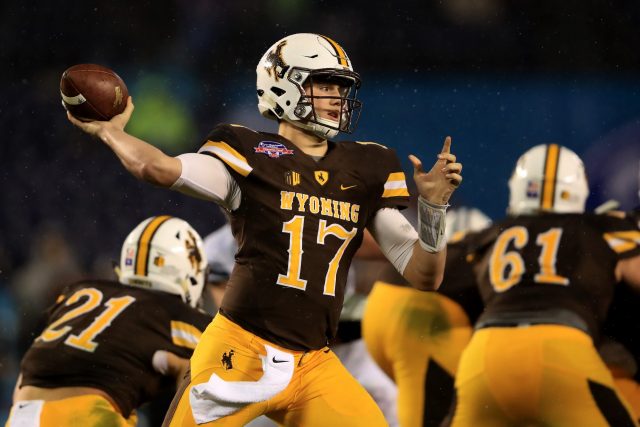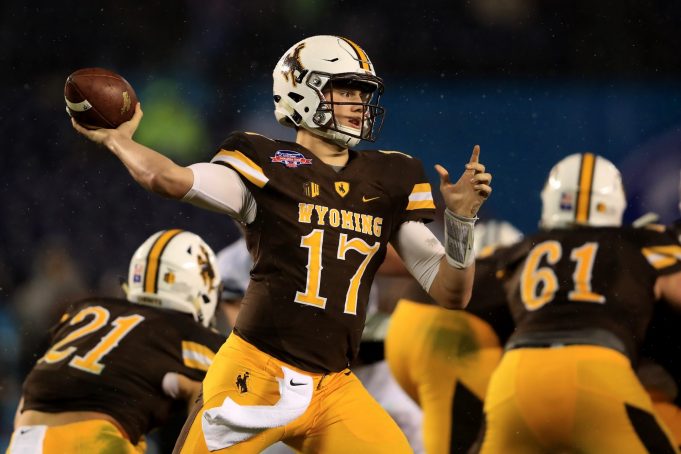 Result: 49-13 Loss vs. Oregon
Where has the sensation that was Josh Allen from a season ago gone? 2017 isn't what he and the many talent evaluators who have kept their eye on the Wyoming Cowboy expected.
Allen had two opportunities in the first three weeks of the season against Iowa and Oregon to really make a mark. Put those chances have now faded and what is left, is sheer talent with no canvas to paint a masterpiece.
Allen will now be required to wait until the post-college season to reignite the desire in general managers, such as Mike Maccagnan. Unfortunately, it won't be in a game, it will be in shorts and as a workout. The wait for the NFL Combine may feel like an eternity.
Nightmarish 1st half vs. Oregon for Josh Allen w/ scouts from 16 NFL teams looking on.

Allen #'s: 3-14, 13 yds, 1 rushing TD, lost fumble.

— CollegeFootball 24/7 (@NFL_CFB) September 17, 2017
Final Stat Line: 9-24, 64 YDS, 1 INT
Where to watch: 9/23 vs. Hawaii, 10:15 p.m. ET, ESPN2