Sure, go ahead and blame Ereck Flowers. Just don't only blame him and the O-line for the New York Giants have many more issues to deal with. 
East Rutherford-With the 10th anniversary of their improbable victory in Super Bowl XLII honored at MetLife Stadium on Monday night, perhaps forgotten in the story of the 2007-08 New York Giants is the fact that their season began 0-2.
At this point, it's probably the only non-roster similarity between that historic squad and the Giants' modern-day incarnation.
To bring up two wisdoms from Yogi Berra, it's getting late early for the Giants, who now sit at 0-2 after deja vu struck all over again. A passable defensive effort, as well as first-round pick Evan Engram's first NFL touchdown, lay forgotten, as the Giants offense betrayed them for the second consecutive week in a 24-10 defeat to the Detroit Lions. With the loss, the Giants are one of nine NFL teams to drop their first two decisions.
"We talk about playing complete, complementary football. By no stretch of the imagination did we get that done tonight," head coach Ben McAdoo said after the loss. "We've got to do better. We dug ourselves into a hole. No one feels sorry for us. We've got to find a way to get better and get better in a hurry."
Naturally, the instant suspicion immediately turned to the infamous offensive line, who surely did themselves no favors on Monday. Eli Manning was sacked five times, as the Ereck Flowers that Giants' fans have come to know all too well resurfaced, struggling all night against Ezekiel Ansah. Elsewhere, Bobby Hart was lost to an ankle injury, forcing Justin Pugh to move to tackle and Brett Jones to be interested at guard, showcasing the lack of depth likewise on display last week.
But make no mistake … this team's problems extend far beyond the five big guys blocking. This disastrous debut has been a team effort … or lack thereof … and while the infamous line is nowhere near blameless, they're far from the lone suspect in the murder of Giants' fans preseason expectations.
In some cases, the Giants' problems lie in not what they do, but in what they don't. That couldn't be further on display in the run game, which again struggled to find any sort of traction on Monday night. Starting back Paul Perkins had 10 yards on seven carries, giving him 26 yards on 14 chances through two games. Shane Vereen managed 28 yards on 6 rushes, but his night will mostly be remembered for a short, two-yard route on 4th-and-3 in the fourth quarter that more or less deflated a good amount of hope the Giants had left.
Orleans Darkwa, on the other hand, provided a brief spark on an 11-yard rush in the second quarter. He was rewarded, however, with only two other carries, playing sparingly throughout the rest of the game. The same thing happened last week in the 19-3 loss to the Cowboys, as Darkwa had a 12-yard pickup before being more or less banished.
Yet, the coaching staff has remained mum as to why Darkwa isn't carrying the ball more often.
"We didn't have very many carries last week to begin with," McAdoo said of the Giants' dozen rushing attempts against Dallas in Week 1. "We need some more rushing attempts."
"(We're) excited about the dimension that he has," offensive coordinator Mike Sullivan added. "Every runner has a certain upside, if you will, or something that they bring to the table and he has some things. So, we're looking forward to giving him more opportunities."
On just six carries, Darkwa leads the team with 31 yards and a 5.1 average.
Another crucial inactivity came at the end of the second quarter, with the Giants down 14-7. With just under 80 seconds left on a running clock, the Giants forced Detroit into a 4th-and-2 scenario at the New York 38. Rather than take a timeout, of which they had three, the Giants opted to let Detroit run the play clock down, allowing Matt Prater's 56-yard field goal to bounce over the crossbar with 30 seconds left. As a result, the Giants appeared satisfied with the 17-7 intermission deficit and went to the locker room with all three of their timeouts, timeouts that, obviously, did not carry into the second half.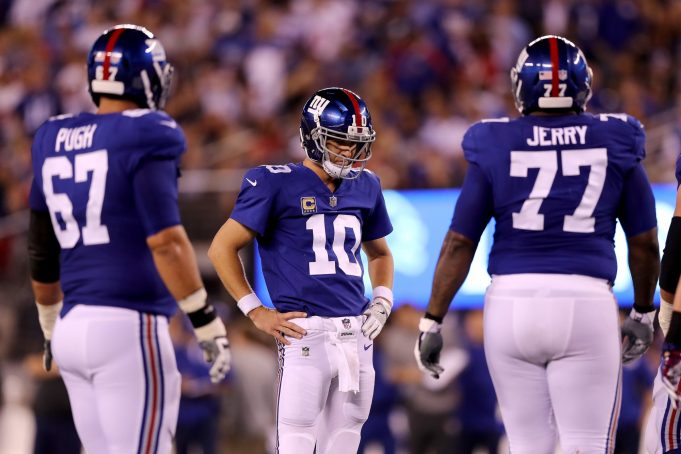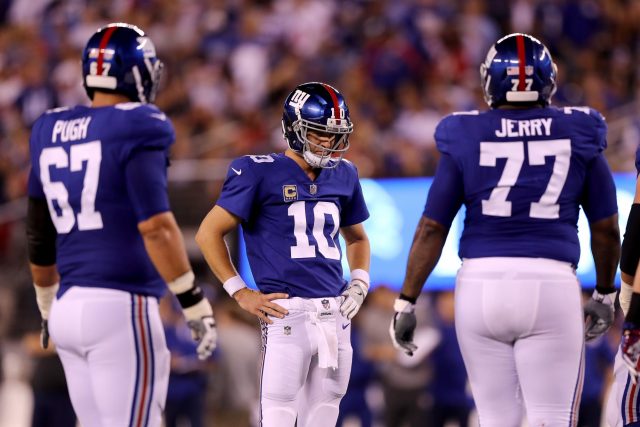 Even if the Giants opted for a potential two-minute drill, the passing game has likewise been a problem. Winning two Super Bowls has been perhaps the best thing to ever happen to Eli Manning, not just for obvious reasons. Sure it puts him in the same breath as Tom Brady, Joe Montana, Terry Bradshaw, Troy Aikman and his brother Peyton, but because, to a certain faction of Giants' fans, the pair of Lombardi Trophies has made Manning immune to any sort of criticism.
Manning, however, who has one touchdown and 539 yards through two games, acknowledged he needs to get better in Monday's aftermath.
"I can play better," Manning bluntly said after the game. "I've go to find ways to play better and get some completions, convert on third down. That's a quarterback's job. He's got to find ways to move the offense and move the ball and score touchdowns. So, we're not doing that enough."
Manning later added, "I feel I can play at a high level, I feel I can make all the throws and play at a high level and lead this team."
McAdoo likewise did not shy away, particularly calling out Manning for taking a third quarter delay of game penalty on 4th and goal from the Detroit 2. While a short Aldrick Rosas field goal cut the Detroit lead to 17-10, the team was left frustrated that an opportunity for a touchdown was taken away by their own doing.
"We have a veteran quarterback who has played a lot of football. I expect us to get the ball snapped," McAdoo said. "(It was) sloppy quarterback play. (The) quarterback and the center need to be on the same page there. We've got to get the ball snapped."
McAdoo doubled down on Manning's performance, noting a second quarter interception immediately after a Lions turnover and the 4th and 3 play did not help the Giants' case.
"I thought he did some good things in the pocket, making some plays under duress, but the whole offense needs work," the head coach said. We're not in rhythm right now."
Expected to jumpstart the offense was the return of Odell Beckham Jr., who had 36 yards receiving in a limited role. Beckham has been sidelined with an ankle injury since August, but on paper, there's still plenty of receiving firepower that should pick up the slack, namely in Brandon Marshall, who nearly missed the box score entirely in his debut in Dallas before a garbage time grab in the fourth. The ex-Jet received some more targets on Monday, but his crucial drop on a fourth quarter drive came mere minutes before Jamal Agnew put the Giants out of their misery with an 88-yard punt return touchdown that put the game out of reach at 24-10.
"I don't think I'm pressing. I actually think I'm doing a good job," Marshall said of his Giants tenure thus far. "It's a new role for me, so I'm in the game and I'm trying to make plays where ever I can, whether it's in the run game or the pass game. I got an opportunity tonight, I got a few opportunities tonight, and I let my team down."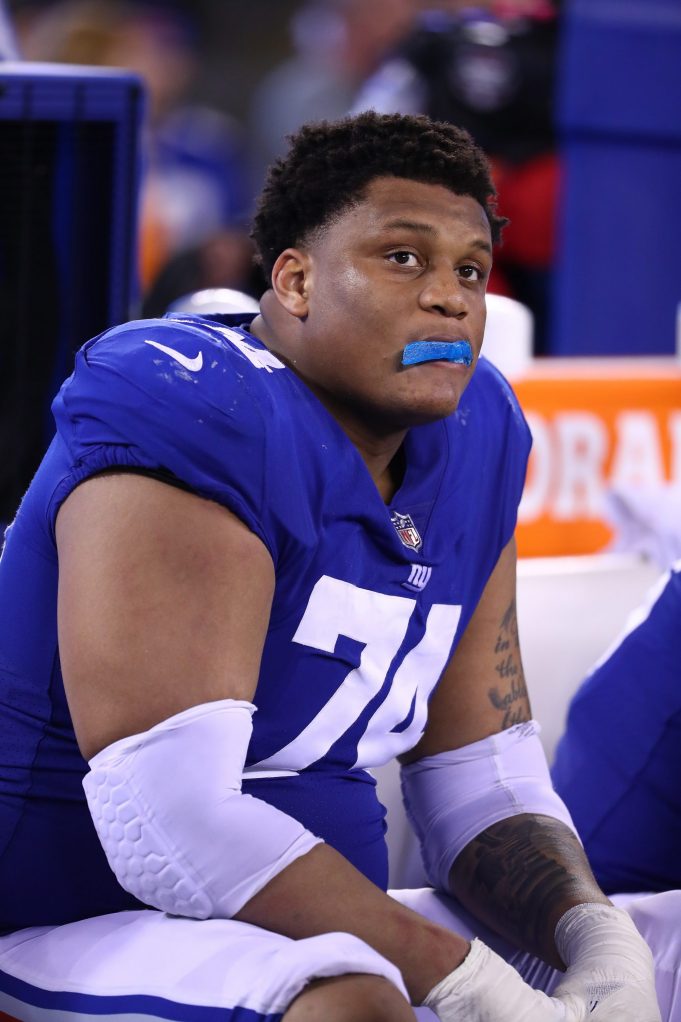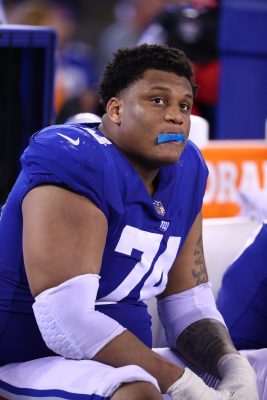 Even the one Giant touchdown, thus far their only such score of the season, was marred with carelessness. Evan Engram entered NFL box scores for eternity with a diving catch from 18 yards out to briefly tie the game, but he was victimized by the NFL "lewd gesture" policy, a brief crotch grab drawing yellow fabric. The 15-yard penalty, enforced on the kickoff, paid dividends for Detroit, who got to start at the Giants 45 when Rosas's kick sailed out of bounds.
Not even the vaunted defense excused itself from the calamities. They were missing cornerstone starters BJ Goodson and Janoris Jenkins at linebacker and cornerback respectively, but nonetheless played respectively, with undrafted free agent Calvin Munson getting 7 tackles and a sack in his first start while helping hold Matthew Stafford to a mere 122 yards.
Nonetheless, they too partook in the blame.
"We're going out there playing good but obviously not good enough. As long as there's points on the board we have to find a way to have more points than them," said cornerback Dominique Rodgers-Cromarite, who led the Giants with 11 tackles. "Our job is just to go out there and try to get the ball back as much as we can to our offense. Whether what happens over there, that's not on us. We just have to keep playing through it."
"I think we have to do a better job of stopping them on first and second down," linebacker Jonathan Casillas added. "This is a short week, we've got to move on. We're going on the road to play a division team so we've got to have a short-term memory and forget about this game, which (stinks), but at the same time that's football and we've got a long way to go."
With some so-called experts decreeing a February trip to Minnesota for Super Bowl LII for the Giants this summer, the first two games have had Giants fans canceling their trips to the Land of 1,000 Lakes faster than a Beckham slant. The road gets no easier for the Giants, as a trip to Philadelphia on short rest awaits next Saturday, as does a trip to Tampa Bay and a visit from the Los Angeles Chargers.
The Giants, in typical New York fashion, remain hopeful.
"I think we've got good character guys on the team. Guys are going to stick together and keep working," Manning said. "The defense is playing tough and playing good defense. The offense has got to do our part. We've got to make the plays and we've got to handle our part of the equation to fix this."
The Giants have made it quite clear the losses are a team effort. Digging themselves out of this 0-2 hole, buried in both a division and conference filled with talent, will have to be as well.
Geoff Magliocchetti is on Twitter @GeoffMags5490.