With their first preseason game under their belt, the New Jersey Devils look to ice more talent as they narrow down their roster.
W
hile the Devils got some looks at some youngsters in their 4-1 victory over the Capitals, some players will suit up for later games. Some of those players were on the team last year, some are new. If the Devils are to have success this season, they will need some players from past and present to shine. Let's look at a few and what they can do.
Cory Schneider
While Cory Schneider wasn't in the game, he was in the building Monday night. If the Devils are going to have any success, it starts with their main man between the pipes. Schneider is coming off his career-worst season, going 20-27-11 with a GAA of 2.82 and a save percentage of .908. In seasons past, Cory Schneider had kept the Devils in tight, one-goal games. While the team let him down tons, it doesn't help that the team is down by two to three goals per night while the offense can struggle to even turn out one at times.
New Jersey's goaltending history is rich, obviously. Schneider is an elite goaltender who can slam the door when they need him to. Devils fans hope that last season was just an off year and that he will return to form. The addition of his old goaltending coach Roland Melanson should help get his numbers back on track. If not, then it's going to be another long season in Newark. Especially with Keith Kinkaid as a back-up.
Damon Severson
Damon Severson had a nice off season. His hard work was rewarded with a nice six-year, $25 million contract which keeps him in New Jersey. He set career-highs in points and assists last season, with 31 and 28 respectively. However, he was a -31 and that is unacceptable.
Now granted it wasn't necessarily his fault given the overall state of the Devils offensive issues. However, that means he was on the ice for lots of goals against and as a defenseman, that is something he can work toward changing. And in changing that, he helps out Cory Schneider. And if they help each other out, then the Devils will reap the rewards. They gave him a nice big contract, now it's his turn to earn it.
Taylor Hall
If there was a word to describe Taylor Hall's first season in red and black, it would be disappointing. He was hit by the injury bug and watched his former team — the Edmonton Oilers — make the playoffs in their first year without him and for the first time in 11 seasons. His shot percentage was a career low (8.4) and he mustered 20 goals and 53 points. A trip to the post season would certainly help the Devils chances of re-signing Hall when his contract is up in the 2020-2021 season.
That said, Hall could do a little more offensively. He has never hit the 30 goal mark in his career and that's something Hall should aim to break this season. Playing alongside a revamped roster, it certainly doesn't seem out of his reach. If Hall can avoid injury and step up his production, it would set a great example for some of the younger Devils.
John Hynes
After the way last season was going and ended, people wondered if John Hynes should keep his job. However, Head Coach John Hynes did the best he could with a ragtag squad. However, this year is different. He is in the same spot that his predecessor (Pete DeBoer) was fired in: heading into a new season after two losing seasons. DeBoer was sacked after 36 games.
GM Ray Shero still has a soft spot for Hynes, and he likely won't fire his head coach just to take over himself. If there was a time to find a new coach, it was when names such as Lindy Ruff and Ken Hitchcock were available. But now Hitchcock is back with Dallas and Ruff is with the hated Blueshirts across the Hudson.
It's a proving year for Coach Hynes. The team must be competitive for him to remain.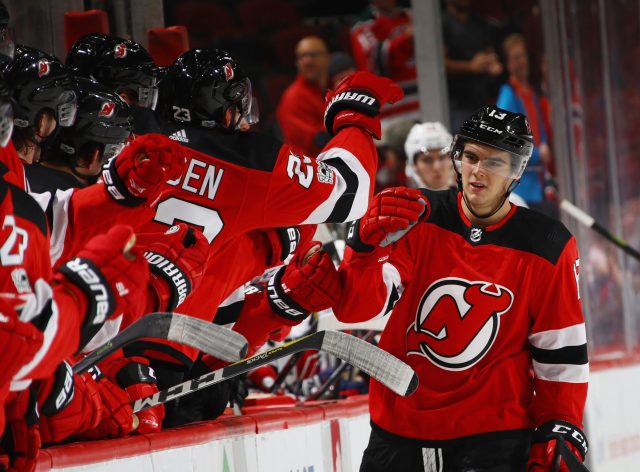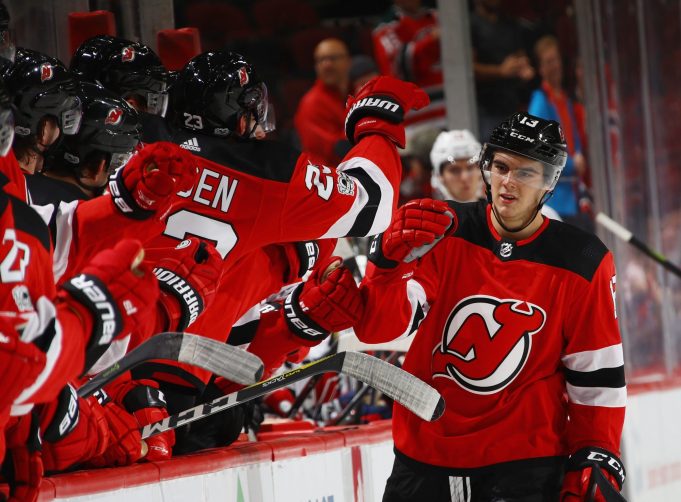 Nico Hischier
The Devils' first ever first-overall pick has a lot to prove. He scored his first goal in the Devils win over the Capitals Monday. While he won't be the number one center, he will make a strong case for the second or third line slot. With Travis Zajac out to start the season, the opportunity is ripe to make an impact from the start.
At age 18, there is a lot of pressure on the young man from Switzerland. Veterans would be wise to help take some of the pressure off him. However, making sure every team knows how good he is would do wonders for the Devils. That, and staying healthy.
A lot has to fall into place for the Devils to have a chance at the postseason. If everyone does their part and the right players set up, the team could see play in mid-April for the first time since 2012.