Coming into this season, the New York Giants were one of the favorites to represent the NFC in Super Bowl LII. Now, one win would be considered nice. 
A
fter the
New York Giants
24-10
embarrassing loss
to the Detroit Lions on
Monday Night Football
, the hometown team is now 0-2 having been outscored 43-13.
Suffice to say, these guys don't resemble a team that was supposed to compete for a championship.
The Giants finished 11-5 last season and expectation rose when they added six-time Pro Bowl wide receiver Brandon Marshall, and drafted Evan Engram in the first round.
But the one area that the Giants needed to upgrade, the offensive line, they simply didn't. You can't win a championship with a subpar offensive line, so when Jerry Reese neglected to take an offensive lineman early in the draft or sign a top tier lineman, we should have tempered our expectations for the Giants.
Yes, the Giants went 11-5 last season, but eight of those wins were decided by a touchdown or less.
Last season, the Giants enjoyed a six-game winning streak against teams that failed to make the playoffs in the Baltimore Ravens, Los Angeles Rams, Philadelphia Eagles, Cincinnati Bengals, Chicago Bears and Cleveland Browns. Three of those teams finished in last place in their division and combined for a record of 29-66-1.
Even when the Giants won those games, a few of them were decided by Odell Beckham Jr. making a spectacular play for a touchdown or Landon Collins coming away with a game-clinching interception.
So, if you look at it objectively, the Giants overachieved last season by beating horrendous teams. It led the entire world to us overrating them heading into this season, despite having perhaps the worst offensive live in football — a unit that literally (almost) makes up half (5-of-11) of the offense.
Eli Manning was sacked five times against the Lions and was under constant pressure. He finished the game 22-of-32 for 230 yards, a touchdown and one interception.
Most of his pass attempts were short and intermediate routes due of the line and, in particular, left tackle Ereck Flowers didn't give him time to attack the Lions down the field.
For the second week in a row, the running game was nonexistent. The Giants ran the ball 18 times for 62 yards. The most productive run of the night came courtesy of an end-around to Sterling Shepard that gained 12 yards.
When you can't run the ball and can't challenge opposing defenses downfield, your play calling becomes predictable and easy to defend.
This is the main reason why the Giants have not scored 20 points in eight games dating back to last season.
The sad thing about it, unless the Giants make a trade for a top offensive lineman, their woes will continue. Defensive coordinators know how vulnerable the Giants offensive line is and will draw up schemes to exploit this. There is never a reason to ever move out of a two-deep safety look. Keeping a light box in to take care of a horrid run game while hovering two safeties over-the-top is the only way to play this horrible O-line.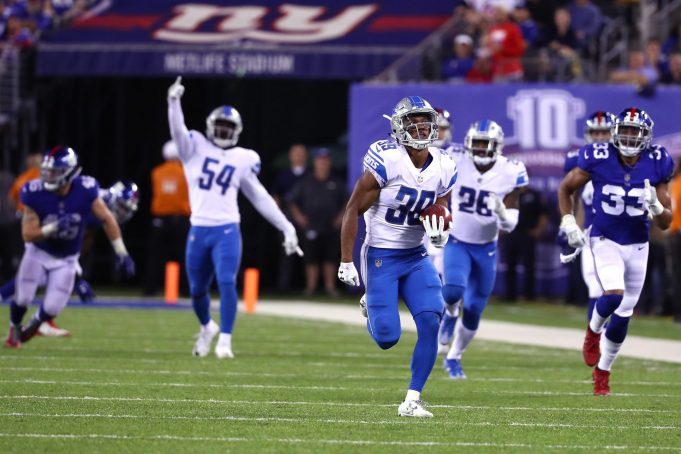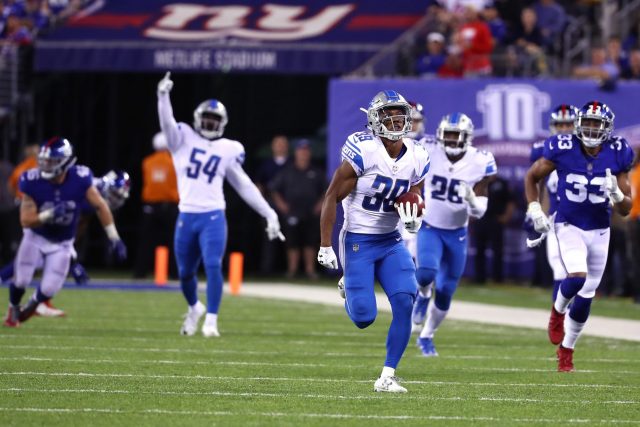 Sure, the Giants will still be able to win games here and there thanks to a great defense and Odell Beckham Jr. has the ability to carry the offense to a few wins, but that won't get them close to winning a championship.
The Giants will now travel to Philadelphia to take on the Eagles on Sunday. The Giants haven't won in Philly since 2013 and have scored a combined 26 points in their last three meetings there.
In their two games this season, the Eagles are averaging 25 points per game. So the Giants, by their own terrible standards, will need to have an offensive explosion to be able to compete with them.
It's only two games and yes, it's possible the Giants could rebound and turn the season around, but it's becoming more likely they'll miss the playoffs for fifth time in six seasons.
Last season, the New York Giants exploited an easy schedule. This year, they're underachieving and looking like the most overrated team in the league.
Fool me once, shame on me. Fool me twice, shame on you. Go into a third season with Ereck Flowers as this offense's starting left tackle, shame on Jerry Reese.