D'Angelo Russell is considered the new franchise cornerstone of the Brooklyn Nets. That's not reflected in ESPN and Sports Illustrated's player rankings for the 2017-18 season, however.
F
ans and players alike are taking it to sports networks like ESPN and
Sports Illustrated
for their misconstrued player rankings ahead of next season.
Last week
, it was
Carmelo Anthony.
This week, it should be Brooklyn Nets guard D'Angelo Russell.
From ESPN, who ranked Russell 83rd overall:
"Russell gets a fresh start in Brooklyn following a turbulent first two seasons with the Lakers. The lefty did show flashes of playmaking brilliance, averaging over 26 points and eight assists per 100 possessions, benchmarks that, while completely arbitrary, are incredibly rare for a player that young. The only other two players to reach those thresholds by the tender age of 20? Kyrie Irving and LeBron James."
It's ironic that ESPN makes the comparison to Irving and James while simultaneously ignoring his present-day talent. ESPN does acknowledge his playmaking tendencies and potential, which are likely to become more apparent as he begins his career in Brooklyn.
One player I don't like ranked ahead of Russell? Patrick Patterson of the Oklahoma City Thunder.
While Patterson is a very underrated big man, his performance last season with the Raptors shouldn't have even cleared him for the top 100. He averaged 6.8 points and 4.5 rebounds a game and started only eight. Patterson is preparing for a strong year with the Thunder, but that is no reason to rank him ahead of Russell.
One player I do like ranked behind Russell? Gary Harris of the Denver Nuggets.
It's hard to tell whether this is positive for Russell or negative for Harris, who was ranked 57th overall in the Sports Illustrated list. Harris averaged 14.9 points on highly efficient shooting percentages of 50 and 42 percent. Placing him behind Russell shows the true anticipation behind the former Lakers' breakout year.
---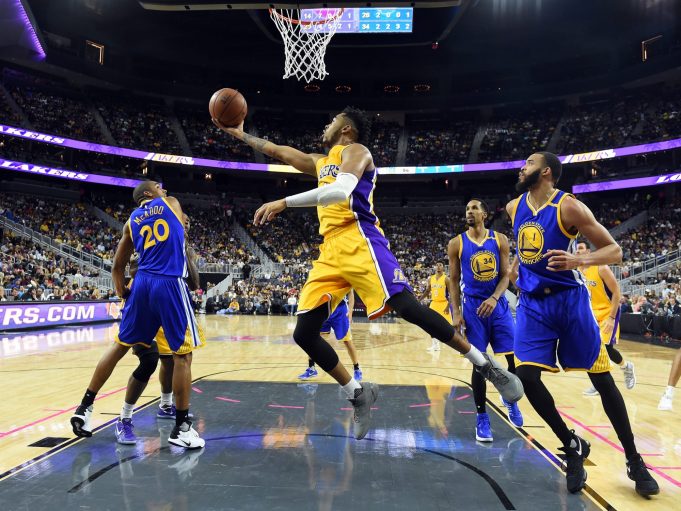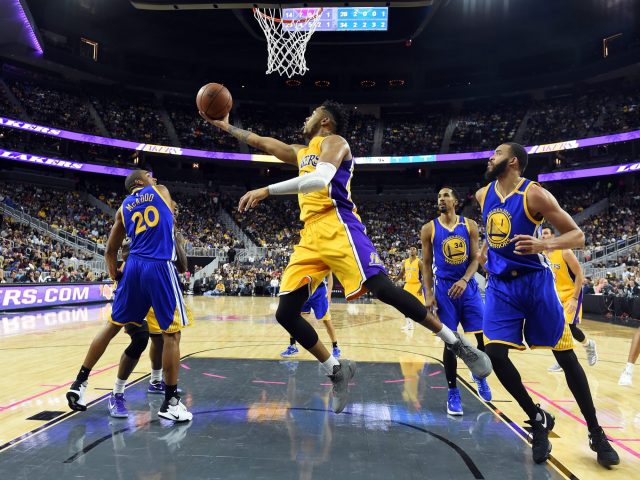 ---
From Sports Illustrated, who ranked Russell 100th overall:
"We've seen hints of a team-changing playmaker and shooter lurking within Russell, buried beneath questionable judgment and short-term priorities. Every year of experience brings hope that his potential might come more fully to bear. Young players are perpetually caught between their want for freedom and their need for structure. Russell didn't find the right mix in Los Angeles, though he might in Brooklyn—a franchise as invested in cultivating talent as any in the league. The firepower is there. The star power, too. But first Russell must learn the value of his smallest contributions and the goals they work toward. Averages of 19.6 points, 6.0 assists, and 4.4 rebounds per 36 minutes are promising. If Russell can apply that same production toward winning margins, it could be something more."
A couple things stand out to me from this description. One, yes, Russell did make some questionable judgment calls. He was playing for one of the youngest and inexperienced teams in the league. Two, the author's adjective use of "team-changing" for Russell's playmaking ability. That's something Nets fans should hang on to with every breath as the season approaches.
One player I don't like ranked ahead of Russell? Marvin Williams, of the Charlotte Hornets.
Wiliams is an established 12-year veteran who's addition would likely benefit any team in the NBA. Yet, in such a lengthy career, this former number two overall pick hasn't reached an All-Star game or even All-NBA Team appearance. The hype that once surrounded him has faded into a select few Hornets fans. The same fans who are still calling for Michael Kidd-Gilchrist breakout year mind you.
I'm a fan of this 31-year-old forward by all means, but to place him ahead of a young talented guard who's already his career-high in both assists and scoring? I think not.
One player I like ranked behind Russell? Malcolm Brogdon of the Milwaukee Bucks.
After four years in college, Brogdon put on an impressive rookie campaign which earned the Rookie of the Year award. He was a big aid to a lacking Milwaukee defense and presented a scoring option only when necessary. He averaged 10.2 points and 4.2 assists per game on an efficient 46 field goal percentage.
---
D'Angelo Russell slid down multiple spots from last year's ranking, after improving nearly every number along his stat line.
With a situation set up for him to thrive awaiting with the Brooklyn Nets, don't expect to see this young guard anywhere near these numbers next year.