Bleacher Report ranked each of the 30 NBA teams backcourts in an article published Thursday. The Brooklyn Nets were placed 19th. 
T
he Brooklyn Nets made a significant upgrade to their starting backcourt after trading for
D'Angelo Russell
back in June. Pairing him with point guard
Jeremy Lin
in the backcourt is thought to be the Nets' saving grace.
Though Lin only played 36 games last season, it was some of the best basketball we've ever seen from "Linsanity." Russell earned a bad rep with some leadership struggles in Los Angeles, but hasn't stopped progressing since his first season in the league.
19th puts the Nets in the bottom half of the league, though closer towards the top. Fortunately for Russell they're ranked just ahead of Lonzo Ball and Kentavious Caldwell-Pope of the Los Angeles Lakers, his former team.
Their individual seasons were pretty impressive, but when you get down to the numbers, were some of the worst in the league for a two guard combo.
(All projections following are made off and based on last year's stats, courtesy of hoopsstats.com.)
Last Season
In terms of scoring, the Nets will need to see a boost from their two starting guards. Last season Lin and Russell combined for 30.1 points per game.
Regarding assist numbers, they sit in the same tier. Together, the guards recorded 9.9 assists per game last season.
It doesn't get better with rebounds. Lin and Russell are smaller frame guards who do rebound well, but not enough in total. They finished at 7.3 per game combined which, again, would place them in the bottom tier of backcourts.
I would keep going, but you see the trend. No one can determine how they'll play together until they actually do, but they're stats from last season will not rank them with the best of the best guard duos.
Why then, is Bleacher Report so generous with the ranking?
---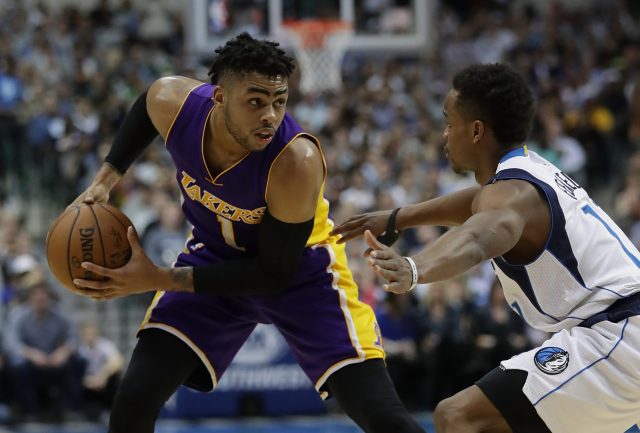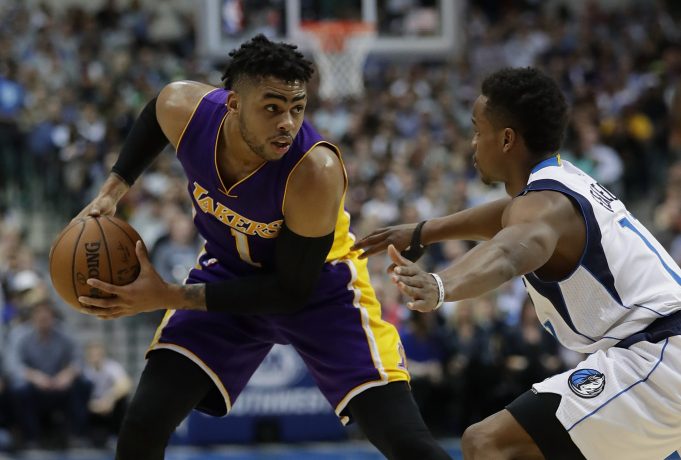 ---
Bleacher Report is obviously anticipating the downfall of several teams, and respecting the future potential of the Brooklyn Nets.
This Season
D'Angelo Russell is entering his third year in the league. As mentioned before, since entering the league he's been on a consistent incline and showed signs of determination to be great. Jeremy Lin is prepping for one hell of a comeback campaign, should he remain healthy.
More importantly, they're two point guards sharing the court together. The only team following a similar (and likely better) model is the Houston Rockets. The thought is that at least one ball handler will be on the court for the entire game.
From Bleacher Report's column:
"Lin constantly attacks the basket out of the pick-and-roll, demonstrating an ability to finish around the hoop while still keeping his eyes up in search of  teammates spotting up on the perimeter.

Russell's shot still needs plenty of work and he can fall into bad habits of lofting up ill-advised heat-checks, but becoming a more consistent facilitator has gone a long way. Now, he's surrounded by better shooters."
Where Lin will focus on getting to the post and outside passing, Russell will be knocking shots down on the perimeter. Or the diversion for defenders while Lin sets for a cutting layup.
Both will see a rise in assist numbers with an upgraded offense, featuring Allen Crabbe, DeMarre Carroll. Along with the continued progress of Rondae Hollis-Jefferson and Caris LeVert.
---
Adam Fromal, the writer who published the Bleacher Report rankings, must see the writing on the wall. A healthy Jeremy Lin is unstoppable, and D'Angelo Russell's in for a big year in a system that fits his needs.
The Brooklyn Nets backcourt is ranked 19th, but if everything goes according to plan, they'll be ranking a lot higher come the regular season.