Sean Kilpatrick is entering the second year of his three-year deal with the Brooklyn Nets and could be in line for an impressive season.
F
rom 10-day contract to a three-year deal, Sean Kilpatrick has made his way through the NBA from the ground up.
Entering the 2017-2018 season, the young guard will be out to prove he deserves the roster slot he currently holds.
What kind of numbers can Nets fans expect from him next season?
Points Per Game
For the rebuilding Nets, Kilpatrick's offense has been crucial to team wins. Averaging 13 points after only starting 24 games is no small feat. Though head coach Kenny Atkinson did keep him in heavy rotation, he averaged 25.1 minutes per game last season.
Nonetheless, his offensive versatility played a big part in Brooklyn last season, especially after Jeremy Lin's injury left a void at the point guard position. According to ESPN, Kilpatrick tallied 45 of 70 games played with double digit points.
The majority of his offensive skill set last year revolved around layups and three-pointers. One of his favorite moves, driving layups, was also his most efficient weapon.
Kilpatrick scored 51 out of 88 layups when pushing down the lane. That's 58 percent efficiency, and his best out of any move, minimum 50 shot attempts.
Check his best offensive game here, a career-high 38 point performance in a win over the Los Angeles Clippers.
---
---
As you can see in the highlights, Kilpatrick's three-point shot is already well established for someone who's played only one full season in the league. He connected on 105 shots from deep last season, which was second on the Nets behind big man Brook Lopez.
His mobility in the lane and overall body control makes him a dangerous guard. He's shorter than most big men he's meeting down the post, but he's filled out at 215 pounds and knows how to use his weight.
Rebounds Per Game
When I say that Kilpatrick knows how to shift his weight in the post, that goes for defense as well. Out of his four rebounds per game average last year, 3.7 were defensive. His average is no representation of his true ability.
He recorded double digit rebounds for four double-doubles last season, and that includes his career-high 14 in that same performance against the Clippers.
---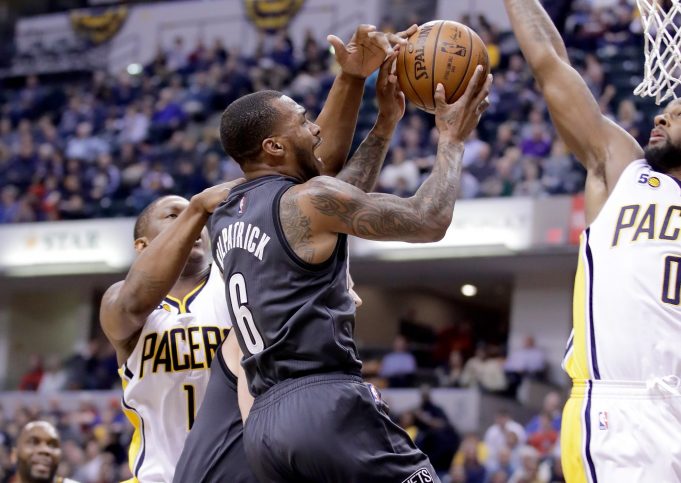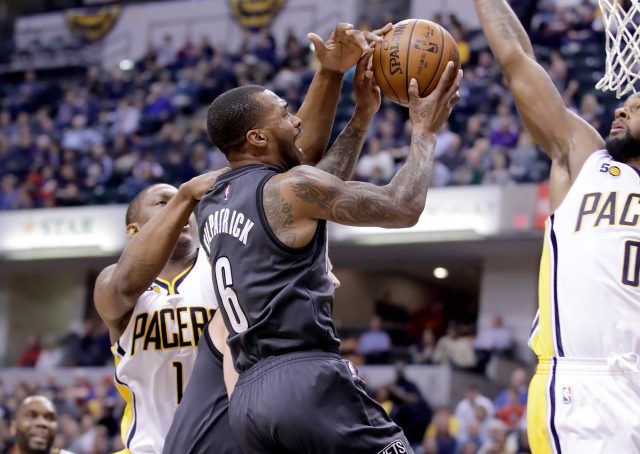 ---
Nearly all of Kilpatrick's stats were better in Brooklyn wins, which truly shows his role and impact on the Nets' play. Regarding rebounds, the guard saw a 3.3 difference when the team won (6.6) versus when they lost (3.3).
The same goes for starting versus the bench. When Kilpatrick was featured in the starting five he averaged 4.5 rebounds, versus 3.7 when he played off the bench (per NBA.com).
Assists Per Game
Again, Kilpatrick's assist per game average of 2.2 from last year doesn't do him justice. With Lin out, he split facilitating responsibilities with teammates Spencer Dinwiddie, and Isaiah Whitehead.
On the year, the once undrafted guard tallied 8 games with 5+ assists, including a season high seven against the Indiana Pacers. Similar to his rebounding numbers, Kilpatrick averaged a whole 1.1 assist more per game when starting (three) versus coming off the bench (1.9).
With the additions of Allen Crabbe, D'Angelo Russell, and Jeremy Lin healthy, he won't see half as many games in the starting lineup.
---
Kilpatrick's summer grind has been featured on Twitter and other social media platforms, when he worked out with NBA champion Kevin Durant and future Hall of Famer Steve Nash.
There's no doubt the two legends dropped some wisdom on him. I think that, along with his own drive for greatness, will elevate his game next season.
Projections
Points Per Game: 14.0
With the shooters added primarily scorers from the perimeter, Kilpatrick will see even more open looks, especially when you take into account the lack of big man Brook Lopez in the front court.
Rebounds Per Game: 4.3
With Lopez out of the picture and rookie Jarrett Allen playing with Kilpatrick in the second unit, it's not unlikely we'll see a spike in his impact on the glass. However, with Rondae Hollis-Jefferson joining him on the bench, don't expect a major increase.
Assists Per Game: 3.1
Though Lin is back and Russell will be there for facilitating aid, Kilpatrick will take the helm for the second unit's offense. The inclusion of summer acquisitions will push other youth to the bench, and he'll have targets aplenty for an increase in his assist numbers.
---
---
Sean Kilpatrick is the embodiment of the Nets motto, #BrooklynGrit. His own personal standards and knack for closing out games are exactly what makes him one of the most dangerous second unit guards in this league.
He's fought for his spot his entire life. Don't expect him to stop now.