The New York Jets will be looking for a quarterback in next year's draft and USC's Sam Darnold should be their top target.
This weekend was one for the books for college football.
Two things became apparent after this week's slate: Sam Darnold is every New York Jets fan's "man crush" and Baker Mayfield just became a real option for teams looking for a quarterback.
If there was any inclination to sell the Sam Darnold stock after last week's performance, any thought of that should be stricken from everyone's mind. For Darnold to continue his Spartan march to the Heisman Trophy, he will need performances like the one against Stanford.
Another player who helped his Heisman cause was one that wasn't even on last week's power rankings — but one the New York Jets will certainly want to keep an eye on in Baker Mayfield. Mayfield's rise is one that deserves continuous monitoring of, as he probably led Oklahoma to the biggest win of the young season.
Josh Rosen, Mason Rudolph and Josh Allen did what was expected of them and remain interesting prospects for Mike Maccagnan and the Jets. Sam Darnold becomes the clear number one target, and soon the question will be, "what do the Jets need to do to secure him?" Based on Sunday's result, it won't take much.
One player that has yet to hit the power rankings but remains one to watch is Louisville's Lamar Jackson. Jackson, last year's Heisman Trophy winner, lit up UNC's defense. How Jackson's game translates to the NFL remains to be seen, but he is certainly on our radar.
With the addition of Mayfield, here are the latest rankings.
Sam Darnold, USC
Result: 42-24 Win vs. Stanford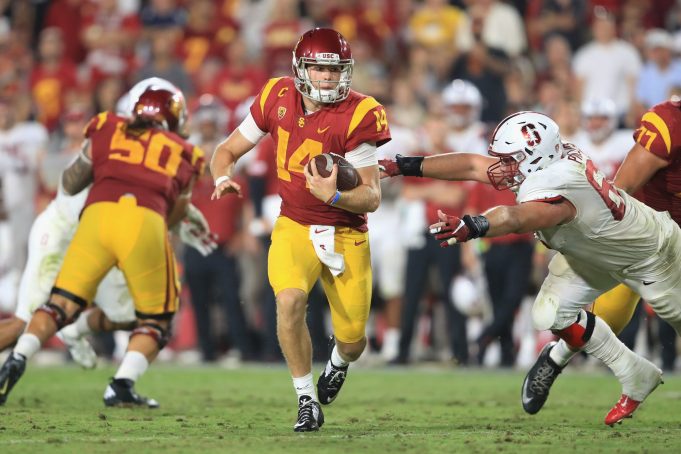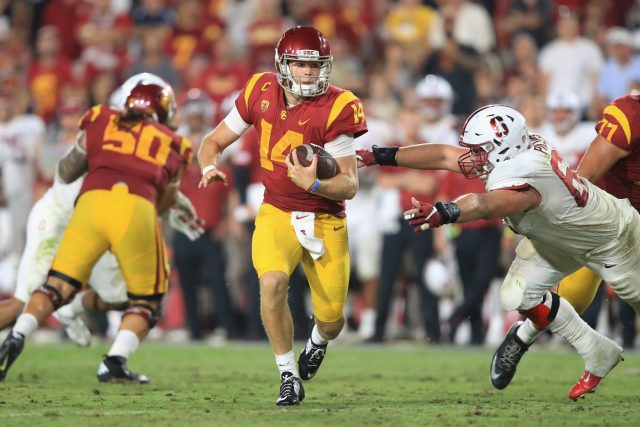 If you want the most effective Sam Darnold, you play the way USC played against Stanford. Provide him with a balanced attack plan to stifle the defense.
Forget about the two picks he threw in the game, which were unfortunate plays for Darnold. When the run game is gaining multiple yards per attempt, it allows him to pick his spots against the defense.
This should be an eye-opening revelation for the New York Jets, who should make it a franchise changing priority to select the redshirt sophomore if he chooses to enter the NFL Draft. If Mark Sanchez left a bad taste in fans' mouths for USC quarterbacks, Darnold will cleanse the palate.
It will be interesting to see how Darnold looks this week against another large program in Texas. Can he avoid the letdown after an enormous rivalry game win? New York Jets fans will certainly be watching to find out.
Final Stat Line: 21-26, 316 YDS, 4 TD 2 INT
Where to watch: 9/16 vs. Texas, 8:30 p.m. ET, Fox
Josh Rosen, UCLA
Result: 56-23 Win vs. Hawaii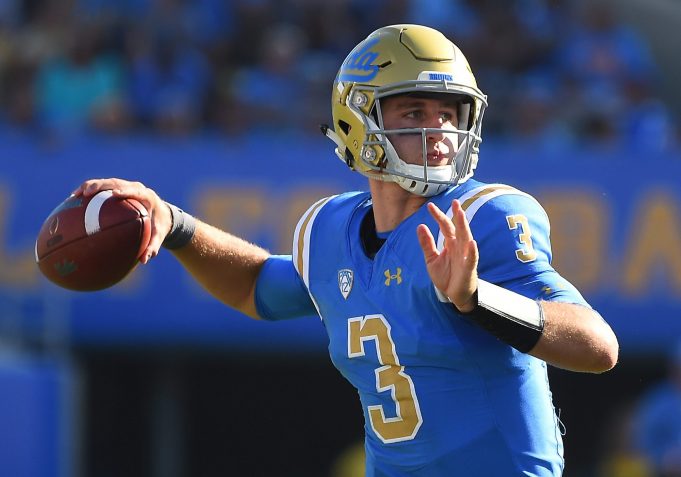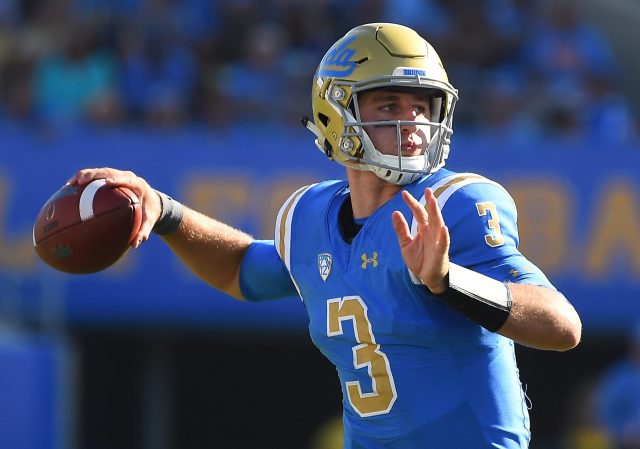 A healthy Josh Rosen is a sight for sore-eyes. Rosen was efficient and commanding through the air in UCLA's rout of Hawaii.
Rosen is the perfect fallback plan for the New York Jets if Sam Darnold is off the NFL draft board or decides to stay in school. Though he has yet to face off against a PAC12 rival, the comeback plus the rout of Hawaii speaks volumes of the progress he has made as a quarterback.
This week, Rosen and the Bruins will travel east to face off against Memphis. No easy task, as Memphis will be coming off a bye week due to the cancellation of their game against Central Florida.
Rosen will need Darnold to stumble over the next several weeks to challenge him for the Heisman Trophy. The truth of the matter is, Darnold's slate is much more impressive than that of Rosen. It will be "must watch tv" when the two face off on November 18.
Final Stat Line: 22-25, 329 YDS, 5 TD
Where to watch: 9/16 vs. Memphis, 12:00 p.m. ET, ABC
Mason Rudolph, Oklahoma State
Result: 44-7 Win vs. South Alabama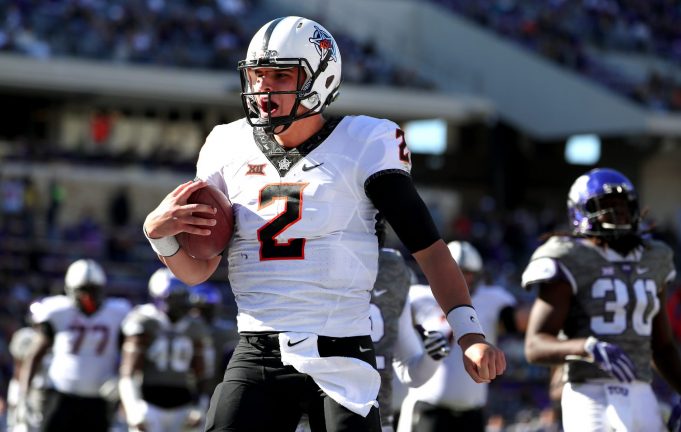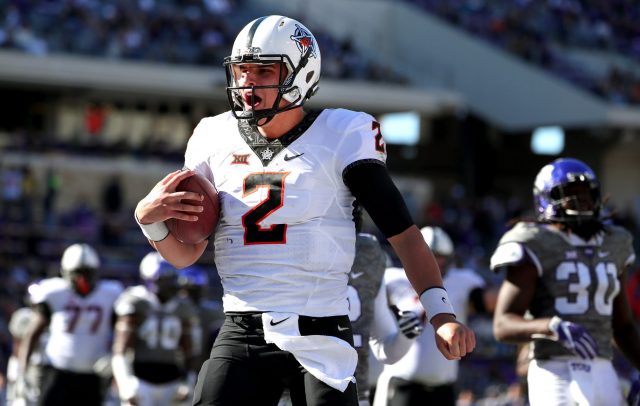 Mason Rudolph is doing what he is supposed to do against inferior competition. He has been accurate and a leader in keeping his offense rolling against the likes of Tulsa and South Alabama.
Using both his arm and his legs, Rudolph's decision making has been superb. His short passing has been crisp, his long ball, in which he displayed against Tulsa, has been on point.
The play of Rudolph and Oklahoma's Baker Mayfield makes for a tasty BIG12 matchup on November 4. With matchups against TCU, Texas and Baylor preceding that rivalry game, the Cowboys will need to keep their focus on the week at hand.
Next up for Rudolph and Oklahoma State is the Pitt Panthers, who are coming off a rivalry game loss to Penn State. Pitt played spoiler to PSU's playoff chances and also had an impressive win against eventual National Champion, Clemson.
Final Stat Line: 25-38, 335 YDS, 3 TD
Where to watch: 9/16 vs. Pitt, 12:00 p.m. ET, ESPN
Baker Mayfield, Oklahoma
Result: 31-16 Win vs. Ohio State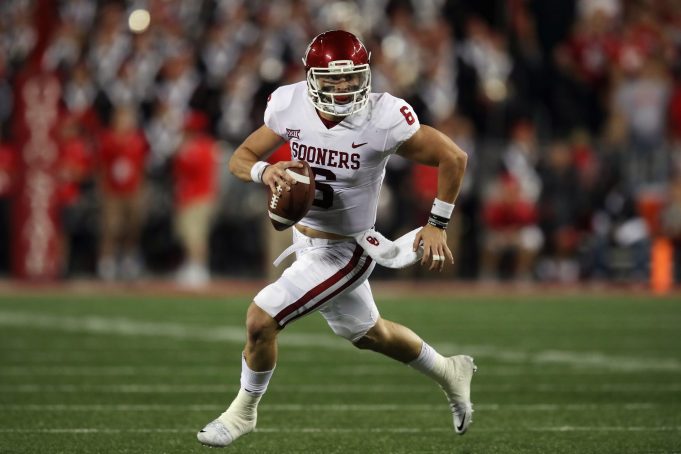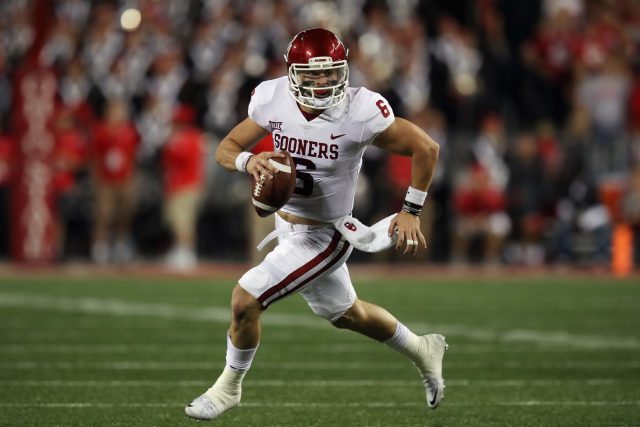 It is impossible to ignore Baker Mayfield anymore. When a player goes into a place like "The Horseshoe" and puts on a performance the likes of what Mayfield did against Ohio State, it's time to take notice.
The planting of the Oklahoma Sooner flag in the middle of the Columbus stadium was icing on the cake. After one of the toughest roads to college football stardom, Mayfield has arrived and becomes a real threat to win the Heisman.
As an NFL prospect, Mayfield lacks the prototypical size that is ideal for talent evaluators. Obviously, this is a reason we focused on the other four for the future of the New York Jets quarterback position.
But like Drew Brees and Russell Wilson, Mayfield has the talent, will and leadership to overcome that deficiency. What if Mayfield is rated to be a second round pick? Would it be wise for the Jets to select the best player, such as Penn State running back Saquon Barkley, in the first round?
Final Stat Line: 27-35, 386 YDS, 3 TD
Where to watch: 9/16 Tulane, 6:00 p.m. ET, Local Network
Josh Allen, Wyoming
Result: 27-0 Win vs. Gardner-Webb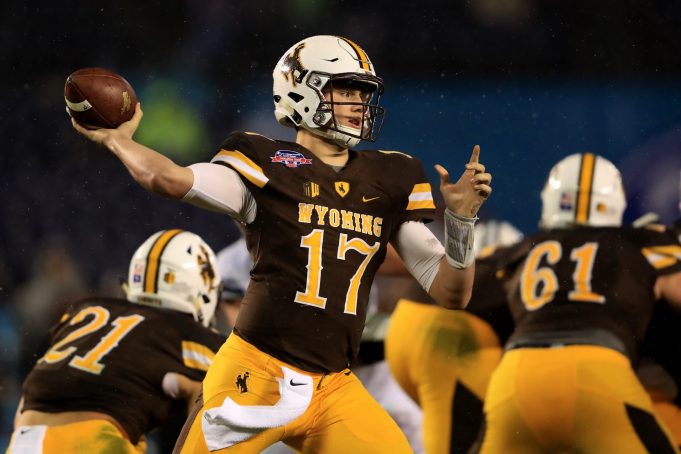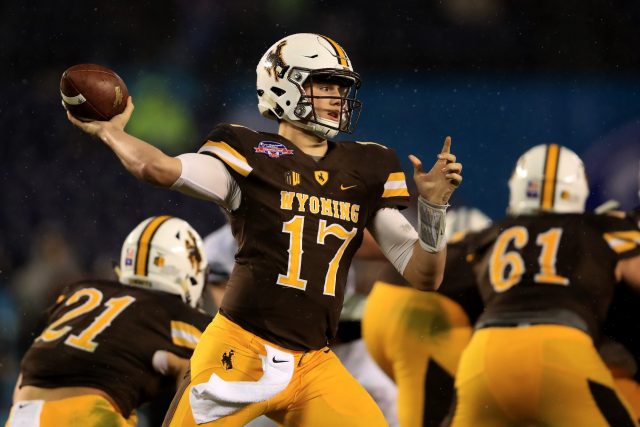 Has the Josh Allen star fallen already? Granted, it was about as brutal of a performance as you will see when Allen unraveled against the Iowa Hawkeyes in week one of the NCAA football season.
But if you are focusing on that, then you may miss on the next big thing in the NFL. There is still a lot to love about Josh Allen. Though wins may take some time to garner, the entertainment value Allen provides can surpass the aforementioned quarterback group that the New York Jets currently have.
Sure, winning is the number one priority. But it's been so long since the Jets fan base has been entertained. For years, Brett Favre entertained. The consistent winning happened, but at first, we were entertained.
Allen will get his second and last crack at a power conference elite team when Oregon visits on Saturday. For Allen's sake, he performs against the Ducks as the quarterback we all hope to see playing on Sundays.
Final Stat Line: 22-32, 328 YDS, 2 TD
Where to watch: 9/16 vs. Oregon, 7:00 p.m. ET, CBS Sports Network