With one silly social media post, New York Knicks forward Carmelo Anthony fully showcased his insecurities to the entire NBA world.
P
hil Jackson's gone. This means the immature, outlandish Tweets that come along with the Zen Master have disappeared from New York City's basketball landscape.
You know the Tweets I'm referring to. They were the anti-3-pointer tweets; the anti-new aged basketball points. Everything and anything Jax couldn't simply keep up with in today's NBA was right there on full display for the entire world to check out and laugh at.
Thank the basketball gods we don't have to deal with that anymore.
Or do we?
Meet Carmelo Anthony. Meet? Forget meet. You already know this man. Let's say, "We reintroduce to you, Carmelo Anthony." You know, Hoodie Melo (yet another marketing campaign team Me7o can pull off in the effort of heightening his brand).
Opposite Phil, this guy's the other half of the "immature Tweeter's club" right here in the Big Apple.
We've seen it time and again. We've seen Melo and Phil even go at it against each other through social media. We've seen Melo get on Slam Magazine for a ranking that took place prior to last season beginning.
Slam appropriately (even graciously) put Melo in the No. 15 spot entering last campaign.
Melo's response wasn't subtle.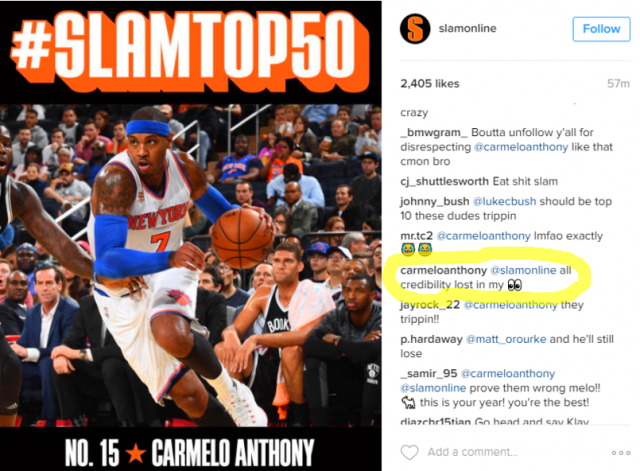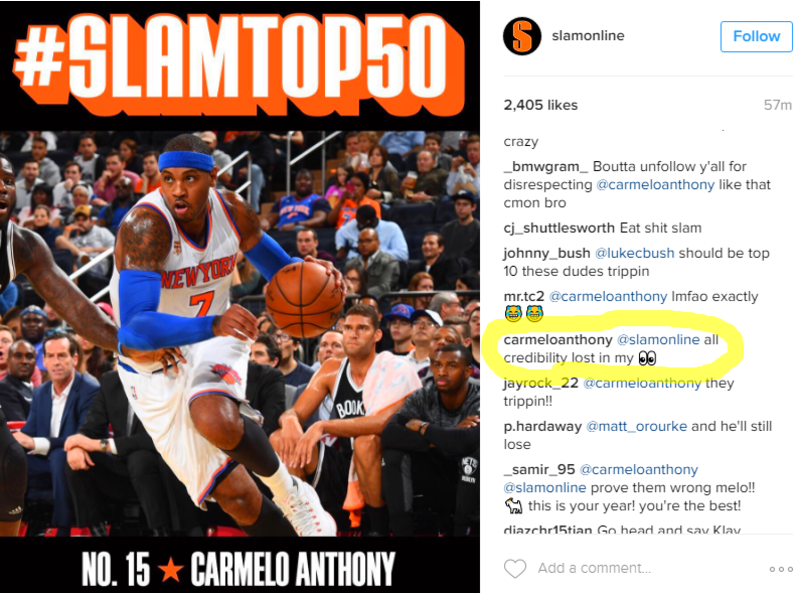 Melo and the Knicks finished 31-51, 12th in the Eastern Conference. Entering the season, Derrick Rose, Kristaps Porzingis, Brandon Jennings, Joakim Noah and a "no excuse" attitude had been implemented. Once it was all over and done with, D-Rose, Jax and a couple others became the newest scapegoats.
Anyway, he took offense to the no. 15 ranking. Now, a year later, ESPN joins the Melo hate club fray.
In its annual ranking of the top 100 players, #NBArank, ESPN put out its 76-100 portion only to be followed up by its 51-75 edition on Tuesday.
They placed Melo at the No. 64 slot.
The 33-year-old sluggish forward with two bad knees, of course, responded the only way he loves to do — through social media.
Can't Make Sense Out Of Non Sense!
"A certain darkness is needed to see the stars."@espn Don't be so Blatant with the disrespect#LineEmUp pic.twitter.com/NIWiwL1RMj

— Carmelo Anthony (@carmeloanthony) September 12, 2017
For good measure, he doubled up on Instagram:
What I ask is this: Why even respond or mention the ranking at all?
Is he that petty? I mean, honestly, the guy is 33. He has two bad knees and really can't even move anymore. Forget about guarding threes these days. Of all the 30 starting small forwards in the league, you'd be hard-pressed in finding a worse defender along the perimeter.
Where Melo's underrated strengths lie (especially at this age) happen to come when he plays rough house basketball in the dirty areas of the paint. He can rebound, play tough and muck it up. The problem is he doesn't want to play the power forward spot, the position that'd allow him to flourish late in his career.
Forget all of that for a moment. His response on social media is interesting on many levels.
He's petty and insecure. Who cares where ESPN ranks him?
He deeply cares about his image.
He deeply cares about things other than the New York Knicks.
His blind followers eat up everything he says and still believe he's a top 10 player in the association.
As the leader of the New York Knicks, how does complaining about an ESPN ranking help the squad?
This is the same scenario as the Slam ranking from a season ago. Melo just has a tough time forgetting about the unimportant things in life and worrying about the real issues at hand. As the leader of the Knickerbockers, I want him to wave away a silly ranking and pay no mind to it.
He says this in his post: "You can't make sense out of nonsense."
If it's nonsense, then why even address it? It's a contradiction in itself.
As the leader of the Knicks, forget about silliness. Forget about the war of social media words. Earn that better ranking by allowing this sort of thing to fuel your nastiness by taking your game to a higher level.
If somebody were to rank Elite Sports NY the 64th best New York City sports media outlet in the world, it would simply roll off our shoulders. Instead of bringing light to the garbage, I'd round the troops up, get better and dominate the competition to a degree that would prevent such silliness from occurring ever again.
That is what Melo lacks when it comes to leadership.
You're only insecure if you actually bring it up yourself. If he hadn't brought it up or created this Hoodie Melo character or showcased his 50 percent hustling video in the city this past summer, I might have thought seriously hard work was getting done.
(Kill 'em quietly.)
Instead, now thanks to all the talk, I expect the same old Melo to show face during the 2017-18 NBA season.
I could care less if ESPN ranked the man fifth in the entire league. Fifth or 125th, he's the de facto leader of the New York Knicks and anything unrelated to the success of that team is simply counterproductive.
He'll just never learn.