Familiar offensive line fears were confirmed in Week One as the New York Giants slumped to a 19-3 defeat to the Dallas Cowboys.
A week one trip to Dallas resonated not only an anticipated notion of déjà vu but also a familiar concern for the New York Giants.
Being able to admit to the Big Blue offense somewhat capitulating would be more positive than how the night proceeded to pan out.
In truth, the Giants offense didn't even turn up and justified a pre-game fixation on how costly the absence of Odell Beckham Jr would be.
The availability of the Giants talisman and headline-maker dominated the build up alongside Cowboys running back Ezekiel Elliott, who was cleared to play after seeing his six-game suspension put on hold by a US federal judge.
Whilst Eli Manning and the Giants found themselves in dire need of their star man, the Cowboys boasted signs of being able to secure a comfortable win even without Elliott on the field.
The cameraman's teasing obsession with Beckham Jr's presence on the sidelines, including a glimpse of the receiver following Cole Beasley's stunning catch for the hosts, proved a miserable reminder of the genius the Giants were lacking.
An uninspiring Sunday night outing forced home just how reliant Ben McAdoo's side are on their No.13, who has every right to be seeking a big pay day.
A notable and determined step up from his fellow pass catchers was non-existent, with supposed second No.1 receiver Brandon Marshall making his first and only catch with less than 20 seconds of the game remaining.
In doing so, the 33-year-old avoided finishing a game without a catch for the first time since his rookie season in 2006.
A play early in the fourth quarter, marking only the second time Marshall was targeted in the game, typified a disjointed performance on offense as the veteran failed to haul in an, admittedly, inaccurate pass from Manning. This saw the pair squander a rare opportunity to take advantage of the wide-open left side of the field and collect an easy first down.
Marshall wasn't alone in enduring an unproductive evening, with rookie tight-end Evan Engram also floating in and out of the game.
It took the Giants more than 18 minutes to get their opening first down, with their second not coming until just before half time.
There was slight improvement early in the third quarter as McAdoo's men put together a 10-minute drive, ending in Aldrick Rosas kicking a 25-yard field goal.
Despite being far from the explosive response required at 16-0 down, it did hint at the value of some added creativity and unpredictability.
Tight end Rhett Ellison displayed signs of being a valuable option lined up in the fullback position, whilst second-year Sterling Shepard looked as proactive as any offensive player in blue had up to that point.
If anyone, it was versatile running back Shane Vereen, nine catches for 51 yards, and receiver Roger Lewis Jr, four catches for 54 yards, that looked their quarterback's best bet.
To sum up an abysmal evening, the Giants ruined a well-earned first down at the end of the third quarter when they were penalized for having too many men on the field.
Offensive line fears justified
A poor performance from Manning wasn't helped at all by a hopeless and dysfunctional display from his offensive line.
Jerry Reese's decision not to address the team's most pressing concern was a gamble this summer, one that now threatens to restrict what should be an exciting Giants team striving for a dominant season.
Though under-fire left tackle Ereck Flowers didn't bare the title of the 'worst thing about the offensive line,' he didn't escape without being flagged in the fourth quarter for holding. Cue eye-roll.
After recently hailing himself as the best right tackle in the league, Bobby Hart was the source of much irony as he watched Demarcus Lawrence breeze by him to sack Manning on his team's first possession.
Right guard John Jerry was also a shoddy excuse for quarterback protection- leaving fans, quite understandably, seeing no reason why D.J. Fluker shouldn't be given his shot.
Manning came under pressure far too often against a defensive line nowhere near as strong as that of other scheduled 2017 opponents.
No pass protection and a failure to get the running game going made for extremely tough viewing.
An unspectacular team-high 12-yard gain from Orleans Darkwa, who registered three carries for 14 yards, was enough for fans to demand more snaps for the running back, with starter Paul Perkins only managing seven carries for 16 yards, including a long run of three yards.
The Giants rushing attack needs to improve, and fast.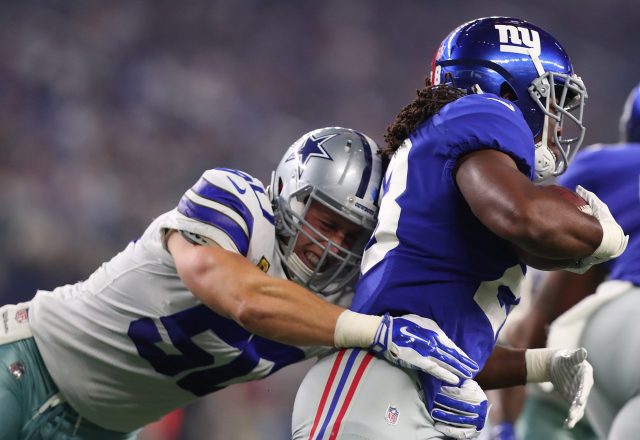 Defense deserved more… again
Unsurprisingly, the Giants defense held up their end of the bargain.
A failure from the offense to put together any meaningful first half drives put the fitness of Steve Spagnuolo's unit to the test, as they were forced into long and gruelling periods against a no-huddle Cowboys offense.
Defensive tackle Damon Harrison was outstanding throughout. The 2016 free agency acquisition posed a constant threat to a widely-credited Cowboys offensive line as he battled to not only combat Elliott but also push Dak Prescott into the path of Jason Pierre-Paul.
Elsewhere on the field, cornerback Janoris Jenkins prevailed in an entertaining duel with Dez Bryant, who was limited to just two catches for 43 yards.
Another pleasing display came courtesy of middle linebacker B.J. Goodson who, on the way towards recording 18 tackles, showcased the explosive approach seen during his time at Clemson.
It was a defensive performance that deserved more- not for the first time.