Last season the Achilles heel for the New York Giants was the offensive line. In Sunday night's 19-3 loss to the Dallas Cowboys, they were actually worse than they were at any point last season.
In today's NFL, if your defense gives up just 19 points you expect to win. But for the seventh game in a row dating back to last season, the New York Giants failed to score at least 20 points. Most of the blame lies with the offensive line.
Yes, you can point to the fact that they were without their best offensive player, wide receiver Odell Beckham Jr. But even if he played, it's hard to imagine the Giants offense would have been much better considering how uncomfortable Eli Manning was in the pocket.
The Cowboys defense was able to apply pressure on Manning all night. They sacked him three times, knocked him down four times and were either in his face or on his tail constantly.
Heck, they sacked him while NBC was running the offensive line introductions.
https://twitter.com/iAYoshie/status/907087225137061888
When your line performs this poorly, it makes your play-calling predictable and easy to defend.
It was evident that Manning had no confidence in his offensive line. He only looked to one side of the field instead of surveying the entire field, working through his progressions. Even when he had time, he was so used to getting hammered that he looked to get the ball out quicker than he needed to.
And you couldn't really blame him.
With Manning constantly flustered in the pocket thanks to a horrid showing from his line, the Giants offense was only able to muster two first downs in the entire first half. As a result, the Giants defense was on the field for a ridiculous 47 plays before halftime.
Sure, Eli completed 29-of-38 passes, but most of them were short-yardage dump offs to Shane Vereen or Sterling Shepard. Vereen finished the game with a team-high nine receptions for 51 yards. Shepard had seven catches for only 44 yards.
The team's big offseason acquisition, Brandon Marshall, had just one catch for 10 yards, which came in the final moments of the fourth quarter with the game already decided.
It wasn't just the passing game that was off. The Giants' rushing attack wasnon-existent. As a team, the Giants ran the ball 12 times for just 35 yards. Dallas QB Dak Prescott had 24 yards rushing on three attempts.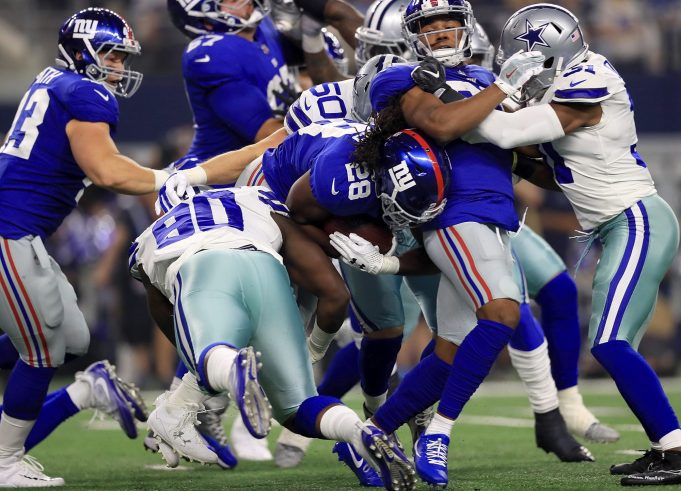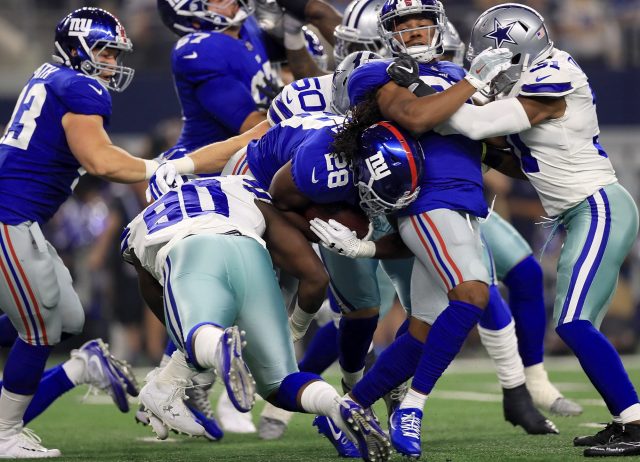 If you're a Giants fan and saw this game, the thought had to come to your mind that general manager Jerry Reese should have spent the team's first-round pick on an offensive lineman rather than on tight end Evan Engram who had four catches for 44 yards in his NFL debut.
The Giants defense played well enough to win despite being on the field for 71 plays and constantly having to defend a short field.
Normally when a team loses the first week of the season you just say it's only one game. But the offensive line struggles—in particular, the embarrassing performances of offensive tackles Bobby Hart and Ereck Flowers—is nothing new to the Giants.
If these struggles continue, and there's no reason to think they won't, Reese may be forced to trade for a solid starting offensive tackle, assuming he can find one that's available. Even if the cost is a future first-round pick, it'd be worth it.
The Giants defense is too good and they have too many playmakers offensively to squander a chance of winning a championship because of a poor offensive line. Staying with the status quo isn't an option. Something needs to change up front—and fast.
Otherwise, any dreams of the Giants embarking on a deep playoff run to Super Bowl LII will be just that—dreams.