The New York Giants offense showed little to no signs of life Sunday night without Odell Beckham Jr.
S
unday night, the New York Giants partook in their season opener against the Dallas Cowboys. But unlike last year, Big Blue couldn't come up strong in Week 1.
In Dropping their first affair with the Cowboys 19-3, the Giants offense was in utter disarray. And after its underwhelming performance as a whole, the offense has hit rock bottom.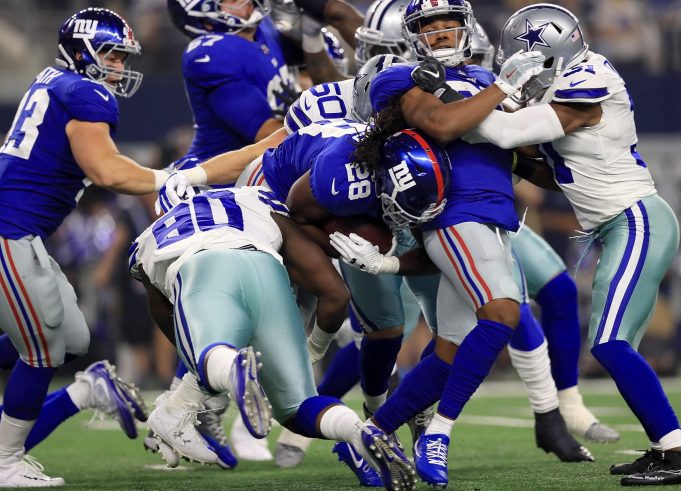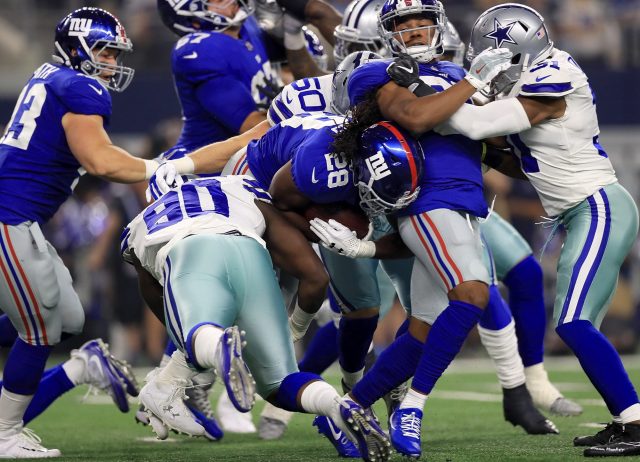 Offensive Line/Running Game 
Going into Sunday night, it was no secret that the Giants offensive line was a major concern. Based on their inability to hold their own on a consistent basis, Eli Manning and company have been unable to garner any rhythm over the past two seasons. Sunday night was no different, for the most part.
With tackles Ereck Flowers and Bobby Hart as well as right guard, John Jerry struggling to hold their ground, the Giants run game was a casualty.
Rushing for just 35 yards on 12 carries, Paul Perkins and the Giants run game was near nonexistent — an alarming dilemma for head coach Ben McAdoo's offense.
With the same line that was in place last year struggling yet again early on in the 2017 regular season, the Giants offense could be in a heap of trouble. The fact that their line remains an unreliable bunch is disturbing for a team that's portrayed as a Super Bowl contender.
Every contending team has its weakness. The Giants' hole just happens to be a major killing point for its offense, which has a trickle-down effect.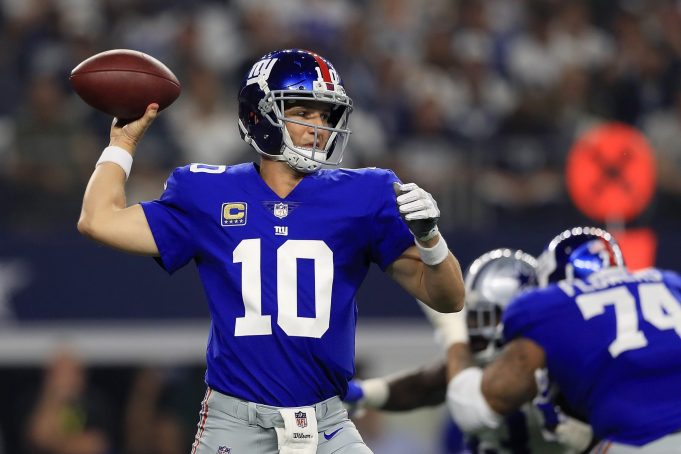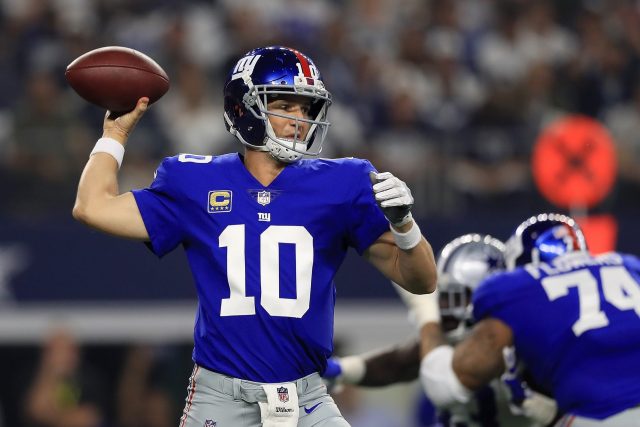 Eli Manning
While his lackluster line is doing him no favors, Manning shouldn't get a free pass. Being granted an inconsistent amount of time to operate is obviously not ideal, but it's not as if he's hopeless on every down.
In the second half of Sunday night's action, Manning and the Giants finally began to find a groove. Enduring a nearly 10-minute drive to open up the half, they moved the ball down the field, but only to tack on three points. After that score, they fell back into their old habits.
Failing to withstand a positive drive worth noting for an extended amount of time, Manning was unable to find or hit an open wideout. Odell Beckham Jr. not playing was an immense factor working against him, but with the weapons Manning has around him, regardless of the line present, he should've been able to get the Giants in the end zone.
Instead, he finished the night with no touchdown passes and a key fourth quarter interception. Going 29-of-38 for 220 passing yards, Manning was efficient. But it wasn't enough to where the Giants could make things interesting against their bitter rivals.
Manning also attempted to force passes and missed some wide-open targets from a short distance.
Manning's O-Line is making it incredibly difficult for him to get into any sort of rhythm based on the inconsistent time in the pocket they are providing him. But even when given the appropriate amount of time, he's not making wise decisions. Now, the two-time Super Bowl winning quarterback is going to have to play this offense out of disarray.
Another issue to throw into the fire is the production at receiver.
Going into Sunday night, the Giants were without their star wideout (Beckham). But with a receiving core consisting of Marshall, Sterling Shepard and even tight end Evan Engram (who often lines up in the slot), the Giants should've been able to get by or make things competitive with Dallas. But the opposite transpired.
With that receiving core failing to get open and pose a legitimate threat to Dallas' secondary (which lost cornerback Orlando Scandrick in the second half) the Giants essentially hurt themselves.
Manning's judgment and missed passes were discouraging for McAdoo and company, but one could argue their receivers were just as disappointing, Marshall especially.
After inking his two-year deal in the offseason, the Giants expected Marshall to serve as a go-to option on the outside for Manning. In Sunday night's case, Marshall should've been the number one option with Beckham out, but he failed to capitalize.
Finishing the night with a lone catch, that came in the game's final moments, Marshall was a major letdown for the Giants offense. Whether it was failing to get open or running routes accordingly, Marshall had little to no impact on the Giants offense.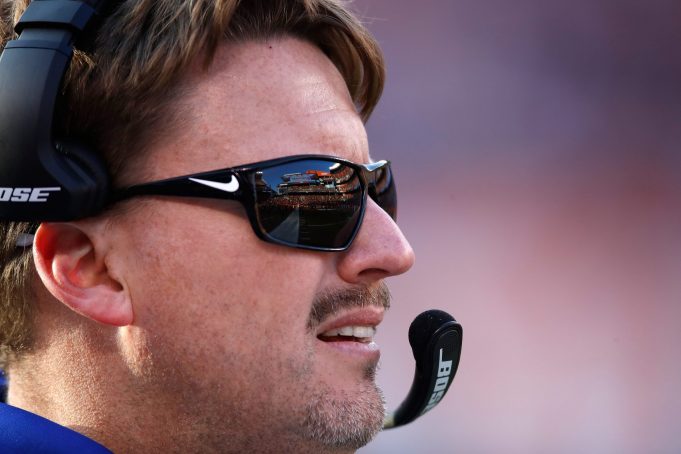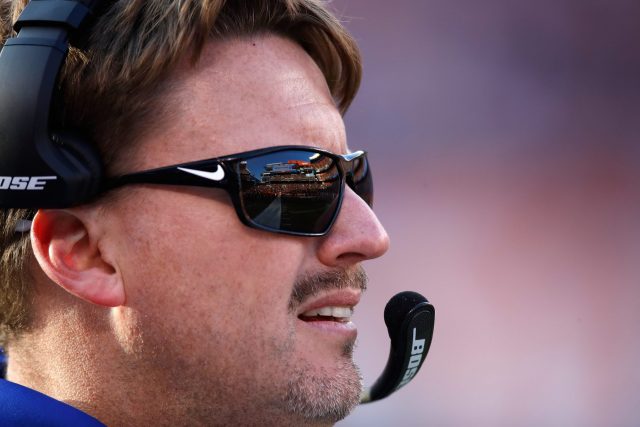 Overall, when you take into account their O-Line, Manning's struggles and their receiving core's struggles to get open, the Giants offense has hit rock bottom.
The reality is that while Beckham not playing was a huge factor, there's no excuse for scoring just three points. Use last year as a model.
In their week 14 victory versus Dallas, the Giants put up just ten points with Beckham playing; that total still wouldn't have got them a victory.
This's a team that possesses one of the best all-around defenses in the NFL — which should make them a feared opponent — but their offense is practically offsetting it.
Look at the big names in their offense: Manning, Beckham, Marshall. How in the world can an offense with those three players alone be a liability? It's not one player or position, it's a collective struggle for this Giants offense.
It doesn't get much worse than three points versus your bitter rivals in primetime. If their collective woes drag on, the Giants will not be playing for the Lombardi trophy.