The New York Giants will begin their 93rd season in the NFL on Sunday Night Football as they take on the Dallas Cowboys at AT&T Stadium.
T
he Dallas Cowboys and New York Giants finished first and second, respectively, in the NFC East last season and are the two favorites to win the division this year. So even though this is just Week 1, this is as big of a matchup as it gets.
In addition to their two games against the Cowboys, the Giants will play four games against teams that made the playoffs last season. The Giants schedule on paper may be tougher than last year's, but with the additions the Giants have made this offseason, they're a better team in 2017.
Are the New York Giants good enough to win their fifth Lombardi trophy?
Here's our official 2017 season preview:
Key Additions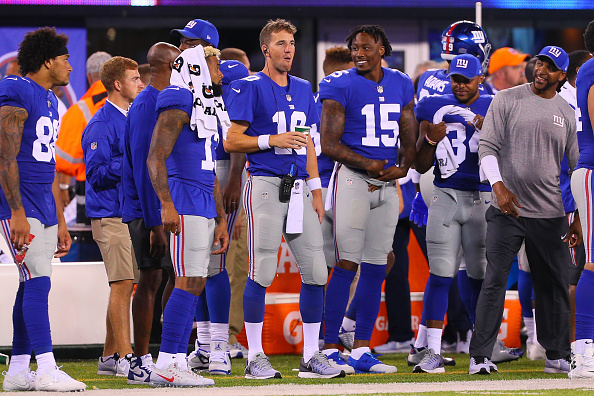 One of the biggest acquisitions of the offseason was the Giants signing six-time Pro Bowl wide receiver Brandon Marshall to a two-year deal. Even at 33, Marshall is still a big time receiver and will be the tall outside red zone target that Eli Manning hasn't had since Plaxico Burress. He's definitely an upgrade over Victor Cruz as the second receiving option behind Odell Beckham Jr.
Another key addition on the offensive side is first round draft pick Evan Engram, who ran the fastest 40 time in the NFL combine for tight ends. With his speed and 6-foot-3, 240-pound frame, he is a matchup nightmare for opposing defenses and the best tight end the Giants have had since Jeremy Shockey.
Engram isn't the only tight the Giants added — they also signed free agent Rhett Ellison. The signing of Ellison may not have been a sexy acquisition but it could prove to be an invaluable pickup as his blocking ability will help in the run game and pass protection, which were huge areas of concern for the G-Men last year.
He isn't new to the team since he was a rookie last season but B.J. Goodson is the new starting middle linebacker. After hardly seeing the field in 2016, Goodson was put atop of the depth chart in the spring.
Goodson is an aggressive, hard hitting linebacker who defensive coordinator Steve Spagnuolo likes to use to blitz. With Goodson now in the middle, expect the Giants rush defense to be even better this season.
Key Losses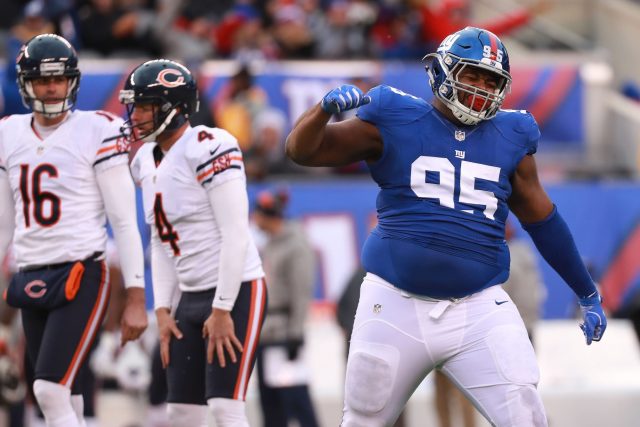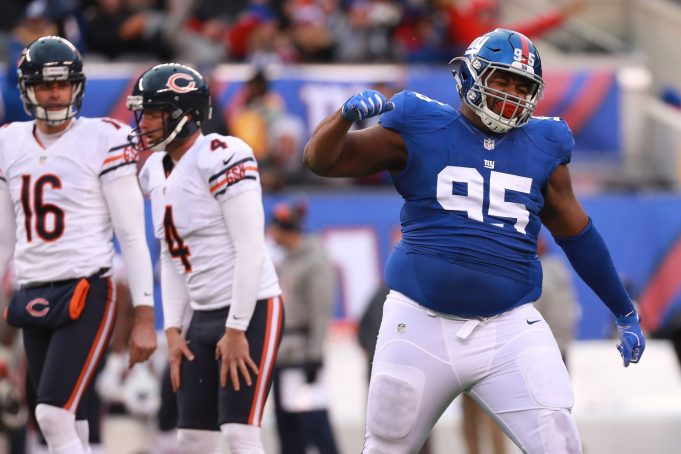 With free agency, it's impossible to keep a team completely intact from year to year.
Fortunately, the Giants' only major loss from last year's team is defensive tackle Johnathan Hankins. Replacing the 6-foot-2, 325-pound Hankins will be a tall task for the Giants, as last year he and Damon Harrison formed arguably the best tackle tandem in the league.
But the Giants are confident in rookie Dalvin Tomlinson. They also believe Jay Bromley will help fill Hankins' void when he recovers from his knee injury.
Season Overview
Weeks 1-4
It won't take long for fans to find out how good the 2017 Giants are, as their first four games are against playoff caliber opponents in the Cowboys, Detroit Lions, Philadelphia Eagles and Tampa Bay Buccaneers. These four teams went a combined 38-26 last season.
The Giants had two hard-fought wins against the Cowboys, winning the season opener 20-19 and their Week 14 matchup 10-7. They also split the season series with the Eagles last year and defeated the Lions at home in Week 15 by the score of 17-6. The Giants haven't played the Bucs since 2015 and both teams rosters are vastly different now.
If the Giants can come out of this tough stretch to start the season with a 2-2 record or better, it will bode well for them going into the second month of the season.
Weeks 5-10
On paper, this is the weakest part of the schedule. During this stretch, they're home against the Los Angeles Chargers, on the road against the Denver Broncos, home against the Seattle Seahawks, BYE week, home against the Los Angeles Rams and on the road against the San Francisco 49ers.
Of these teams, only the Seahawks made the playoffs a season ago. The other four teams had a combined record 20-44 last year and all of them except for the Chargers have huge question marks at the quarterback position.
So there's a strong chance the Giants will be favored to win all of these games and have a good chance to go 5-0 or 4-1 during this stretch. Even if the Giants were to go 2-2 in their first four games, this stretch could have them 7-2, which could have them on top of the NFC East in the middle of November.
Weeks 11-17
Barring any injuries, the Giants will have one of the best records in the NFC heading into the final stretch of the season. This is something the Giants late owner always wanted from his team, which was to play meaningful games at the end of the year in front of their fans.
Four of the Giants' final seven games are at home, as they take on the Kansas City Chiefs, Cowboys, Eagles, and the season finale against the Washington Redskins.
Their road games consist of a Thanksgiving game against the Redskins, a December 3 matchup against the Oakland Raiders and a Christmas Eve game against the St. Louis Cardinals.
The key in this stretch is that three of the Giants' final four games are at home, and they're all against divisional opponents. Defense wins championships and the Giants have the best defense in the division. When you combine that with the fact that they will play all three division opponents at home in December, that will give the Giants every opportunity to win their first division title since 2011.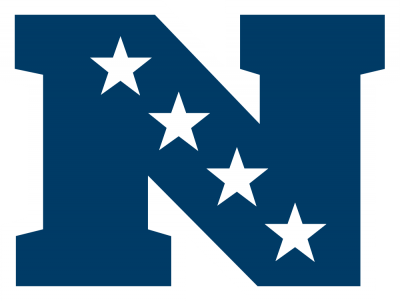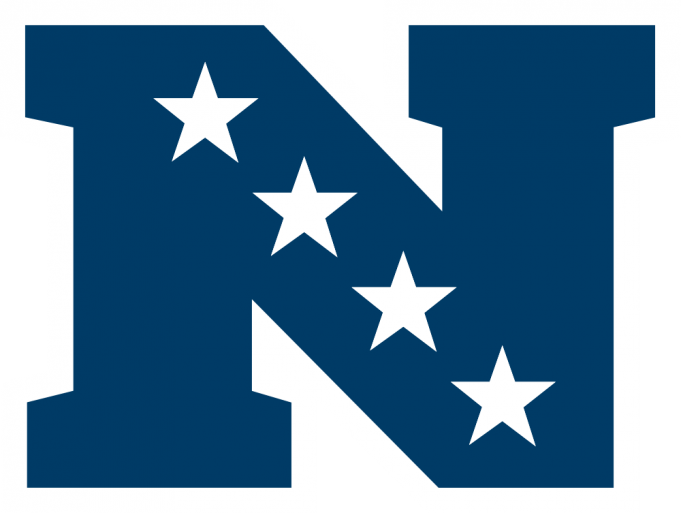 Final NFC East Standings
Giants 11-5
Cowboys 10-6
Eagles 8-8
Redskins 5-11
Three Most Crucial Giants in 2017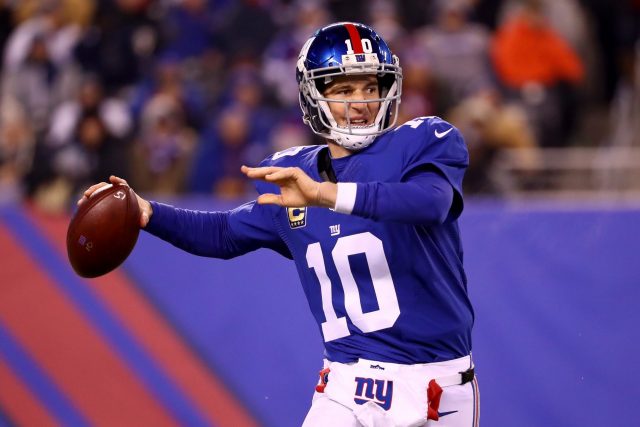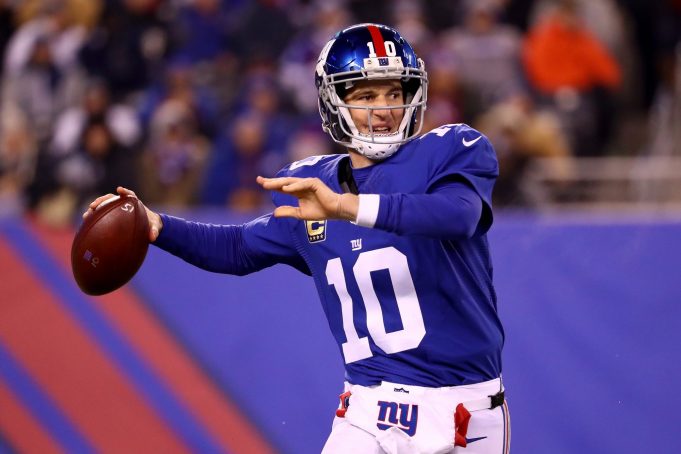 Without a shadow of a doubt, the most important player for the Giants is the best quarterback the franchise has ever had — Eli Manning. With the depth the Giants have with their pass catchers in Beckham Jr., Marshall, Sterling Shepard, and Engram, the Giants can survive if one of them has a down year or goes down with an injury.
But if something were to happen to Manning or if he had a subpar year, as great as their defense is, they won't be able to overcome it.
But we should expect for Manning's ironman streak of playing in 199 consecutive games to continue, and with the weapons around him, to have the finest season of his career.
The Giants drafted what might be the heir apparent to Manning in Davis Webb in the third round of this year's draft. But Manning is out to show that he has plenty of football left in him. He said recently that he believes he has at least four more years.
Now the question is does he have enough to win his third Lombardi trophy?
Projected Stats: 63% completion percentage, 4,531 yards, 38 TD, 15 INT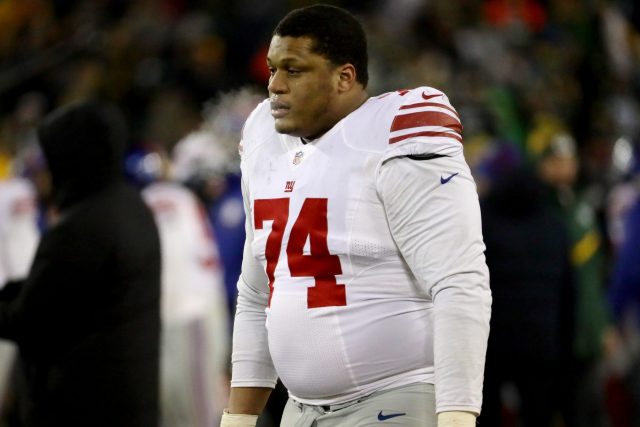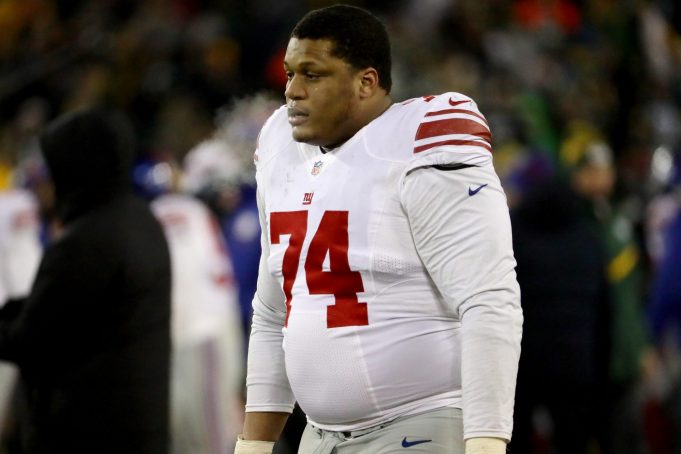 Most of the Giants offensive struggles last season were due to the offensive line, particularly left tackle Ereck Flowers. He was beaten consistently by quick edge rushers, had costly penalties and didn't blow defenders off the run when run blocking.
This offseason, the former 2015 first round draft pick stayed in the area to work on his technique and also did some boxing to quicken his hand speed and strength. He came into camp leaner and eager to prove that he can be a solid left tackle.
As we mentioned before, the Giants will go as far as Eli Manning takes them, which means Flowers, who protects Manning blind side, must play at a much higher level than he did a season ago.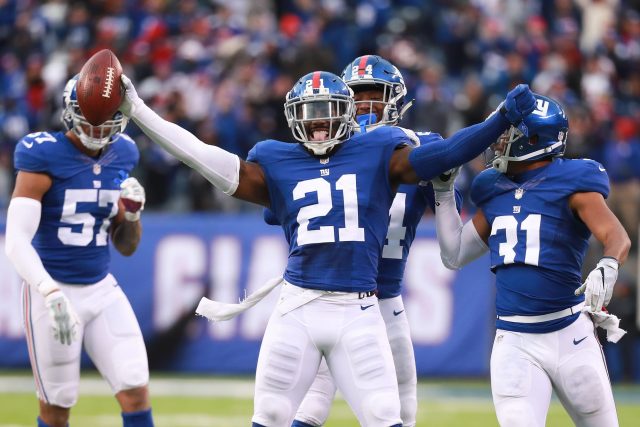 Last season, whenever the Giants needed a big play, Landon Collins was there. He led the team in tackles with 125, had five interceptions and four sacks. Many felt that he should have been named the NFL's Defensive Player Of The Year.
During this preseason, Collins was already in mid-season form, making solo tackles all across the field and intimidating opposing players. Not only is Collins' play phenomenal, but he has also emerged as one of the leaders of the team.
What's scary is that, at just 23 years old and entering his third year in the league, he hasn't even peaked yet.
The Giants will probably be in several tight games this season, and expect Collins to make several plays late that preserve a Giants victory.
Projected stats: 131 tackles, 5 sacks, 5 INTs, 3 forced fumbles 
Team Awards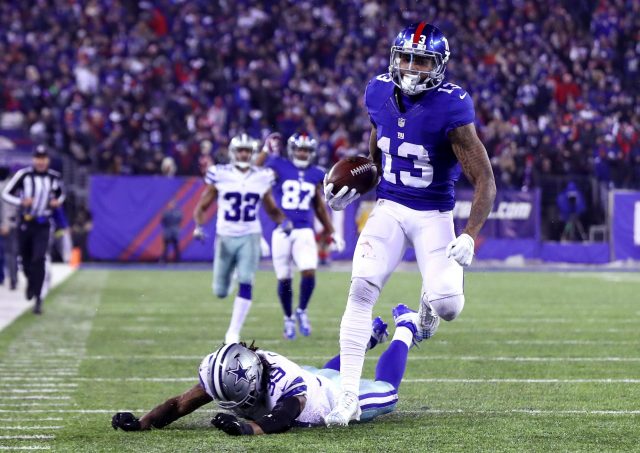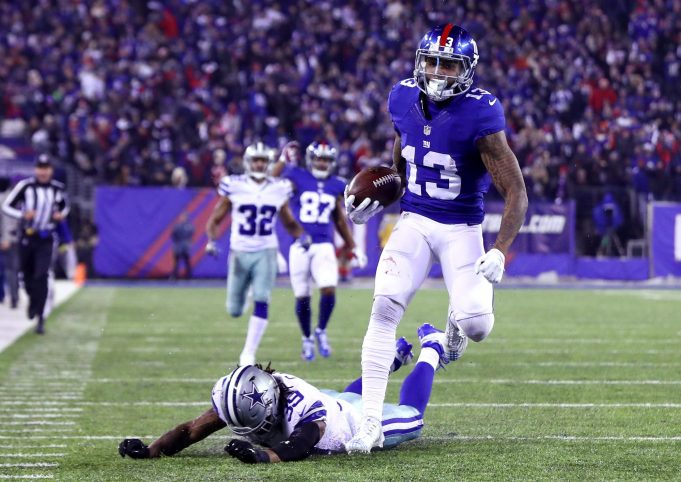 Offensive Player Of The Year: Odell Beckham Jr.
Defensive Player Of The Year: Landon Collins
Offensive Rookie Of The Year: Evan Engram
Defensive Rookie Of The Year: Dalvin Tomlinson
Most Improved Player Of The Year: Paul Perkins
Players Named to the Pro Bowl: Eli Manning, Odell Beckham Jr., Damon Harrison, Jason Pierre-Paul, Janoris Jenkins, Landon Collins, Dominique Rodgers-Cromartie
NFL Defensive Player Of The Year: Landon Collins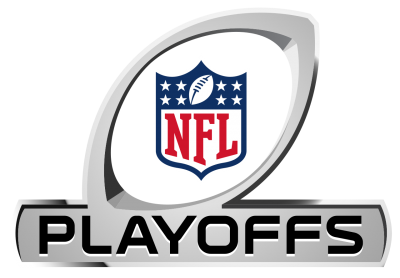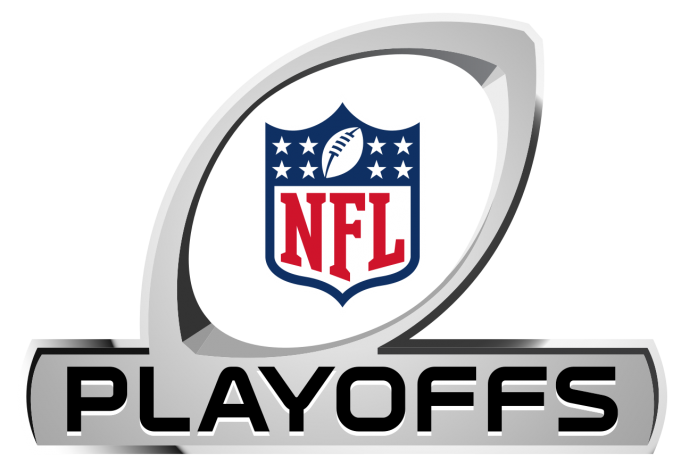 NFL Playoffs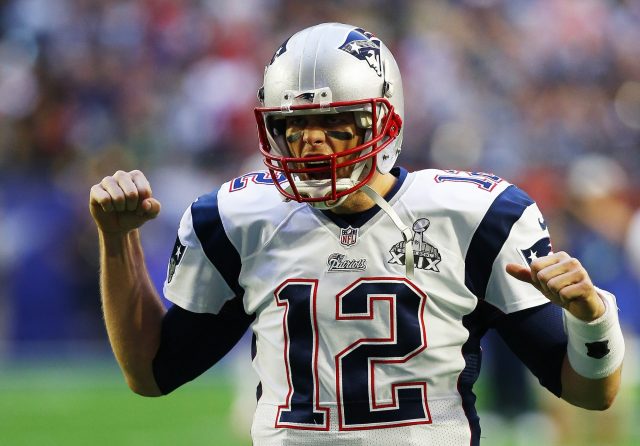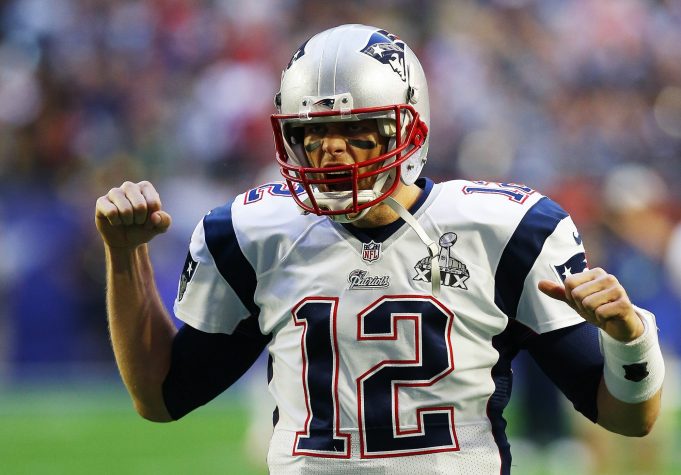 AFC Playoff Picture
Seeds: 1) Patriots, 2) Steelers, 3) Raiders, 4) Texans, 5) Titans, 6) Chiefs
Wildcard Round: Raiders over Chiefs, Texans over Titans
Divisional Round: Patriots over Texans, Steelers over Raiders
AFC Championship: Patriots over Steelers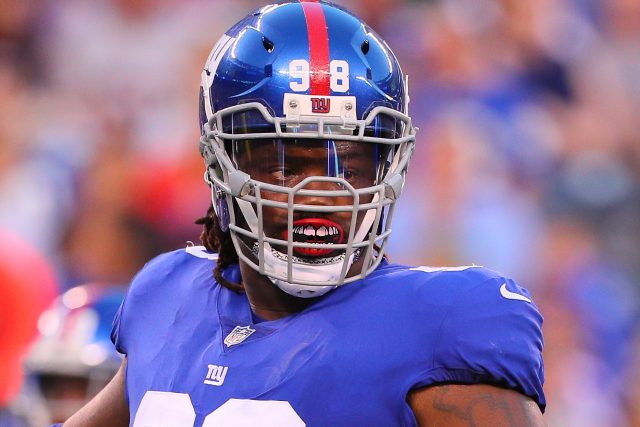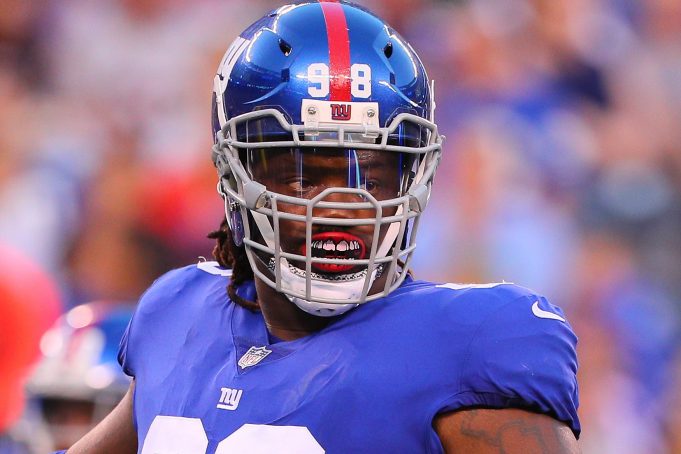 NFC Playoff Picture
Seeds: 1. Packers, 2. Seahawks, 3. Giants, 4. Falcons, 5. Cowboys, 6. Buccaneers
Wildcard Round: Giants over Buccaneers, Falcons over Cowboys
Divisional Round: Giants over Seahawks, Packers over Falcons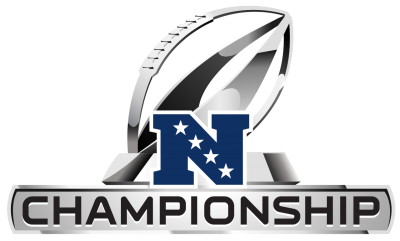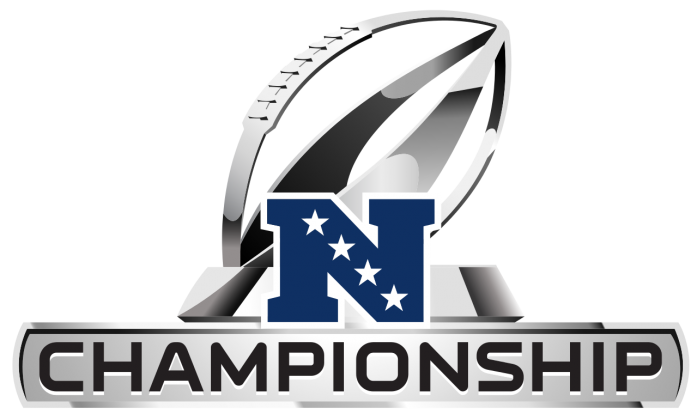 NFC Championship: Giants over Packers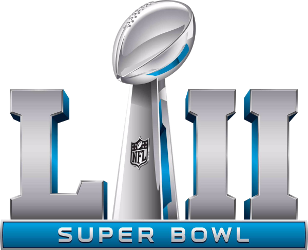 Super Bowl LII: Giants over Patriots
Super Bowl MVP: Eli Manning
Elite Sports NY Staff Picks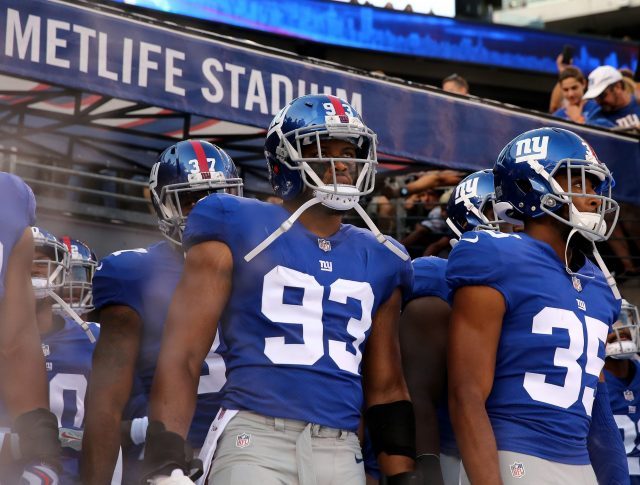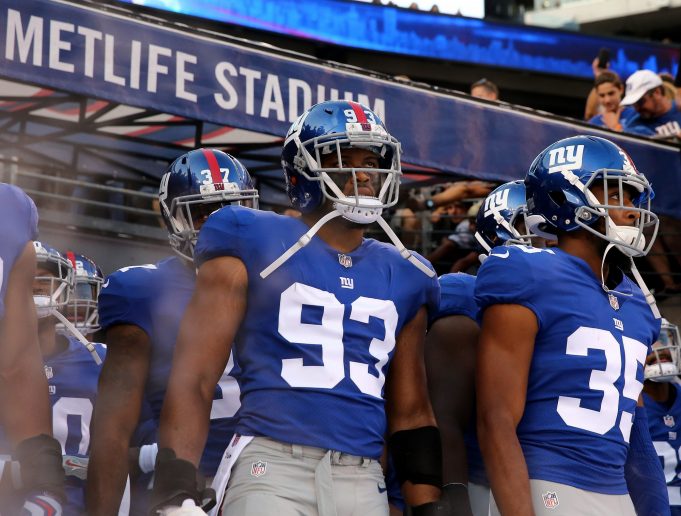 Geoff Maglicchetti, Giants Beat Writer
Giants Regular Season Record: 11-5 (#2 in NFC)
NFC East Standings, 1 through 4: 1) NYG 2) DAL (WC) 3) PHI (WC) 4) WAS
Playoff Results (if any): 1st Round Bye; W over SEA in Divisional Round; L to GB in Conference Title
Team MVP, Off ROY, Def ROY, Rookie of the Year: MVP: S Landon Collins; OROTY: TE Evan Engram; DROTY: DT Dalvin Tomlinson; ROTY: DT Dalvin Tomlinson
NFL Awards (MVP, OPOY, DPOY, ROY, if any): MVP: QB Derek Carr (OAK); OPOY: QB Derek Carr (OAK); DPOY: S Landon Collins (NYG); ROTY: QB DeShaun Watson (HOU)
On a team filled with weapons that could light up a box score, it's going to be the guys who don't show up in the box score that will make or break the Giants' season. The offensive line, who has grown increasingly aware of the criticism levied upon them over the past couple of seasons, will have to step up. Last year's 11-5 mark and wild card appearance were fun, but the Giants know they're capable of a lot more. Shouldered with perhaps the most preseason praise since their Super Bowl XLII defense in 2008…one unceremoniously derailed by Plaxico Burress's fateful night out … the Giants have the weapons and capability to match those predictions and then some. It's up to them as individuals, however, to improve on the promise displayed in 2016 and cast the lingering doubts aside.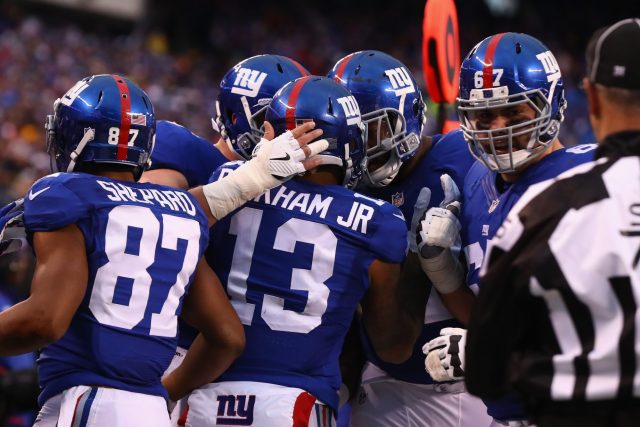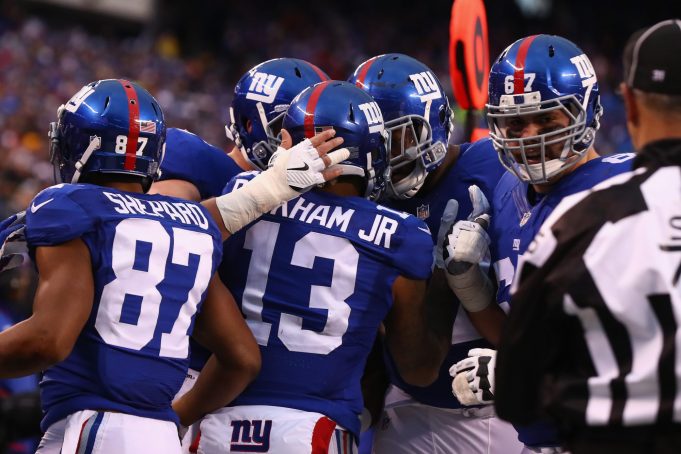 Nick Durst, Video and Audio Producer
NFC East Standings:  1) Giants, 2) Cowboys, 3) Redskins, 4) Eagles
Giants Playoff Result: Lose to Packers in NFC Championship Game
Team MVP: OBJ
Offensive Rookie Of The Year: Shane Smith
Defensive Rookie Of The Year: Calvin Munson
The Giants will take care of business early on in the season to set them up to win the division. Ultimately though, they will once again be torched by Aaron Rodgers. Ben McAdoo will be out coached when it comes to playcalling and clock management which will lead to some offensive struggles. The offensive line play will still not be too good and Eli Manning's play will decline as he gets older. Steve Spagnuolo's defense will be the best in the NFL and will be the main reason the Giants win the division and make the NFC title game.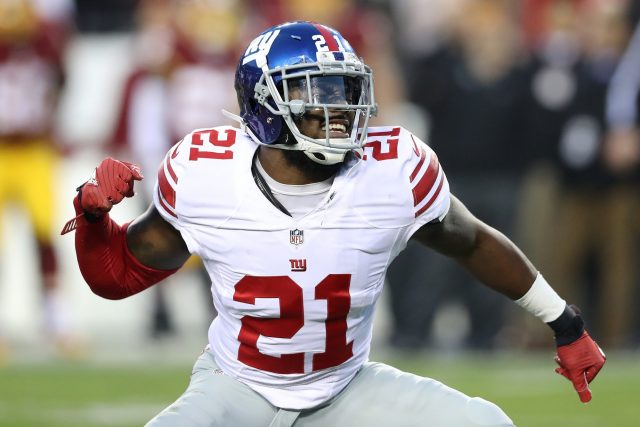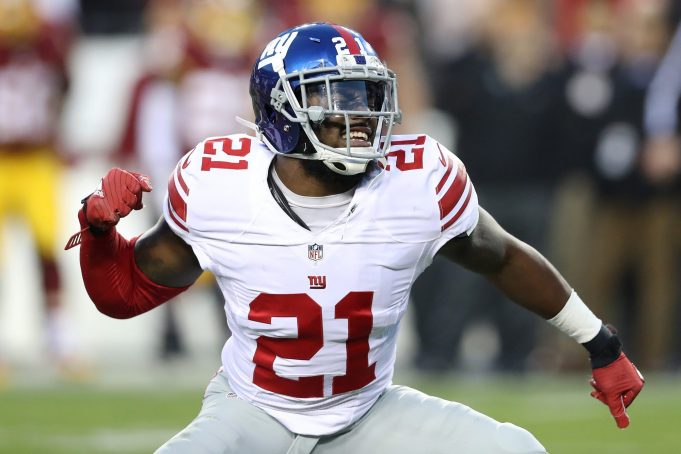 Robert Stratakos, Staff Writer
NFC East Standings: 1) Giants, 2) Cowboys, 3) Eagles, 4) Redskins
Giants Playoff Result: Loss in divisional playoff round
Team MVP: Landon Collins
Offensive Rookie Of The Year: Wayne Gallman
Defensive Rookie Of The Year: Dalvin Tomlinson
NFL's Defensive Player Of The Year: Landon Collins
The New York Giants have added some intriguing weapons on the offensive end in Brandon Marshall and Evan Engram. And they still possess one of the game's best all-around defenses – one that may get even better this year. With those two aspects in mind, Big Blue should be able to conquer first place in NFC East. But ultimately, their inconsistent O-Line will come back to haunt their Super Bowl aspirations. As a result of their line being unable to help facilitate any sort of reliable run game, the Giants offense will ultimately hit a wall once they get deeper into the postseason – one that will be too hard to go through. Expect Ben McAdoo and the Giants to win the NFC East at 10-6 but be eliminated in the Divisional round.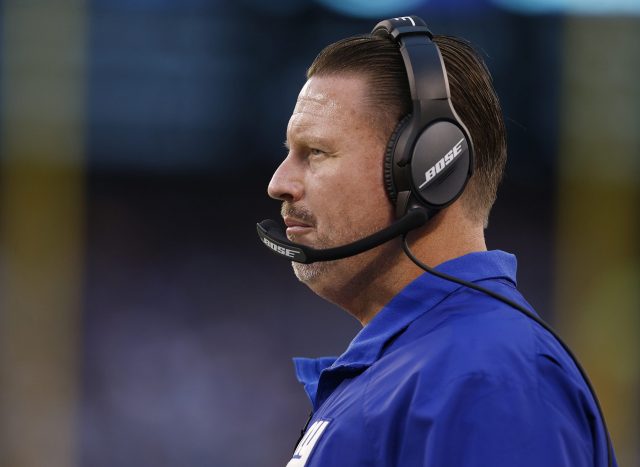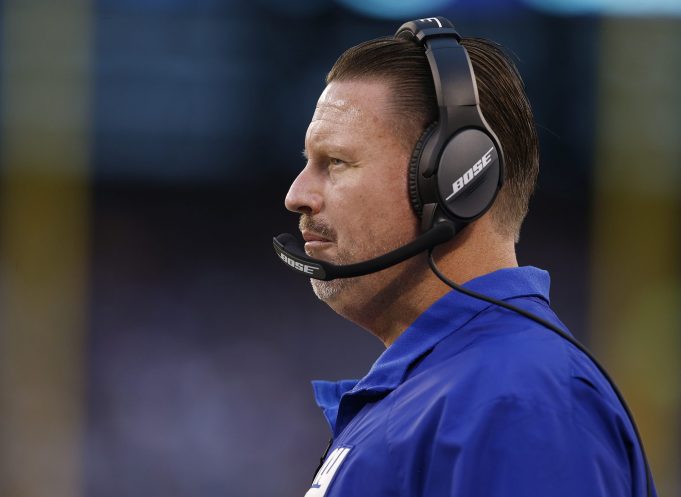 Skylar Darel, Staff Writer
12-4
1. Giants
2. Cowboys
3. Eagles
4. Redskins
MVP: Landon Collins
OROTY: Engram
DROTY: Tomlinson
ROTY: Engram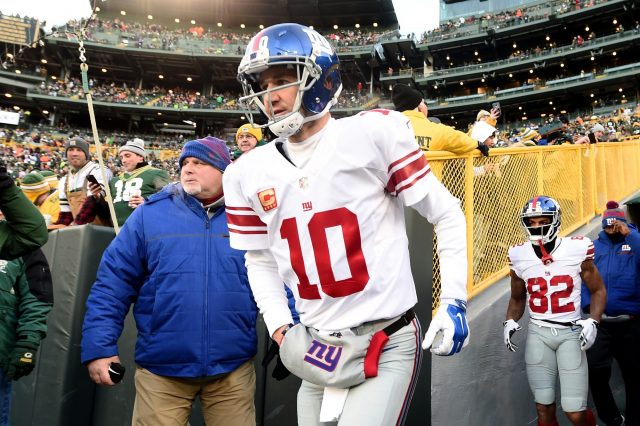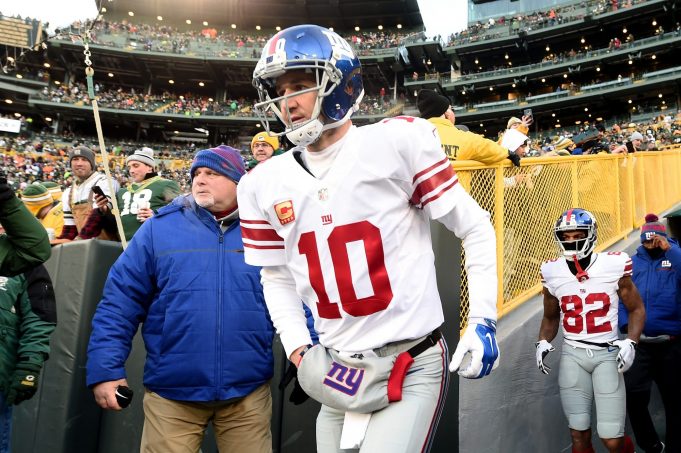 Rick Weiner, Editor in Chief
Giants Regular Season Record: 12-4
NFC East Standings, 1 through 4: Giants, Cowboys, Eagles, Redskins
Playoff Results (if any): Lose to GB in NFC Championship Game, 27-24
Team MVP, Off ROY, Def ROY, Rookie of the Year: Landon Collins, Wayne Gallman, Dalvin Tomlinson, Tomlinson
NFL Awards (MVP, OPOY, DPOY, ROY, if any): DPOY – Collins
A quick paragraph or two about what you think:
A stout defense and the indestructible Eli Manning lead the Giants to a division title and another playoff appearance. But the failings of a terrible offensive line and non-existent run game bite them in the Lambeau Field cold yet again, as Big Blue falls to the Packers—again—in the postseason.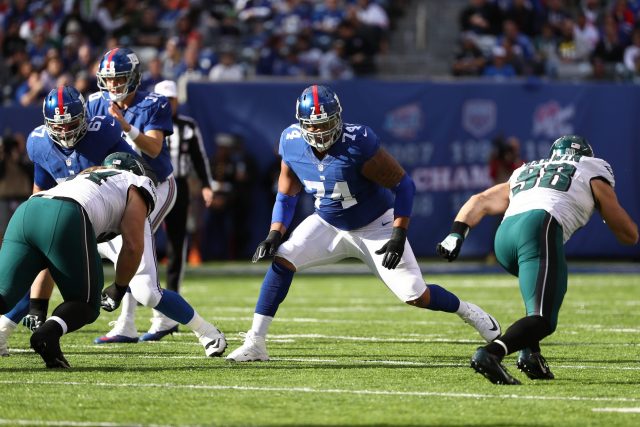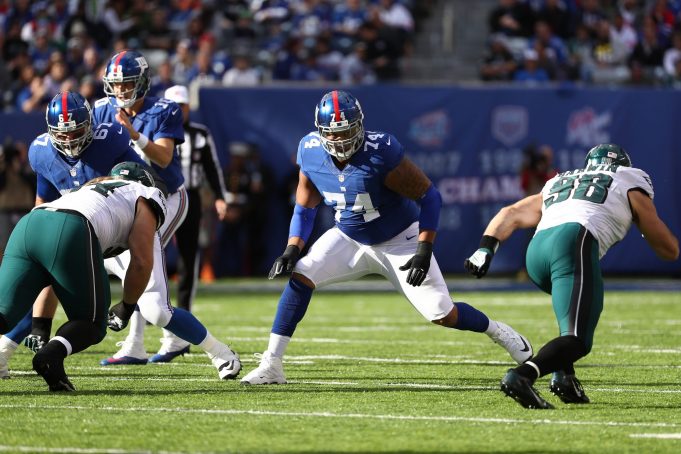 Robby Sabo, Founder
NFC East
New York Giants (11-5) (3rd in NFC)
Dallas Cowboys (8-8)
Philadelphia Eagles (8-8)
Washington Redskins (5-11)
Playoffs
Giants will first beat Minnesota at home during the Wild Card Round and then the Falcons in Atlanta. A tough 17-13 NFC Championship Game loss to Aaron Rodgers and the Green Bay Packers at Lambeau Field will end the season.
I'm scared to death of this offensive line. It's completely maddening to me that Jerry Reese yet again ignored the offensive line during the offseason. D.J. Fluker and a late-round flyer is hardly enough to fix the only problem on the team. These shiny weapons have no use if Eli Manning isn't afforded the time to properly run the defense.
At the same time, this defense is the best in the league. That, coupled with Dallas's shaky defense (which relies on an oft-injured Sean Lee) brings me to a three-game difference. This season will reveal to those non-Eli believers that the guy is just simply not done yet. He'll be better than good during the regular season and spectacular during the first two rounds of the playoffs.
In the end, though, that offensive line will hold the team back from Super Bowl contention.