What should fans expect for Caris LeVert's sophomore season? Elite Sports New York's projections for the Brooklyn Nets shooting guard are in.
T
he Brooklyn Nets are gearing up for an exciting season and has commenced the franchise rebuild, with youth at the foundation.
After a slow start to a productive rookie season, shooting guard Caris LeVert is looking to make a splash next season.
With starting out the season from the bench becoming more and more likely, can this young guard improve next year?
Points Per Game
Last season, LeVert averaged 8.2 points per game on a fairly efficient 45 percent from the field. His offense revolved mostly around the basket, though he did make an attempt to shoot the three ball. LeVert averaged a lowly 32 percent from beyond the arc.
Now, it's fair to say he played his best basketball at the end of last year. LeVert missed the first 21 games of his rookie year due to injury and had his best scoring month in April where he averaged 12.3 points through a seven game stretch.
According to NBA.com, the shooting guard shot 65 percent within five feet of the basket. That's also where he attempted the most shots. Again, his game centers around his ability to connect off the glass or convert contested layups.
A look at the guard's best offensive game last year, a 20-point effort against the Orlando Magic.
---
---
Beyond the post, LeVert attempted 100+ shots between 20 to 24 feet from the goal, with only two of those shots not reaching the three-point line. His confidence to take those shots is a good sign, but he'll need to dial in and start knocking them down before they're considered irrational.
One underrated aspect of his game, mid-range shooting. From 10-19 feet of the basket, LeVert shot 51 percent on average. He's fairly good in that area and needs to trust his strength within that range.
More shot attempts there could easily boost his scoring, and carry the Nets bench next season.
Rebounds Per Game
At 6-7 and 203 lbs, LeVert is no star big man, and not someone you want competing for game contingent rebounds. However, despite having dealt with a knee injury, the young guard recorded four games with seven rebounds. Not bad for his first year.
The Brooklyn Nets will be missing out on the glass this year, it's nearly guaranteed. They traded star big man Brook Lopez prior to the draft to obtain young talent D'Angelo Russell an aged big man Timofey Mozgov.
---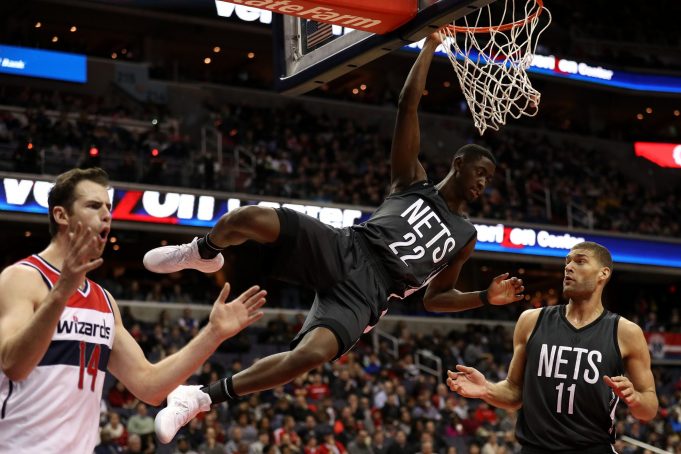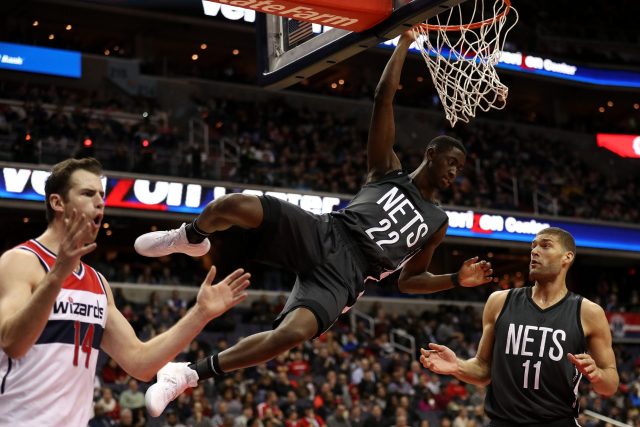 ---
Coming off the bench could be a great opportunity for LeVert to hone his presence off the glass. With so many other bigger guys in the mix, it's unlikely. We may see a small increase, but this kid is no star rebounder.
Especially when you compare his starting and bench numbers from last year. Per NBA.com, LeVert averaged 4 rebounds per game when starting, and 2.7 when coming off the bench.
Projections
Points Per Game: 12.0
LeVert's last stretch in April gives me hope that Atkinson will take advantage of such a capable scorer. With a healthy Jeremy Lin at the helm and Russell dropping dimes as well, there will be more scoring opportunities for everyone.
According to nbawowy.com, LeVert saw a near five point increase in his true shooting percentage with Lin on the floor. Getting more minutes with him, and also accounting for his continuous development, means more scoring.
Rebounds Per Game: 4.0
It's hard to see any big jump in this area, provided LeVert primarily play off the bench. He'll see an increase, as do most young players when finding the ropes, but it won't be much. Too many other big guys are competing for those rebounds, and this kid is a shooter.
FG Percentage: 51 Percent 
These two percentages are based on two things. One, LeVert finds the confidence to shoot even more. Two, he realizes that his shot from deep could use fine tuning.
If this shooting guard can upgrade his game with some more mid-range shots, he'll see an immediate improvement on his percentage numbers. He attempted only 47 shots from his best spot on the floor last year. Shooting more means making more when you've got a spot like LeVert in the mid-range.
3FG Percentage: 37 Percent
The only huge discrepancy for his three-point shooting comes with attempts. In March, LeVert played 17 games where he averaged only 2.8 attempts from the three line. He shot 36 percent. He needs to shoot less and he needs to shoot smarter from deep.
Again, there are two point guards running this new Nets offense. That will be on display in all Nets players shooting percentages, not just LeVert.
---
---
Caris LeVert got off to a slow start last year, but remained healthy once on the court. He's a very capable guard who shoots efficiently from the floor, yet has room to extend his range.
Year two will be a good one for this young guard, though it will start with a role based in the second unit. While the Nets are ready to invest in him, no one can deny the greater talents that are Lin and Russell.