With college football back, our very own Geoff Magliocchetti takes a look at the Metro area Week 1 Power Rankings including Rutgers. 
C
ollege football officially returned to the American consciousness last weekend, officially ending all prospects of productive Saturday's across the nation.
Our Tri-State area was no exception to this craze, as local schools Army, Connecticut, Rutgers and Syracuse all kicked off their seasons. Of those, the Black Knights are the only one seeking a return trip to the postseason, but each had strong showings in their 2017 debuts …
Story in Photos: Army 64, Fordham 6https://t.co/5c11pZIocs pic.twitter.com/FXNJ8gTsfR

— Army WP Football (@ArmyWP_Football) September 2, 2017
1. Army (1-0)
This is an important year for head coach Jeff Monken and the Black Knights. Rich Ellerson was able to guide the team to a 7-6 mark and a bowl win during the 2011 season, but it was immediately forgotten, as the Knights went 3-9 the next year. Coming off last year's 8-5 mark, concluding with the wins over Navy and North Texas (the latter in the Heart of Dallas Bowl), the Knights would finally like to establish some consistency in West Point.
Though it came against FCS Fordham, Friday night was a good start. The Knights completed no passes, but picked up a walloping 513 yards on the ground in the blowout. Bradshaw picked up right where he left off last season, as did junior running back Darnell Woolfolk, who picked up 95 yards on 10 carries. The defense made sure the rushing highlights occurred exclusively on their side, holding Fordham to 66 yards on the ground.
Facing some FBS competition this week, the Knights will need all the tuning up they cant get before facing #2 Ohio State in Columbus in two weeks.
Vita Vea dominated the Washington-Rutgers game on Friday night. pic.twitter.com/fuB2eXIVSG

— PFF Draft (@PFF_College) September 2, 2017
2. Rutgers (0-1)
If moral victories counted, everyone would be undefeated. But despite yet another loss on the scoreboard, the Scarlet Knights earned some of those moral wins on Friday night.
Going up against a College Football Playoff participant, the Knights actually held their ground with the Huskies for a majority of the game. The result was never truly in doubt, despite the Knights holding a slim lead late into the second quarter, but considering where Rutgers was last year, losing four games against ranked opponents by a combined score of 223-13 (including a 48-13 loss in an opener against the then-#14 Huskies in Seattle), it's a step in the right direction.
The Knights now have a pair of tune-up games before opening Big Ten play on September 23. Facing Eastern Michigan and FCS Morgan State, they should try to boost the confidence of QB Kyle Bolin, a Louisville transfer who made his Rutgers debut on Friday. While his stats were passable (24-for-34, 178 yards, 2 TD's, 2 INT's), they should open up the playbook more to help him be ready for Nebraska in three weeks.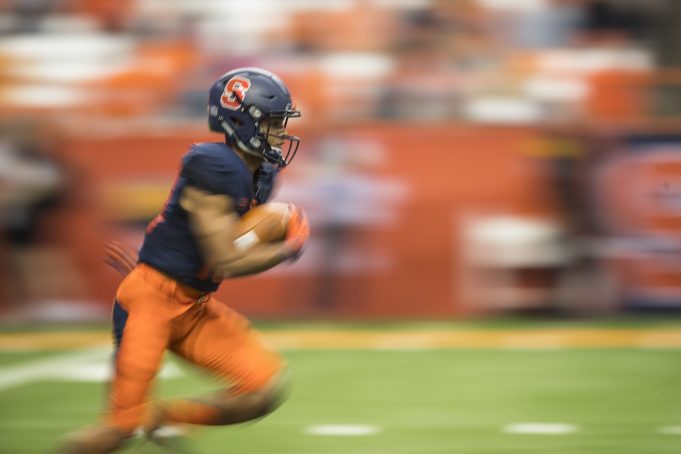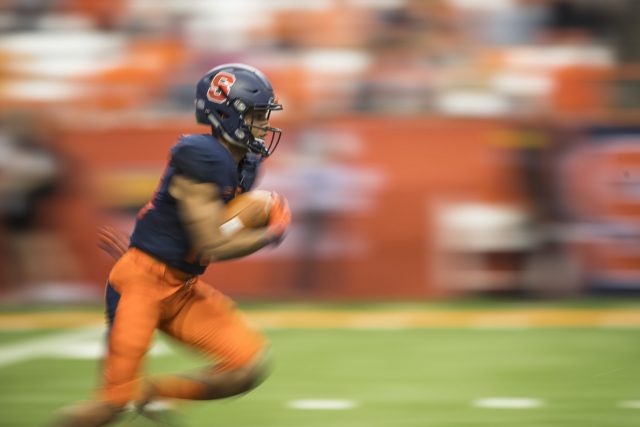 3. Syracuse (1-0)
Making his long-awaited return from the tough injury in the Clemson game last November, Dungey showed no signs of rust on Friday, putting up three scores through the air and two more on the ground in the Orange's blowout win. Senior receiver Steve Ishmael was his top target, setting new career highs with 12 receptions for 134 yards.
With 328 yards, Dungey tied Ryan Nassib for most 300-yard games in Orange history at seven. He'll have a good shot to break that record this week against the Blue Raiders, who were thoroughly dominated on Saturday by Vanderbilt. Saturday marks the midway point of a three-game opening homestand. If the Orange wish to go bowling this year, emerging from that stretch undefeated will be vital.
Relive last night's win over Holy Cross! #UConnNation pic.twitter.com/TcYhL7iPYI

— UConn Football (@UConnFootball) September 1, 2017
4. Connecticut (1-0)
Some things never change. For the fourth consecutive season, the Huskies got into a tight game with an FCS opponent in September, needing a 13-0 fourth quarter to defeat the Crusaders. Since losing a 33-18 decision to Towson to open the 2013 season, the Huskies have now been involved in one possession victories against formerly Division I-AA competition. They've all been wins, but it's not something you want to repeat.
Upon his return to Storrs, Randy Edsall may already have a quarterback controversy on his hands. Junior David Pindell (19-for-28, 154 yards) won the job out of camp, but fifth-year senior Bryant Shirreffs (9-for-13, 124 yards, 1 TD) came off the bench to secure the win. No matter who gets the start, they'll have their work cut out for them against the ranked Bulls in their AAC opener. UConn played USF well last season, but five touchdowns by highly touted QB Quinton Flowers doomed them in what became a 42-27 loss.
Geoff Magliocchetti is on Twitter @GeoffMags5490