New York Giants quarterback Eli Manning prepares for his 200th consecutive regular season start as 2017 gets underway. 
T
here are three absolutes when it comes to New York sports …
Henrik Lundqvist in net for the Rangers
That marquee free agent isn't coming to the Knicks
Eli Manning at quarterback for the Giants
Sunday night marks the return of New York Giants football, and to the surprise of no one, Manning will begin the game under center for the 200th consecutive contest. To put that in perspective, a gallon of gas cost $1.74, President George W. Bush was in the midst of his first term, and National Treasure was the number one film in America the last time someone not named Manning started for the Giants.
"It's exciting. (I'm) excited about this upcoming season," Manning said of starting his 13th consecutive season opener. "It's always an honor. You don't take it for granted being able to play in this league and be a starting quarterback. So, a lot of hard work went into it, but looking forward to going out there on the game days and making plays and winning some football games.
Appropriately, the landmark start will come against the Dallas Cowboys, as the Giants begin their road to the Super Bowl in Arlington for the third consecutive season. It will be Manning's 26th regular season meeting with the Cowboys, and though he has a pedestrian 13-12 record against them, some of his greatest triumphs have come against America's Team.
For example, Manning earned his first win as a starter in the final week of the 2004-05 season, a late 28-24 win in which Manning threw three touchdowns. Seven years later, a final week win over Dallas would again be historic, as he threw for 346 yards and three more scores as the Giants won 31-14 en route to Super Bowl XLVI, the second Super Bowl won in the Manning era. Manning also defeated the Cowboys en route to the first ring in 2008, prevailing 21-17 in the NFC Divisional Playoff. Last season, Manning and the Giants were responsible for half of the Cowboys' four losses last season, pulling off a sweep of their NFC East foe for the first time since the 2011-12 season.
"I think they're a very fast team. They run to the ball. They know their assignments," Manning said of this year's Cowboys. "They're very disciplined and they do a good job just flocking to the ball and keeping everything out in front, not giving up too many big plays. So, we have to just be able to be patient, have long drives and try to find some ways to hit some big plays on them."
Frequently the target of internet memes and jokes for his status as the youngest Manning brother and his "aw, shucks" demeanor, it's safe to say Manning will have the last laugh on his critics. In a football world where the backup quarterback has taken on an increasingly important role on a team's roster, Manning's longevity is a legacy on its own. For example, the Giants' MetLife Stadium co-tenants have started 11 different starting quarterbacks during Manning's tenure, with Josh McCown making it 12 come Sunday.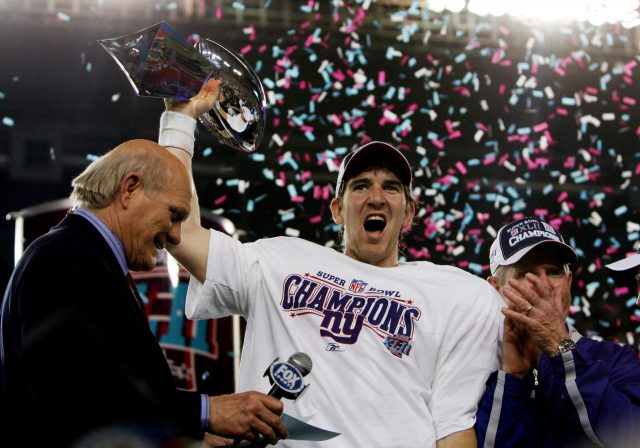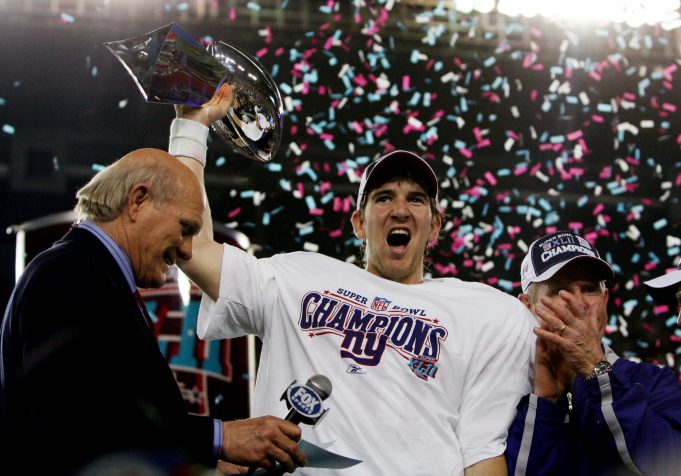 Eli's box scores almost never resemble his brother Peyton's, but with that longevity has come a form of consistency fans of other teams would give their right arm for. Eli currently ranks 8th all-time in passing yards (48,214), 7th all-time in completions (4,072) and 7th all-time in passing touchdowns (320). His authorship of the NFL record book, not to mention a pair of Super Bowls that bear his name in the MVP column, has to ensure future enshrinement in Canton, presumably alongside his brother.
At 36, the youngest Manning brother isn't so young anymore, and he realizes the day will come that he too will join New York champion legends like Derek Jeter in immortality. Manning recently stated that he could play "another four years", but welcomed rookie quarterback Davis Webb with open arms when the Cal-Berkeley and Texas Tech alum was selected in the third round of April's draft. In perhaps the most visible sign that Manning's tenure may be in its late stages, Webb is the highest selection the Giants have made at quarterback since 2004 when they took Phillip Rivers in the first round. As you know by now, Rivers was shipped to San Diego minutes later for Manning and the rest is history.
"Once they drafted him, (there was) nothing to say different than drafting a defensive lineman or a linebacker I'd say, so I'm fine," Manning said back in June. "We drafted a quarterback four years ago with Ryan Nassib so I understand they have to draft a quarterback and they have to draft players on the board who are going to help out down the road."
Before he goes, a third Super Bowl win, achieved only by the likes of Tom Brady, Terry Bradshaw, Joe Montana and Troy Aikman, would be the final stitch to the lips of the critics that doubt Manning's Hall of Fame candidacy. Preparing for both the present and the Manning-less future, the Giants are stacked with weapons on both sides of the ball, as Brandon Marshall joins an offensive unit co-starring Odell Beckham and Sterling Shepard.
Manning has also acknowledged the high preseason expectations, which are perhaps at their highest since the Super Bowl XLII title defense in 2008. When asked if Week 1 was just the first step to a deep playoff run, Manning eloquently put things in perspective.
"I don't think you can get too overly concerned with the expectations from the outside," he said. "I think we have expectations of ourselves, the style of football we want to play, what we want to do and need to do to be successful. So, I think from that standpoint, we're going to try and hit those goals. That should be our concern, not worried about what the outside expectations are."
Manning also assured the masses that he and Marshall will be on the same page on Sunday, despite few snaps as a unit this preseason. Marshall was hindered by a shoulder injury sustained in the Giants' exhibition with Cleveland on August 21.
"Brandon and I will be on the same page," assured Manning. "But, again, there's always a learning curve. We're on the same page. It doesn't mean we'll complete every pass that I throw to him, but we've gotten a lot of work and communicate all the time about the different things. So, I expect us to go out there and make the plays that we need to make."
Sunday's game is slated for an 8:30 p.m. EST kickoff on NBC.