We now know who the New York Giants are going to take into battle against the Dallas Cowboys and the rest of the NFL this season. 
The core of a New York Giants squad that went 11-5 last season remains. They're another year older—and hopefully wiser—but remain one of the favorites to win the NFC East, if not the NFC outright.
That's not to say that the team's 53-man roster is a spitting image of the one that finished the 2016 season. It's not.
The New York Giants 53-man Roster. #NYGiants pic.twitter.com/EZti5PkZTl

— Elite Sports NY (@EliteSportsNY) September 3, 2017
The Giants made no waiver claims Sunday, so the only thing left to do was to fill out the practice squad.
Current Practice Squad
A glaring omission from the squad is WR Travis Rudolph, who impressed in training camp and was a surprise cut on Saturday. He's cleared waivers, so it could be a matter of time before he rejoins Big Blue.
With that out of the way, let's get into the good and the bad surrounding the 53-man roster.
Strengths
Wide Receiver
Assuming good health, few teams can compete with the firepower the Giants have on the outside. Odell Beckham Jr., Brandon Marshall and Sterling Shepard are, arguably, the best WR trio in all of football. Go ahead and try to name a better threesome. We'll wait.
Both Dwayne Harris and Roger Lewis Jr. have proven they can step in and contribute when needed, while Tavarres King has shown flashes of brilliance over the past three years, almost exclusively in preseason action.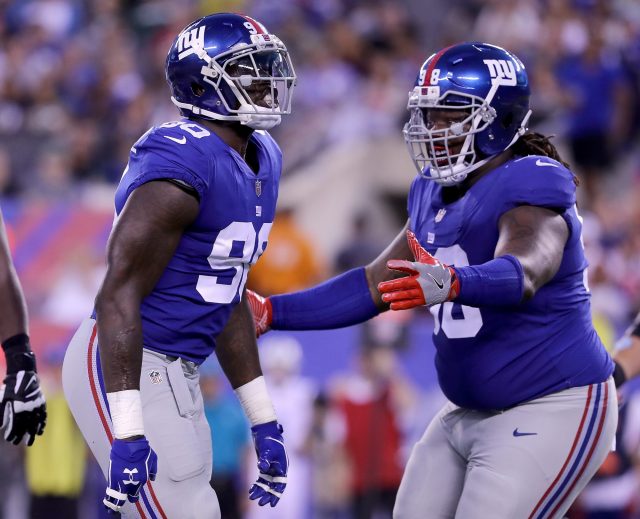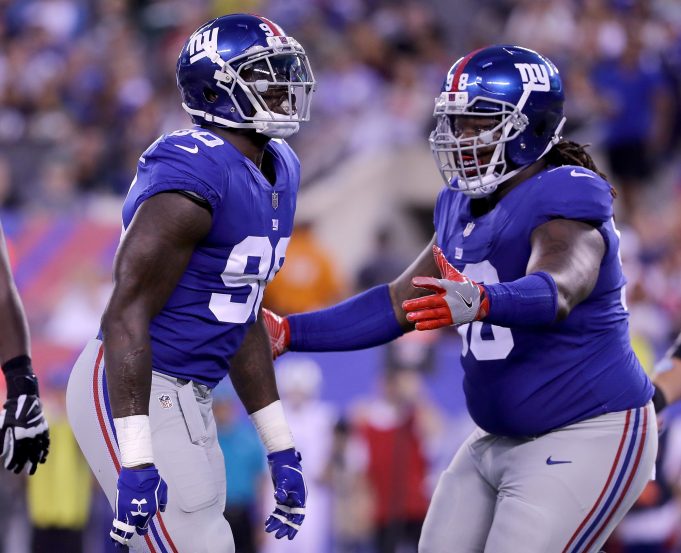 Defensive Line
When you've got a trio of Pro Bowl-caliber studs anchoring your front four, you know you're in good shape. Damon Harrison, Jason Pierre-Paul and Olivier Vernon need no introduction. They're capable of terrorizing opposing offenses at their will.
When you've got guys like Robert Thomas and Dalvin Tomlinson—who would be unquestioned starters on other teams—waiting in the wings, you know you've got something really special.
Secondary
Landon Collins is the best defensive player in the NFL. There, I said it. When you add elite talents like Eli Apple, Dominique Rodgers-Cromartie and Janoris Jenkins to the mix, you wind up with a game-changing defensive backfield that no team wants to test in the air.
Weaknesses
Offensive Line
Weston Richburg is a stud. Justin Pugh is solid, albeit unspectacular. After that? You've got a whole bunch of nothing protecting the team's most valuable asset, Eli Manning. It's a good thing Eli is built to last because this line isn't doing him any favors.
At some point, the Giants are going to have to get serious about improving this group. Ereck Flowers, Bobby Hart and John Jerry are massive liabilities. Brett Jones shows some promise, but he's most valuable as a swing guy on the bench. D.J. Fluker? No thanks.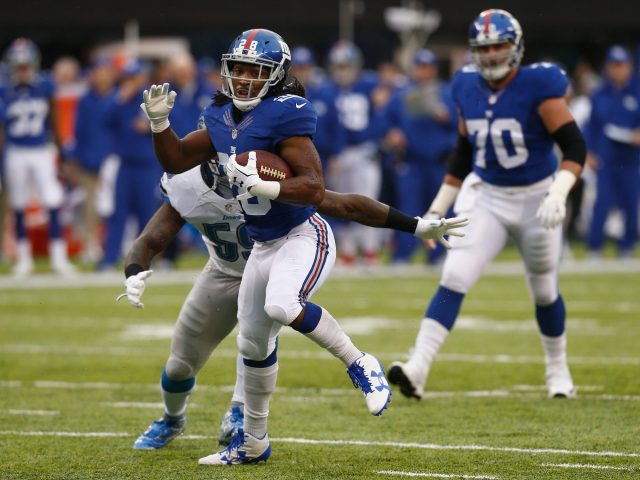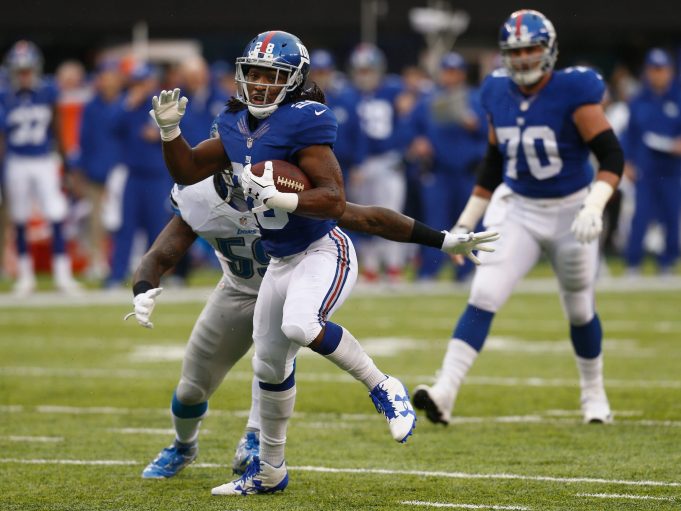 Running Back
Maybe it's unfair to lump the backs in here, as the Giants are a pass-first team and, as noted, don't have the horses up front to open holes for these guys. But it's not like the Giants have the next Tiki Barber, Rodney Hampton or Joe Morris on the roster.
Heck, most Giants fans would settle for Brandon Jacobs or Charles Way at this point.
Paul Perkins has tons of talent, but he's not an every down back. Orleans Darkwa is the bruiser at 210 pounds. He's smaller than some safeties. Shane Vereen has a lot of wear on his tires at the age of 28. Wayne Gallman has promise, but he's still raw.
Can you name the last 1,000-yard rusher the Giants had? Anyone? It was Ahmad Bradshaw, back in 2012 (1,235 yards rushing).
Only twice since then have the Giants had a back rush for more than 700 yards in a season—Andre Williams in 2014 (721) and Rashad Jennings in 2015 (863). That's it.
Linebacker
What was for decades an unquestioned strength of this team has, for years, been a massive liability. B.J. Goodson looks like the best middle linebacker the Giants have had since Antonio Pierce. That's a plus.
But none of the other linebackers on the roster make you think they're capable of something special. With the defensive line the Giants have, linebackers should be able to consistently get into the opposing backfield. Jonathan Casillas, Devon Kennard, Keenan Robinson and J.T. Thomas haven't shown they're capable of doing so.
The book is still out on Calvin Munson, the team's fifth-round pick out of San Diego State in this year's draft.