The New York Jets final 53-man roster reveals more than one emotion and today we break it down as we cry and pray for better days.
Y
ou've laughed. You've cried. You've rejoiced while crossing both fingers on both hands while firmly positioning the silliness behind your back.
You've felt all of these emotions soon after taking a peek at the 2017 New York Jets final 53-man roster.
Twenty-seventeen marked the first season that saw teams not be forced to cut players during each of the preseason weeks. Instead, the entirety of cuts came after the fourth preseason week. From that huge August roster all the way down to 53 all 32 clubs went. This brought with it a crazy weekend prior to the start of the season.
The New York Jets 53-man Roster. #NYJets pic.twitter.com/XGXORx8nOV

— Elite Sports NY (@EliteSportsNY) September 3, 2017
The Jets did their best in taking part by claiming New York Giants recently waived tight end Will Tye. They've also made their fair share of moves on top of Tye:
Waiver Claims:
After 53-Man Roster Cuts:
Current Practice Squad:
LB Frank Beltre
OL Ben Braden
CB Xavier Coleman
NT Deon Simon
Now that the logistics are out of the way, let's discuss strengths and weaknesses.
Strengths
Safety
Yes. Even if you're one who believes this is the worst roster in the league hands down, there are strengths. That starting duo of Jamal Adams and Marcus Maye — as we've mentioned a couple weeks ago — can actually become the best NFL safety duo in the league as soon as this season.
Experience at the safety position is completely overrated. It's a read-and-react, nose for the ball position and even in the NFL, the best athletes and football IQ guys succeed immediately. Adams is going to be an all-out stud beginning in Week 1 in Buffalo.
Interior Defensive Line
Even with the brilliant trade of Sheldon Richardson a few days ago, this unit is still stacked. Leonard Williams and Muhammad Wilkerson — who will now be a much better player at his natural interior position — still make up one of the better interior D-lines in the league.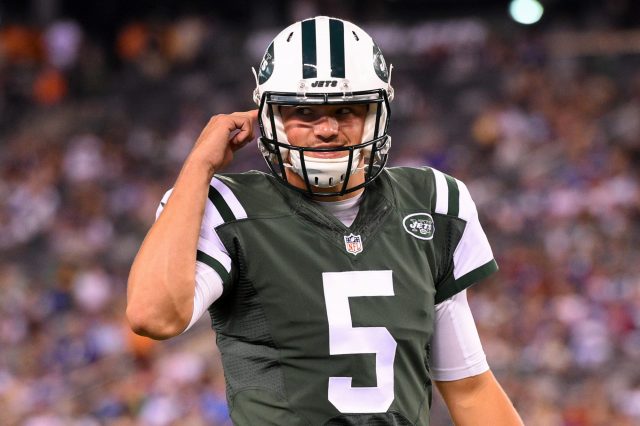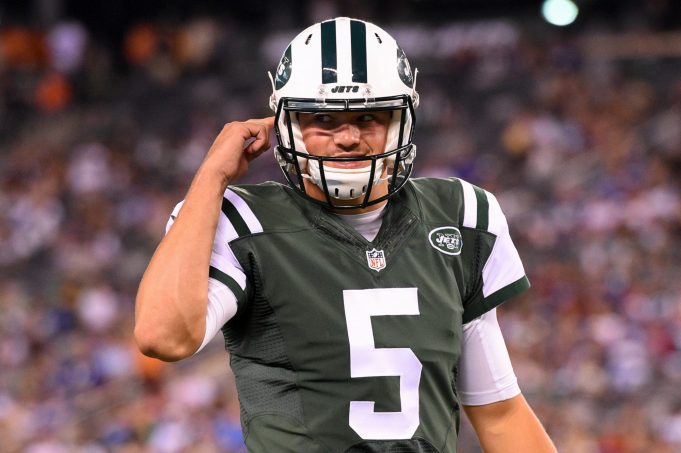 Weaknesses
Quarterback
We know the deal. The National Football League is a quarterback-driven spot of real estate in this world. Until Mike Maccagnan finds his franchise guy, this team won't be a serious contender for the Lombardi Trophy.
Cornerback
Unless Juston Burris takes one giant leap forward in year two, these guys will struggle all year long. Morris Claiborne is a No. 2 or 3 corner at best. Buster Skrine is a nickel CB at his height. There's just not much here.
Laughable
Offensive Line
Take a good, hard look at this unit. It's laughable.
Maccagnan inked Kelvin Beachum to a decent contract this past offseason and he's honestly nothing to write home about. Anybody who the Pittsburgh Steelers give up on usually turns out that way. Wesley Johnson has struggled mightily in preseason and so has second-year Brandon Shell (highlighted by the abuse he took at the hands of Jason Pierre-Paul on the early safety in the MetLife Bowl).
What's really laughable about this unit is that they were terrible last year and not one lineman was acquired or selected in the NFL Draft. Sure, most will make the excuse that this past draft wasn't loaded with linemen, but a middle or late-round intelligent pick could have made a great impact. There's no competition at the position. This is what breeds mediocrity.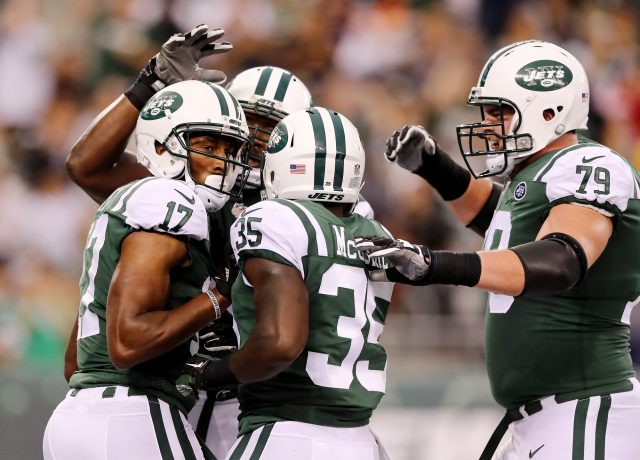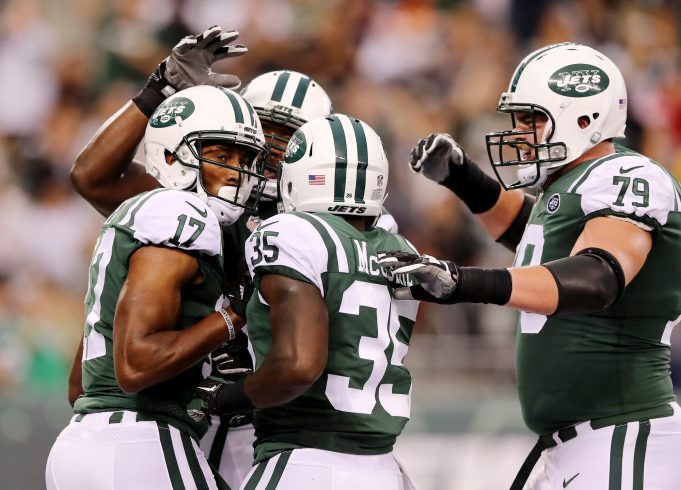 Better Than You Think
Wide Reciever
Even prior to the acquisition of Jermaine Kearse, this unit isn't that bad off. Both rookies, ArDarius Stewart and Chad Hansen, are players. Stewart looked great against the Giants (catching two touchdowns) while Hansen already looks and moves like a solid pro.
The depth is there. The superstar talent isn't, but weaponry won't matter unless the O-line and QB first polish its areas of operation.
Running Back
Bilal Powell and Matt Forte make up a terrific one-two punch at the position.
Final Thoughts
This group isn't the 1989 San Francisco 49ers. We know this. But we don't know if it's yet truly the worst personnel grouping in the league. There are too many factors we've yet to see play out before claiming that.
For now, taking the cautious approach while smiling one minute and crying the next hour is the course to travel.