The start of the NFL season is just a few days away, and many believe the New York Giants will not only win the NFC East but that they will represent the NFC in Super Bowl LII.
Before the New York Giants can think about getting to the Super Bowl, they will first have to get through the regular season where they will have six games against playoff teams from a season ago.
Can Big Blue improve on its 11-5 record and Wild Card berth from a season ago?
Here's our game by game prediction for the New York Giants.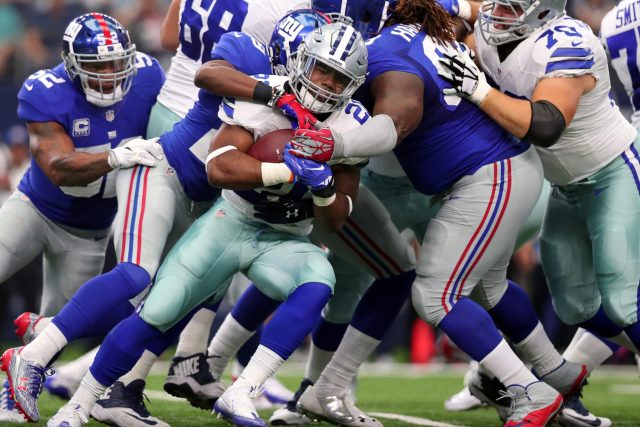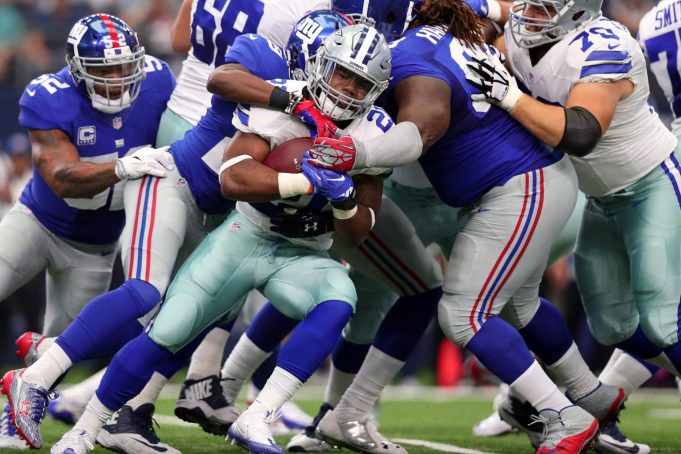 Week 1: at Dallas Cowboys
Whether or not Ezekiel Elliott's appeal on his six-game suspension allows him to play, the Giants defense is more than capable of once again containing the Cowboys running game.
In two games last season, the Giants held Elliott to 3.5 yards per carry en route to a New York sweep of the season series. The Giants will begin 2017 the same way they did in 2016—with a road win against Dallas.
2017 Record: 1-0
Week 2 vs. Detroit Lions
Offensively these two teams are very similar. Both rely heavily on the passing game, as neither one has much of a ground attack. The two teams ranked 29th and 30th in rushing yards a year ago.
Eli Manning will outperform Matthew Stafford in the aerial battle, throwing a pair of touchdowns to Odell Beckham Jr. and Brandon Marshall as the Giants will win their home opener on Monday Night Football.
2017 Record: 2-0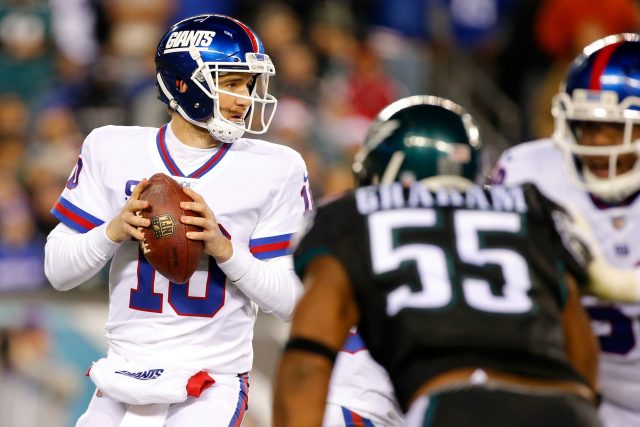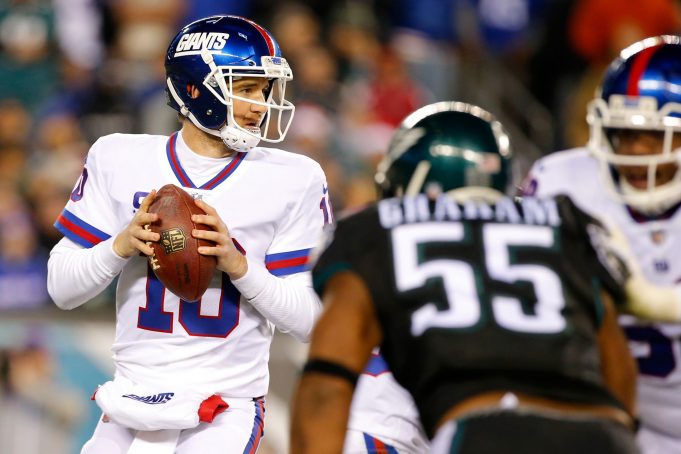 Week 3: at Philadelphia Eagles
Philadelphia might be the "City of Brotherly Love," but Philly's not showing any to the Giants. They haven't won there since 2013 and playing the Eagles on a short week won't make things any easier.
They'll keep things close, but the Eagles will squeak out a win on a field goal late in the fourth quarter, handing Big Blue its first loss of the season.
2017 Record: 2-1
Week 4: at Tampa Bay Buccaneers
The name DeSean Jackson makes Giants fans feel uneasy, and it should. The team's longtime nemesis—first with Philadelphia and then with Washington—continues to haunt them, as he'll be waiting for the Giants when they travel to Tampa Bay.
Jackson isn't the only issue the Giants defense will have, with the explosive Mike Evans and rookie tight end O.J. Howard waiting to catch passes from Jameis Winston. Another close one—but another Giants loss.
2017 Record: 2-2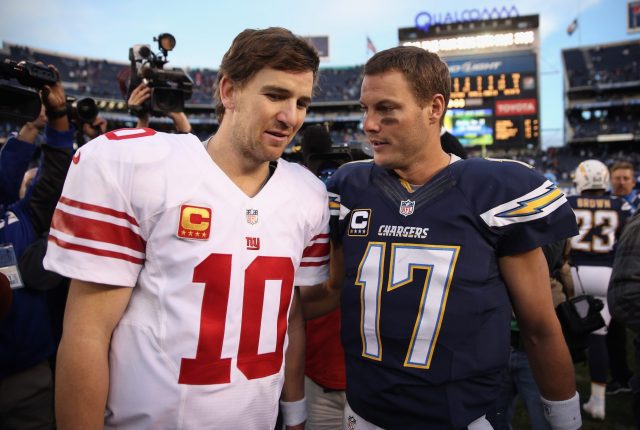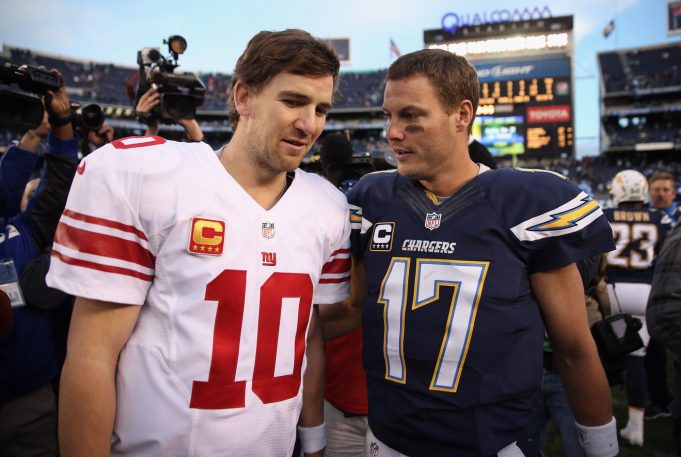 Week 5: vs. Los Angeles Chargers
The Giants will return home and get back to their winning ways as Manning will pick up his first win over the franchise that made him the first overall pick in the 2004 NFL Draft.
Expect the Giants to win this game by double-digits in what could be the final time we see two future Hall of Fame quarterbacks—Eli and Philip Rivers—who were traded for each other on draft day, go head-to-head.
2017 Record: 3-2
Week 6: @ Denver Broncos
Expect a low-scoring game in a game between two of the best defenses in the NFL. The Giants defense will force a couple of turnovers—including one in the fourth quarter—to seal the game as the Giants win their second road game of the season.
2017 Record: 4-2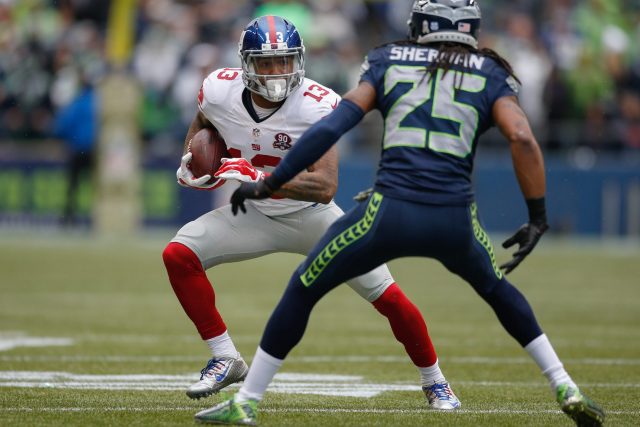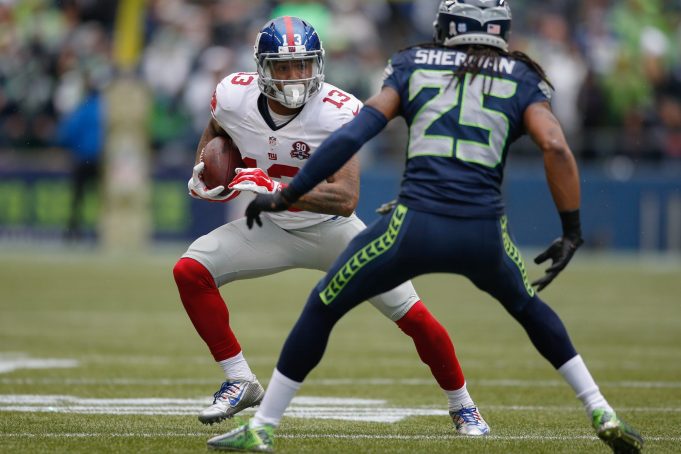 Week 7: vs. Seattle Seahawks
This will be one of the most intriguing matchups of the season as the Giants talented pass catchers (OBJ, Marshall, Sterling Shepard, and Evan Engram) go up against Seattle's vaunted Legion Of Boom.
New York has too many playmakers on offense for Seattle to handle, and the Giants defense will be able to shut down quarterback Russell Wilson and the Seahawks mediocre offense.
2017 Record: 5-2
Week 8: Bye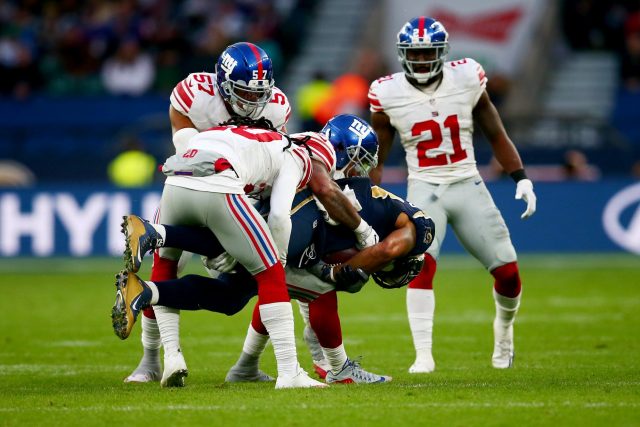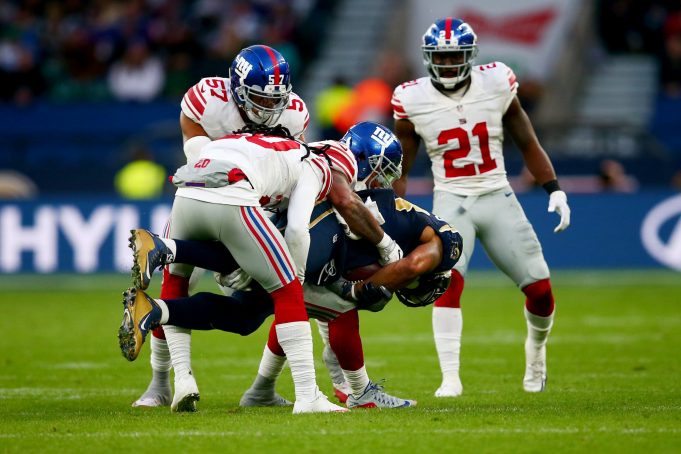 Week 9: vs. Los Angeles Rams
Both teams will be well-rested coming off a bye week, but all the sleep in the world won't help the Rams in this one.
New York is one of the best teams in the NFC; Los Angeles is one of the worst. Janoris Jenkins and the rest of the Giants' defense will have a field day against his former team as Big Blue wins in a laugher.
2017 Record: 6-2
Week 10: at San Francisco 49ers
The Giants will win their third game in a row against the NFC West as they take out the overmatched 49ers. Look for Landon Collins to win NFC Defensive Player Of The Week honors with two interceptions and 10 tackles in this one.
2017 Record: 7-2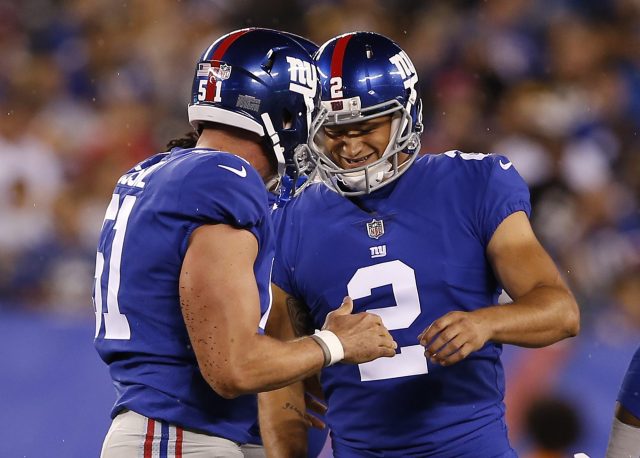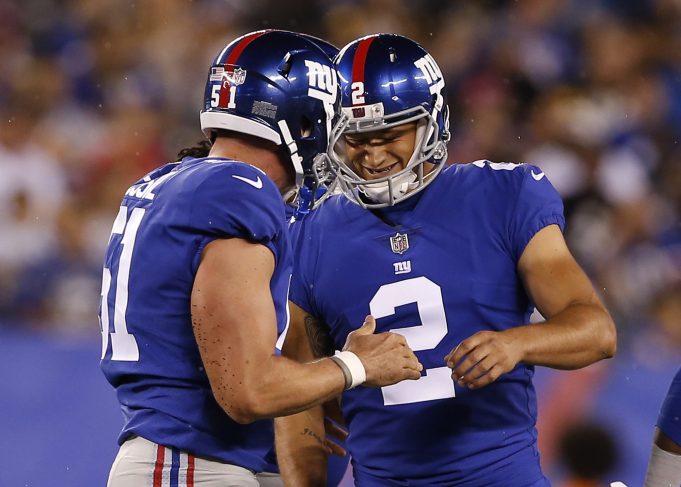 Week 11: vs. Kansas City Chiefs
After two easy victories over weak opponents the past two weeks, the Giants will have a much tougher time at home against the Chiefs. Thanks to a late fourth-quarter field goal by Aldrick Rosas, they'll squeak by Kansas City.
2017 Record: 8-2
Week 12: at Washington Redskins
This will be the Thanksgiving primetime game as the Giants will play their first NFC East foe in two months.
With their top two receivers from last year—Jackson and Pierre Garcon—now playing elsewhere, Jenkins, Dominique Rodgers-Cromartie, Eli Apple and the rest of the Giants secondary will have no problems shutting down Kirk Cousins and the Redskins passing attack.
2017 Record: 9-2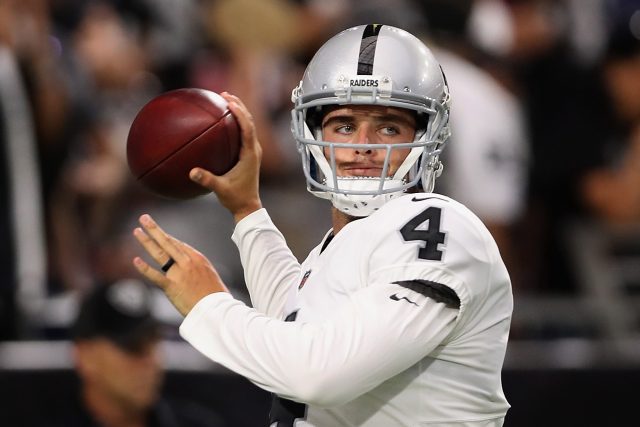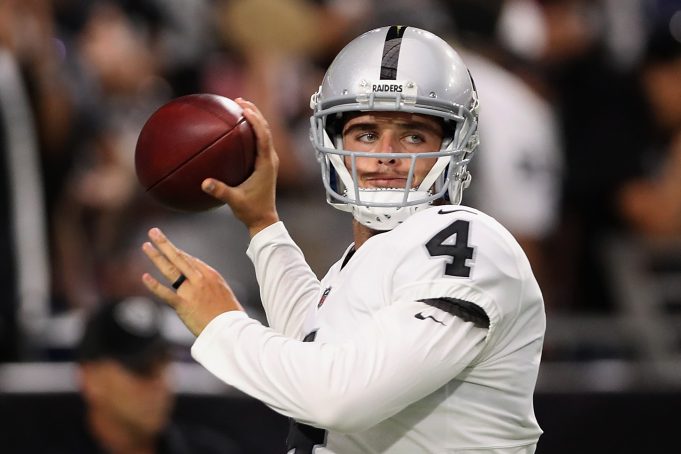 Week 13: at Oakland Raiders
The Giants will see their seven-game winning streak come to an end at the Black Hole. Costly turnovers will be the Giants undoing in this one as Derek Carr outperforms Manning.
2017 Record: 9-3 
Week 14: vs Dallas Cowboys
Dallas will have the benefit of having 10 days to prepare for the Giants and it will pay off. The Cowboys will win this game by a field goal, handing Big Blue its first home loss of the season.
2017 Record: 9-4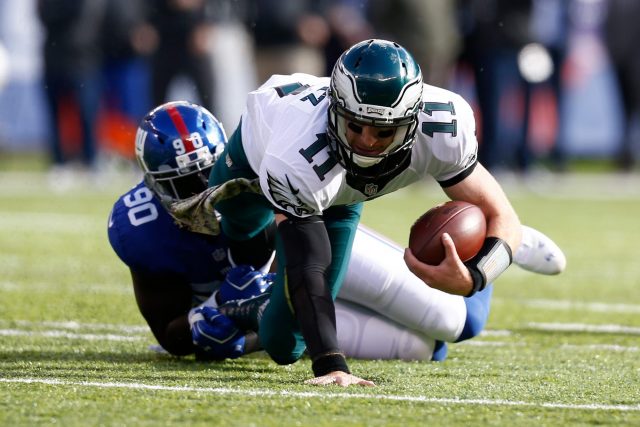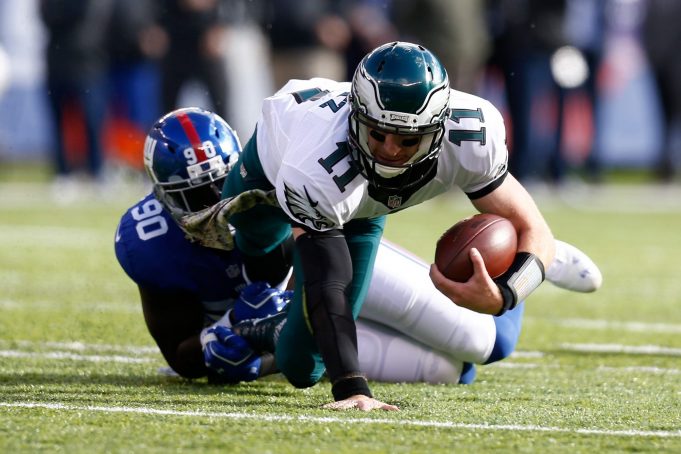 Week 15: vs. Philadelphia Eagles
The Giants will end their two-game skid with a win over the rival Eagles. A balanced offensive attack will keep Philadelphia's defense on its heels, while Carson Wentz will struggle against a veteran Giants defense.
With this win, the Giants clinch a playoff berth.
2017 Record: 10-4
Week 16: at Arizona Cardinals
The bad news for the Giants is that they will lose this Christmas Eve matchup in Arizona. The good news—besides getting to enjoy Arizona's weather in December—is that with Dallas losing to Seattle, the Giants will win their first NFC East Division title since 2011.
2017 Record: 10-5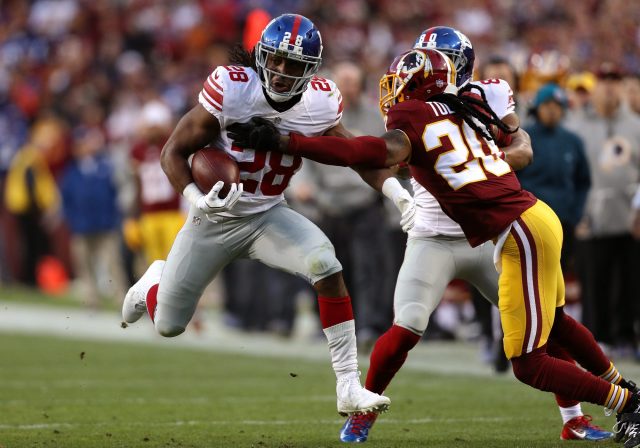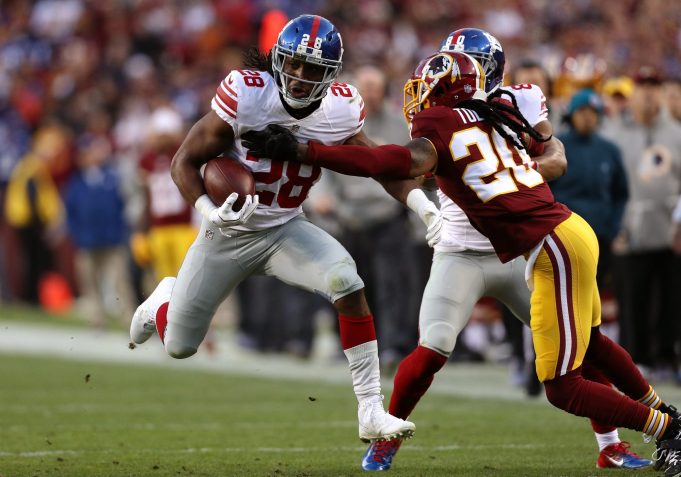 Week 17: vs. Washington Redskins
With their playoff position already set, the Giants will look to rest most of their starters in the second half against a Redskins team that has nothing to play for, having been eliminated from contention weeks ago.
Behind Paul Perkins, the Giants will rush for over 150 yards, while rookie Davis Webb sees his first regular season action in the second half.
2017 Record: 11-5