Don't allow the no-stud-status of Preseason Week 4 stop you from watching the New York Giants take on the New England Patriots. 
T
he NFL's 32 teams will wrap up their exhibition slate on Thursday evening in perhaps the biggest example of football purgatory.
We're oh so close to kicking off the 2017-18 NFL season, but we have to work through this last slate of meaningless games. Games where fans will root for their teams despite not knowing who a majority of the players are, only proving Jerry Seinfeld's point that at the end of the day, we're rooting for laundry. The New York Giants are among that group, carrying on a summer tradition dating back to 2001 as they'll end their preseason against the New England Patriots (7:30 PM, WNBC) in games that resemble anything but Super Bowls XLII and XLVI.
Giants head coach Ben McAdoo said that playing time on Thursday will be handled "very similarly to the way we handled things (in the fourth preseason game) last year," so don't expect starters to take the field. However, for those competing in certain position battles, Thursday's game takes on enormous importance.
The rosters currently stand at 90 players (or, in the Giants' case, 89 after the release of Owa Odighizuwa), but the annual purge of camp rosters to 53 was moved to a single day this season, eschewing the trim to 75 normally held after the third preseason game. Saturday marks that day, and it'll be a day where hundreds of NFL dreams will either continue or crumble.
In the heat of competition, several Giants won't just be squaring off against the Patriots on Thursday, but against each other as well. Here are seven unresolved positional battles to keep an eye on heading into that final game …
Backup Quarterback
Nothing new can be said about Eli Manning's longevity streak. But, as anyone from Dallas, Oakland, or Miami could tell you from their experiences last year, backup quarterback is quietly one of the most crucial positions in football. The Giants, however, have yet to see anyone truly emerge in their competition between Josh Johnson and Geno Smith. Combined, the two have thrown no touchdown passes and three interceptions, as well as just 348 yards, good for a passer rating of just 60.8. In comparison, 17 quarterbacks have thrown for at least 348 yards by themselves.
If the unthinkable were to happen to Manning, the Giants would like to breathe somewhat easier. If Johnson and Smith struggle again on Thursday, neither of them could prevail in this competition. Rather, the Giants could scour what will be become a very crowded waiver wire to be Manning's understudy, as well as provide a second veteran mentor for Davis Webb, whom Ben McAdoo announced will play on Thursday.
Fullback
Shane Smith and Jacob Huesman aren't just competing for their spots on the Giants' roster. They're also competing to keep an entire position on the Giants roster, that of the fullback. Gone are the days of Daryl Johnston and Mike Alstott, as fullback as been a dying position in today's league. That hasn't stopped the Giants from experimenting at the position, and there's no denying that their notoriously inconsistent run game has looked somewhat passable with either Smith or Huesman accompanying them in the backfield.
"It's different," halfback Paul Perkins said of the offense with a fullback. "The angles and the by locking is definitely different, but I think it's definitely helping our team in the run game."
The Giants run game, near the depths of the NFL over the past two seasons, can use all the help they can get. If they continue to use a fullback, long-awaited progress could finally be made.
Reserve Receivers
The Giants' wide receiver picture obviously has its top three slots filled with the names Odell Beckham Jr., Brandon Marshall, and Sterling Shepard. Injuries, albeit relatively minor ones, have struck that trio, leading to a changing cast of catchers over the preseason slate.
Roger Lewis Jr. knows a little bit about clutch preseason performances. Joining the team as an undrafted free agent last season, Lewis solidified a spot on the roster with a strong showing in the New England game, grabbing a trio of receptions for 30 yards and a score in what became a 17-9 Giants win. The other touchdown was scored by fellow receiver Tavarres King, who likewise earned a roster spot last summer, picking up 118 receiving yards and three touchdowns over the last two games.
Nonetheless, even with King nursing an ankle injury, McAdoo has reiterated that no one's spot is guaranteed.
"It's tough to say somebody's safe," McAdoo said when asked of King's status on the team. "In this game, this week will have a big impact on things for a lot of guys. You hate to see somebody lose an opportunity because of an injury, but yet, nobody's safe."
Lewis has stepped it up in his teammates' absences, as has undrafted free agent Travis Rudolph, who is proving to be more than just a great story. Rudolph broke out on Saturday against the Jets, picking up 81 yards, including a highlight reel grab in the second quarter.
"I'm just coming out and doing the best that I can do," Rudolph said on Saturday. "It's all in God's hands and it's in coach's hands, so I'm just trying to come out and be who I can be."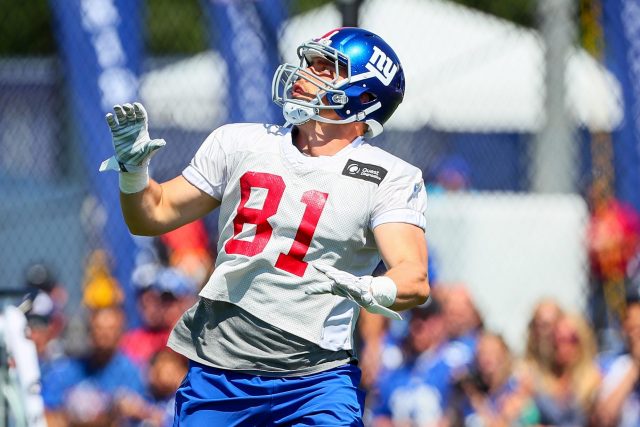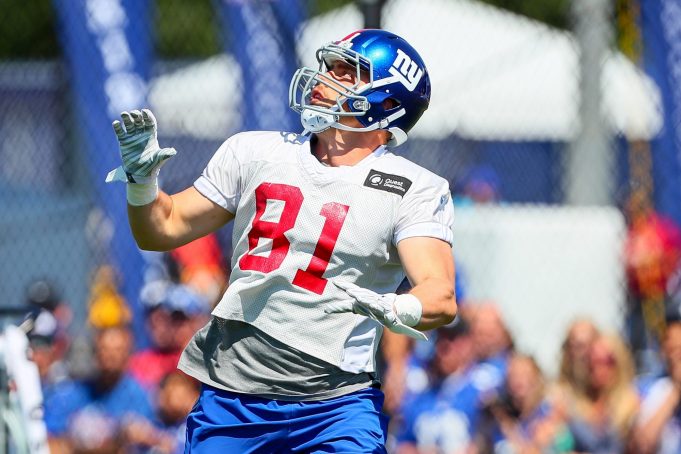 Third Tight End
How many tight ends will the Giants carry? Ex-Viking Rhett Ellison has gotten a majority of first-team snaps, and first round selection Evan Engram obviously isn't going anywhere. But it's all but certain at least one of the remaining group of three won't be with the team come Saturday.
Will Tye met the ire of fans last season when he regressed from his respectable rookies numbers, but McAdoo praised the Stony Brook alum's summer progress last week.
"I think Will Tye's responded well," McAdoo said. "He had a good day of practice today and that's all you can do, just keep stacking good days of practice and hopefully it leads to a productive game for him on Thursday. It's a big game for Tye."
Last season's sixth round pick Jerell Adams is likewise on the bubble, as is oft-injured veteran Matt LaCosse. The Giants seem to think Adams has a positive future ahead, while LaCosse has had a strong camp while staying healthy. A strong performance on Saturday could help push one or two of these guys over the top.
Backup Defensive End
The release of Odighizuwa offered the tiniest bit of clarity when it comes to the spots behind Jason Pierre-Paul and Olivier Vernon. Now, veterans and newcomers will battle it out for the remaining slots, which came into play last year when Pierre-Paul went down with an injury late in the year.
In Pierre-Paul's absence, Romeo Okwara and Kerry Wynn were called upon to step up. They locked down their roster spots last season against New England as well, as Wynn forced a fumble and Okwara had a sack of Tom Brady in the win. Now, the two face new competition in the form of fifth round pick Avery Moss, who will more than likely stay, and free agent newcomer Devin Taylor.
Linebackers
Keenan Robinson, 4th on the team with 83 tackles last season, remains in concussion protocol. This has allowed others to step up in his place, namely undrafted rookies Calvin Munson and Curtis Grant. The pair currently pace the Giants in tackles this preseason with 15 and 14 respectively. One final strong showing could allow them to take the edge over veterans like Deontae Skinner. In addition, if Mark Herzlich goes on injured reserve, a positional spot could open up for one or both of them.
Kicker
The Roberto Aguayo of his generation, former second-round selection Mike Nugent appeared to be a mere camp leg upon signing with the Giants on August 1. Nugent was coming off a shortened season with Cincinnati, missing six extra points and six field goals before his release in December. However, despite a strong camp from first-year player Aldrick Rosas, Nugent has narrowed the race over the past two preseason games. Saturday in particular was a banner day for Nugent, who had a pair of three-pointers from at least 50 yards out against the Jets.
The Giants have seen good young kickers slip from their grip in the past. For example, Brandon McManus and Chris Boswell, former Giant camp legs, now hold respective steady jobs in Denver and Pittsburgh. It'd be painful to see another young talent escape them in Rosas, but Nugent's performance this preseason has warranted praise. McAdoo mentioned he's been "never more excited to kick a field goal" with this pairing, so it's a bit of a shame only one will prevail.
Geoff Magliocchetti is on Twitter @GeoffMags5490