When the New York Giants traded for Eli Manning in the 2004 NFL draft, they were hoping he would be their next franchise QB. That's exactly what they got.
T
he New York Giants were always built on great defenses.
For every Y.A. Tittle, there was a Sam Huff, Andy Robustelli, Jim Katcavage, Rosey Grier and Dick Modzelewski to overshadow him.
The same held true in the 1980s. Phil Simms and Jeff Hostetler were afterthoughts to a defense led by Lawrence Taylor, Harry Carson, Carl Banks, Leonard Marshall and Pepper Johnson. With those great defensive names, the Giants won an NFL Championship and two Super Bowls.
In 2000, the Giants, led by another defensive great, Michael Strahan, advanced to the Super Bowl once again but fell short as the Baltimore Ravens, who fielded arguably the greatest defense of all-time, led by Ray Lewis, decimated Big Blue.
All that changed when the Giants acquired Manning. For the first time in team history, the Giants were building around their quarterback. On Nov. 21, 2004, Eli started his first game. No other QB has started for the Giants since.
Despite a very slow start to his career—he lost his first six starts—Manning was just getting started.
Endurance
This is where I will start my look at his career as this is one of, if not the most remarkable of his many achievements.
When Manning takes the snap under center for the Giants in their season opener against the Dallas Cowboys next Sunday night, he will become just the third QB in NFL history to reach 200 consecutive starts, joining Brett Favre (297) and his brother, Peyton (208). If Eli continues to serve as the team's iron man, as he has his entire career, he'll pass his brother on that list at home against the Kansas City Chiefs on Nov. 19.
Entering his 14th season, Manning, 36, has had a remarkable run of always being present and accountable.
Passing Yards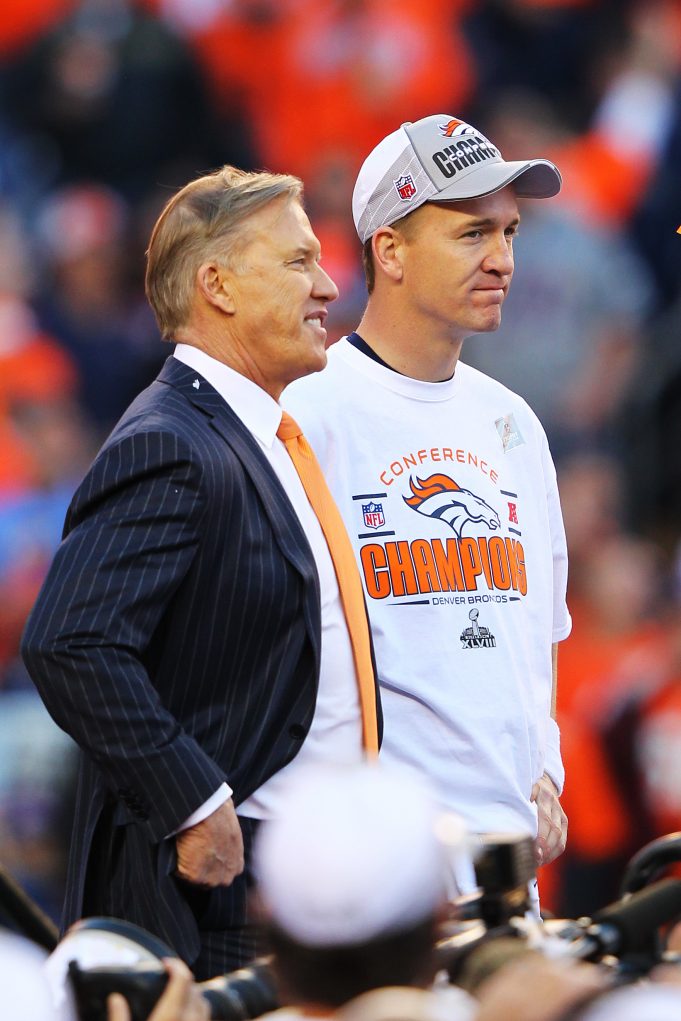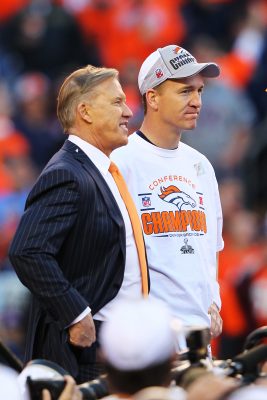 Despite never missing a start and always putting together a full 16-game season since 2005, it took Manning until 2009 to record his first 4,000-yard season. Since then he has thrown for at least 3,800 yards every year, reaching the 4,000 yard total in six of those eight seasons.
Hall of Famers John Elway and Dan Fouts—combined—don't have as many 4,000-yard seasons. Another legendary gunslinger, Dan Marino, has as many 4,000-yard seasons as Eli—but it took him 11 years to Elli's eight. So does Favre, the NFL's all-time leader in passing yards (71,838).
Most are shocked to learn that only seven QBs in NFL history have thrown for more yards than Eli has (48,218). Just like his consecutive-game streak, if Eli does what he has in his first 13 seasons, he should move up to sixth on the all-time list after this season, passing Hall of Famers Warren Moon (49,325) and Elway (51,475).
Only Peyton Manning (14), Tom Brady (eight) and Drew Brees (11) have more seasons with 4,000 or more passing yards in NFL history than Manning. Among active players, only Brady (61.582) and Brees (66,111) have more career passing yards than Eli.
Every QB ahead of Eli on the all-time passing yards list is—or will be—a Hall of Famer.
Touchdown Passes
If you were surprised by that, then you'll be surprised by this. Entering 2017, only six QBs have thrown more touchdown passes than Eli Manning (320). Six. That's it.
As before, assuming he continues his usual level of production, Manning will pass former Giants QB Fran Tarkenton (342) and move into sixth place. As for cracking the top five, he's currently 100 touchdown passes behind the man who sits in fifth place.
| Rank | Player | # of TD Passes |
| --- | --- | --- |
| 1. | Peyton Manning | 539 |
| 2. | Brett Favre | 508 |
| 3. | Drew Brees | 465 |
| 4. | Tom Brady | 456 |
| 5. | Dan Marino | 420 |
It's worth noting, however, that Marino accomplished his feat in 41 more career games. That also makes this next fact even more impressive: Eli has as many seasons with 25-plus touchdown passes (seven) as Marino. He's got as many 25-plus TD-pass seasons as Fouts and Elway—combined.
Only his brother (16), Brees (12) and Brady (12) have more 25-plus TD pass seasons in history.
Super Bowl MVP Awards
While it's not fair to compare Manning to Brady (four Super Bowl MVP Awards) or Joe Montana (three), he's just one of five players in NFL history to win multiple Super Bowl MVP Awards.
Oh, and by the way, the player who has won the most—Brady—Eli defeated twice in the world's biggest game, handing "Tom Terrific" his only Super Bowl losses. Both times, Manning drove for the game-winning TD with under two minutes remaining.
2011 Season
While Manning picked up his first Super Bowl victory and MVP Award in 2007, what he accomplished in 2011 was truly amazing.
He nearly joined an exclusive club of 5,000-yard passers, finishing the year with 4,933 yards through the air. His 15 fourth-quarter touchdowns set a single-season record, and he also set the record for most TD passes with four minutes or less on the clock. His six fourth-quarter comebacks tied the NFL record at the time.
Eli tossed eight touchdown passes in the playoffs, leading the Giants to another Super Bowl victory over Brady and the Patriots. In the process, the Giants became the only team in NFL history to win the Super Bowl despite scoring fewer points than their opponents during the regular season.
They also became the only NFL team to beat two teams in the playoffs to win at least 15 games in the regular season.
Conclusion
I could continue to go on about Manning—there's more to tell—but I think serves as an excellent reference point for how great his career has been.
There is no doubt that when he finally hangs up his cleats, he will find himself beside his brother in the Pro Football Hall of Fame. While bashing Eli has become something of a favorite pastime for Giants fans, I hope they realize just how lucky they are to watch him every Sunday.
Mark Kelly covers all New York Sports and the New York Jets for ProFootballSpot.com. You can follow him on twitter @CkmagicSports. A two-time Emmy Award Winner and former ESPN Researcher, Mark's story of surviving cancer has touched many lives. Read more about Mark here or go to CKMagicSports.com and click on KNOCKOUTCANCER.