In the New York Jets 32-31 Preseason Week 3 loss to the Giants, the O-line continues its struggles while Muhammad Wilkerson stinks at DE.
C
all off the optimistic dogs. This
New York Jets
team is terrible.
No. They're not as terrible as last season's 5-11 veteran-laced squad who possessed team speed slower than your neighborhood old-men's league that might feature a final game tabbed the Ben Gay Bowl, but finishing with a bottom-three record in 2017 will be deemed as a positive when looking at the likes of Sam Darnold and the two Joshes (Allen, Rosen).
Just when we thought this defense may creep up and surprise many led by a generational talent in Jamal Adams, the New York Giants gash the first team in the first half of the Snoopy Bowl. A porous Giants O-line went wide, up-the-middle and around an unsuspecting Jets front, racking up 29 points in the first half.
Again, Todd Bowles's "big man" front soon became the suspect cause for this gashing.
More importantly, on the other side of the ball, Christian Hackenberg — who was starting his second consecutive contest — looked lousy … again. His final line of 12-of-21 for 126 yards, one touchdown and two interceptions (one pick-6 courtesy of Landon Collins) looks much better than his actual output. If not for Bryce Petty and the second team's impressive second half, many New Yorkers would have been screamed aloud "forget about it" all Sunday morning.
It's tough to get on Hack. This offensive line is absolutely dreadful.
This Horrible O-Line
Just one week after putting up an awful performance of epic proportions in Detroit, this five-man unit did its best to match it against Big Blue's dominant front. What's painful is that the unit's problems aren't a communication thing (in looking to infuse newcomer Kelvin Beachum and develop young Brandon Shell). These guys are just getting spanked at the point-of-attack.
On the very first drive of the contest, young Hackenberg was smacked from the blind side
On a 2nd-and-4 after Matt Forte picked up six by making something out of nothing, Steve Spagnuolo dialed up a corner blitz — a six-man rush:
This is absolutely demoralizing not only for a young QB looking to navigate through the early going, but for an offense as a whole in the first series of a game.
Look at the play closely. The Giants bring six and play man on the back end. The Jets should be able to handle it as Forte's responsibility is the right-side edge, thus leaving six Jets in to protect. First-year Jets Kelvin Beachum completely misses his assignment as the left edge protector, allowing the corner to run in untouched.
On the very next drive — after Sheldon Richardson dominated his man to pressure Eli Manning in throwing an interception (Juston Burris) — the Jets looked for a little breathing room starting the possession at the 2-yard-line. Forte went for no gain on a zone play. Then, with a fullback and an extra tight end in the game, John Morton dialed up another safe play, keeping his young QB away from trouble:
Brandon Shell, folks.
The young right tackle completely whiffed on the block and Jason Pierre-Paul said thank you. Rarely has JPP ever had an easier time getting through an offensive line.
Two drives. Two completely horrid jobs by the big men up front.
On the third drive facing a five-man rush, Hack locks onto the flat read and Collins takes the easiest interception of his life to the house.
Sadly, I'm not even worried about Hackenberg's performance to this point. It is extremely troubling that he locks onto his primary receiver and rarely moves through progressions. Most of the second quarter featured quick-hitting 3-step drop passes to keep Hack out of trouble and he even managed to throw another pick-6 on a hook intended for Robby Anderson who had the ball jarred from him.
That's not the most important factor. Allowing Hack to truly succeed or fail within a real NFL-structured offense is the critical aspect right now and this O-line isn't even coming close to realizing that for No. 5.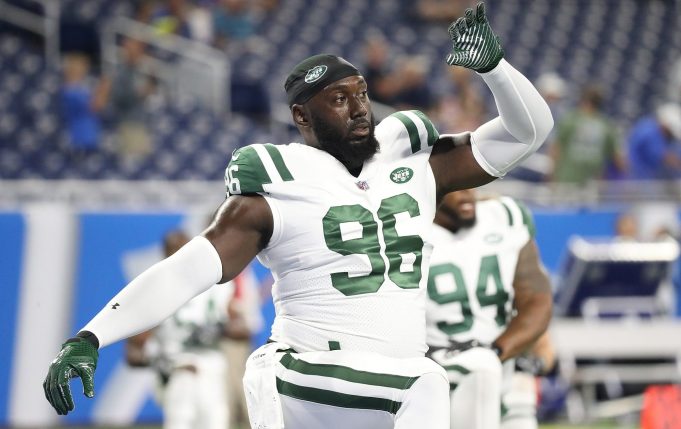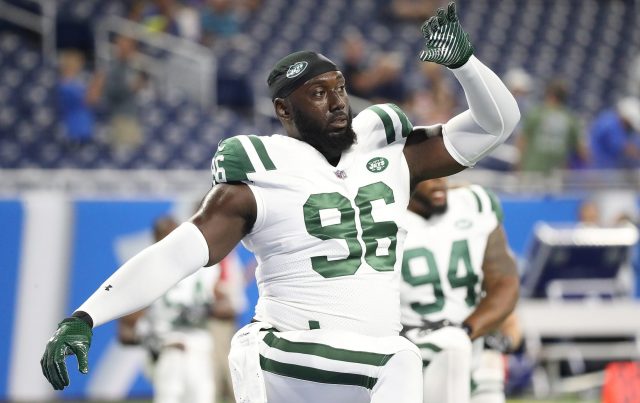 Big Mo Struggling at DE
It's been a problem forever. Since Mike Maccagnan graciously accepted the gift that was Leonard Williams in the number six hole two drafts ago, this Jets defense has been oddly shaped with heavy studs. Earlier this summer, we chronicled just how poor the defense is when Williams, Richardson and Sheldon Richardson are all on the field together.
Thus far in August, Bowles has kept his word in not showcasing the four big man front (those three plus Steve McLendon). He tried it early in 2016 and it failed miserably. Having slow edge play on both sides is a disaster for any NFL defense.
Against the Giants, Bowles switched it up between his regular 3-4 and a hybrid 4-3 that featured Big Mo on the edge: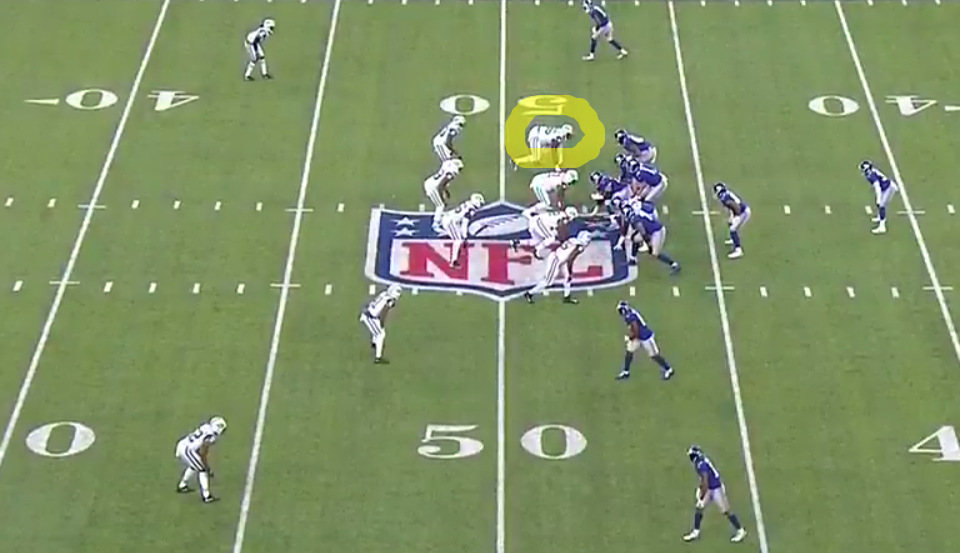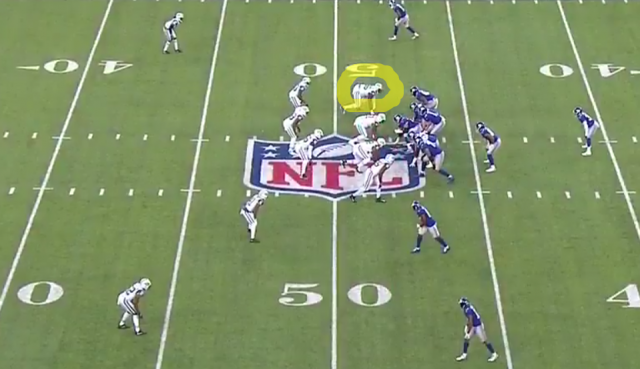 This is not a 4-3. Instead, it's a nickel in matching up with the Giants 3WR set. Jamal Adams, the in-the-box safety, is lined up in a linebacker spot making this some form of a 3-3-5 nickel with a 4-man front featuring Big Mo at the left edge. On the right edge, Josh Martin is properly deployed.
When he's lined up on the edge — which is often in sub packages — Mo struggles mightily. He just cannot out muscle an NFL tackle like he can out-quick an NFL guard. This makes his play move from stud status and turn it into very average. Notice how Leonard and Sheldon are playing extremely well in pass rushing situations along the interior against guards and centers (Richardson forced the Burris interception).
Wilkerson was in this spot (as this 3-3-5 nickel) was the prominent defense against the Giants 11 personnel most of the first half on Saturday. He was a non-factor in the game, registering one tackle.
Conclusion
I know it's tough extremely tempting to look to play all three defensive interior studs on the field at the same time, but the only way it's possible is in a 3-4 base if one of them moves to nose tackle. In any other situation, speed and proper play in space on the edge will be compromised if Big Mo or Sheldon is moved out there.
Bowles, you've committed to the speed edge in base. You now have to do the same in sub packages. You're much better off seeing what Dylan Donahue or Lorenzo Mauldin can do out there opposite Jordan Jenkins.
As far as the offensive line is concerned, unless a big named tackle is cut and Mikey Mac intelligently scoops him up, this unit is going to rank among the worst in the league all season long. James Carpenter can still play. But is he still a beast? Brian Winters can still maul it in the run game. But when has he ever proved to play well while standing up? Beachum, Shell and Wesly Johnson are all average-to-below average players at their respective positions.
In looking to develop a quarterback, running game or even weapons (the position fans were screaming about heading into August), the offensive line must always do the job first and foremost.
In the case of the New York Jets, it doesn't matter who plays QB or catches the ball quite yet. Nearly half of the offense (5-of-11), stinks.