When the New York Red Bulls and New York City FC square off on Friday, the former understands that there's a great deal on the line. 
T
here's nothing quite like a good New York area sports rivalry and over the last three years, the newest one has blossomed into one of the best.
On Friday night at Red Bull Arena, the New York Red Bulls and New York City Football Club will meet for the third and final time in the regular season as the boys in the Bronx look for the season sweep … sort of. The Red Bulls do own a U.S. Open Cup win over the boys from the Bronx, but they need a win over their rivals on Friday in the worst way.
"Obviously it's very important because of the rivalry and the fact that we definitely don't want them to be able to claim any sort of season sweep over us and even more important is the positioning of the table," Red Bulls goalkeeper Luis Robles told Elite Sports NY in an exclusive telephone interview.
The game is crucial for both teams, but more so for the Red Bulls.
A look at the standings (as of Wednesday night) shows NYCFC in second place in the Eastern Conference with 46 points, but the Red Bulls are in a more precarious position. They're in a playoff position holding down fifth place in the conference with 38 points, but they're just one point behind fourth place Columbus and three points behind third place Chicago. On the flip side, they are just two points ahead of sixth place Montreal and three points up on Atlanta who are currently below the MLS conference "Red Line" in seventh place.
A victory over NYCFC would provide the Red Bulls a shot at catching their rivals for second place and a first round BYE. But more realistically, it would improve their chances to finish third or fourth and play at home in the opening round knockout game.
"We can look forward to our fans showing up, we can look forward to the team being excited for the rivalry and for the matchup, but more than anything we know that there's a lot on the line," said Robles. "We need three points, especially when it comes to playoff position."
The Red Bulls beat NYCFC 1-0 in the U.S. Open Cup on Jun. 14 at RBA, but then lost to their rivals in Harrison 2-0 10 days later. On Aug. 6, the two teams staged a thriller at Yankee Stadium when NYCFC rallied for a 3-2 win thanks to a hat trick from reigning MLS Most Valuable Player David Villa.
On Friday night, the Red Bulls plan on paying close attention to number 7 in blue, but the other 10 players on the field are pretty good too including forward Jonathan Lewis who scored a stoppage-time game winning goal in this past Sunday's 2-1 victory over New England at Yankee Stadium.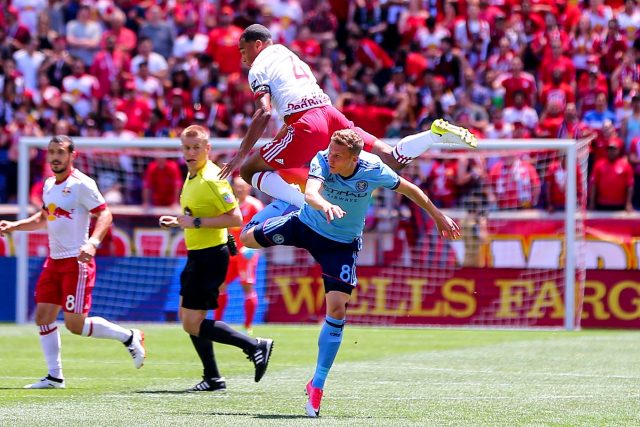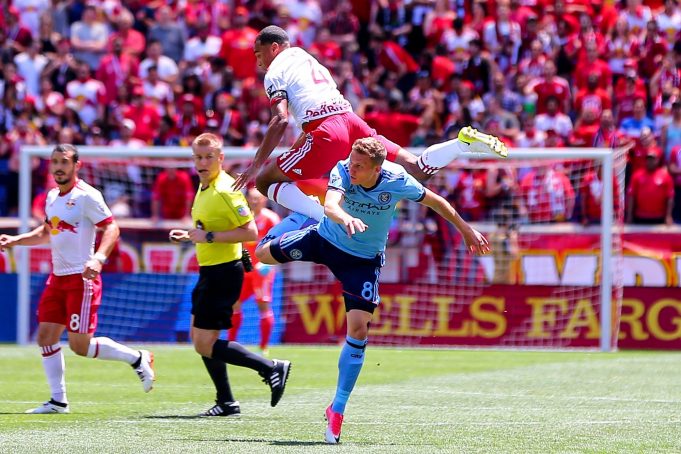 "They're a very organized team," said Robles. "(Head Coach) Patrick Vieira has done a great job of not only finding players to play the way that he wants but they're good players from an ability standpoint. Our game plan starts with David Villa and it's going to end with David Villa."
The match will be emotional and the venue is spectacular. Red Bull Arena just might be the best place to watch a sporting event in the New York/New Jersey area. With an expected sellout crowd of 25,000 fans, mostly dressed in red but probably some blue sprinkled in, the atmosphere for Friday's game will be electric.
"For us to be able to play in front of our fans, especially with a sellout, makes it even more exciting," said Robles. "To be able to play against New York City continues to make this rivalry grow to new levels of excitement."
The rivalry is already top-notch but over the last few days, the Red Bulls supporters have had good reason to troll their counterparts from across the river even though New York City has won the 1st two regular season games. The Red Bulls are very proud of their home field as Red Bull Arena has provided some good home cooking since opening its doors in 2010.
NYCFC joined MLS in 2015 with hopes of one day building a soccer specific stadium somewhere in the five boroughs of New York City.
But three seasons later, they continue to play at Yankee Stadium and it's not an ideal situation for a number of reasons. In fact, NYCFC this week was forced to move their Sept. 23 home match vs. Houston to Pratt & Whitney Stadium in East Hartford, Connecticut. That's because the Yankees had to schedule a makeup game on and Sept 25 and there wouldn't be enough time for the field conversion.
The Red Bulls don't have that issue because they have, arguably, the finest soccer facility in North America and they worship the ground they play on.
"Anytime we're able to play at home, we know it's a good opportunity for us to get three points," said Robles. "Home field advantage since the opening of the stadium has been a very real thing and although we don't necessarily count on it, we know that it does have an effect."
The latest chapter of the Red Bulls/NYCFC rivalry should be quite entertaining. There's going to be some incredible battles on the field but there's also going to be some good-natured…or perhaps some good old- fashioned trash talking in the stands.
At the end of the day, the Red Bulls are hoping to click their heels and say "there's no place like home!" Especially when you consider that this one was built for them and is specific to soccer.