New York Giants head coach Ben McAdoo is looking for both progress and prosperity on "Monday Night Football" this week. 
EAST RUTHERFORD-The slogan for the Cleveland Cavaliers during their recent runs to the NBA Finals has been "All In".
With his team headed into Cleveland for a nationally televised exhibition, New York Giants head coach Ben McAdoo appears to be adopting the same philosophy.
"(We want to) go (from) good to great on defense. (On) offense, (we want to) be more productive," McAdoo said. "We are going to have everybody in the mix there and special teams, continue to improve." Asked to clarify "everybody", McAdoo followed up by stating it meant "All of the guys who aren't out". That group includes WR Odell Beckham Jr., who likewise was held out against the Steelers.
"Everybody" also includes QB Eli Manning, who is set to see his first action of the preseason on Monday night against the Browns (8:00 PM, ESPN). Duplicating his statements before last week's exhibition opener at home against Pittsburgh, McAdoo stated that Manning's playing time will be handled "very similarly to how (the Giants) handled it last year." For reference, Manning played into the second quarter in last season's second summer game, going 4-for-9 for 44 yards against Buffalo. Manning also spoke on Saturday afternoon.
"(We're going to) make sure everybody is sound in our communication and we're all on the same page, doing the right things," Manning said when asked what the team is looking forward to on Monday night. "For the first time in eight months, it's live. Now I know that these guys can hit me, they can tackle me, they can go at me. So I think that getting used to that, feeling things in the pocket, not looking at the rush, but feeling the rush and buying a little extra time or moving in the pocket and finding a completion (is going to be key)."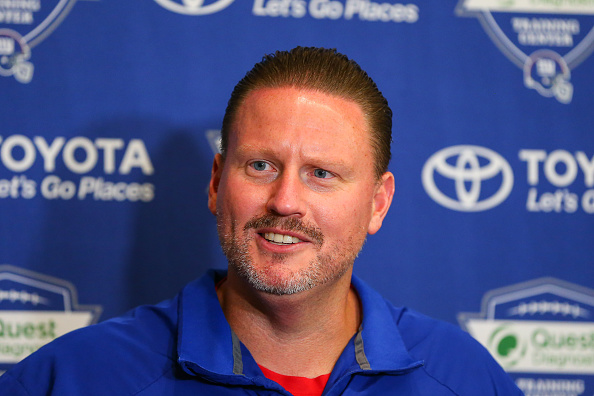 In Manning's absence, Josh Johnson got the start on Friday, posting a 5-for-10 line for 31 yards, getting sacked three times. Geno Smith and Davis Webb did marginally better, with Smith throwing for 114 yards and Webb posting a team high 61.2 passer rating. McAdoo said "ideally" each member of the quartet would get snaps on Monday. He also said he knows who Manning's primary reliever will be, but did not go into specifics.
Landon Collins spoke, eager to fulfill McAdoo's wish of becoming great on defense. Despite the NFL Defensive Player of Year's spot on the roster being anything but sealed, Collins picked up right where he left off from last season, picking up five tackles (sharing the team-lead with Calvin Munson), one for a loss.
"When I'm on the field, I'm going to be full speed. I don't know any other speed, "If I go half speed, I feel like I'm going to get hurt. If I don't go to the speed that I'm determined to, I just feel like I'm sluggish. So, there's only one speed for me."
The third-year safety said some of his teammates poked fun at his aggressiveness in the preseason opener, but Collins brushed off, stating it's all part of his game.
"(My teammates) were like, 'bro, what are you doing out there trying to hit people like that?' That's just my game," Collins said. "If (opponents) put their shoulders on me, I feel like I'm going to get hurt and I can't let them just bully me. So, at the same time I just got to go full speed, it's just my nature. I can't see anything else other than doing that."
The first-team's success could be a factor in their playing time on Monday, with McAdoo stating that snap counts would be decided on "a series-by-series basis". The first-team offense played four drives against the Bills last season, posting just 23 yards. Three of the drives ended in a three-and-out, the other turned over on downs.
"I think you're always going to learn something from every practice, but especially from every game," Manning said. "They play different coverages or you get a different look and you have to adjust and learn from it, so for some of the new guys, we will learn together and be on the same page. It's a great opportunity to go out there and be tested."
The Cleveland game begins a stretch of three games in 11 days for the Giants, who will conclude their preseason slate against the Jets and Patriots.
Geoff Magliocchetti is on Twitter @GeoffMags5490