After trading away starting center Brook Lopez, the Brooklyn Nets have added two replacements. With three the optimal number, who else could the Nets add?
G
eneral manager Sean Marks has made quite the splash in the NBA this summer. The Brooklyn Nets traded their franchise player away, leaving an open void at the center position.
Though they drafted rookie Jarrett Allen and traded for NBA champion Timofey Mozgov, one more big man would be optimal. A look at some of the remaining free agent big men on the market.
Why another center?
Most of all, rebounding. The Nets took a hit losing Lopez, but were able to replace his scoring with the most recent summer trade returns. After being the top defensive rebounding team in the league last year, Brooklyn needs help if it's going to hold on to that title next season.
Scoring isn't a requirement, but it always helps. With guys like D'Angelo Russell and Allen Crabbe joining the team, and Jeremy Lin healthy, it'd be nice to shift the majority of the offense towards that side of the court.
Furthermore, a young center would be optimal, someone coming off of or still on their rookie contract. With the Nets moving forward on their rebuild, the more youth the better. It may not be until next summer, but still, the Nets should shop while they can.
---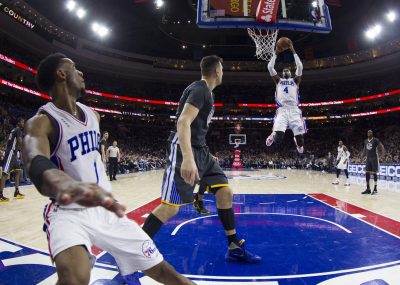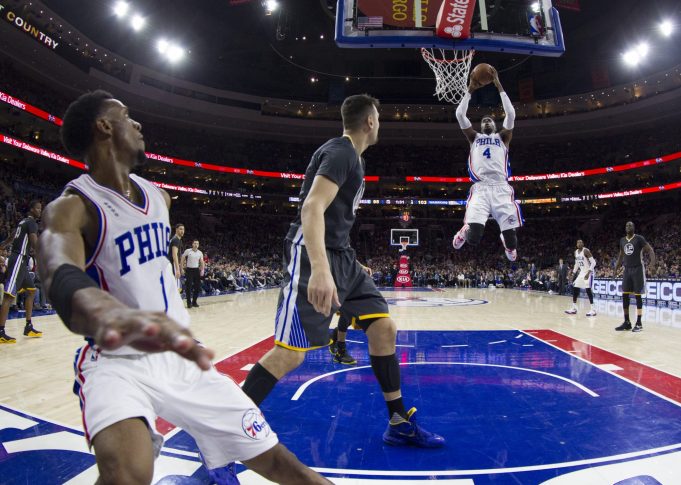 ---
is arguably the best remaining center on the market, though still very young. After not fitting the 76ers rotation his first three years, he was cut free in a trade to Dallas. Now, after playing not even a whole year with the Mavericks, they aren't seeing eye-to-eye on dollars.
Nerlens Noel and the Mavericks are "not close" to a deal, several league sources tell me.

— Tim Cato (@tim_cato) July 12, 2017
Only 23 years old, Noel would fit right in with the youth movement in Brooklyn. Last season, he averaged 8.5 points, 6.8 rebounds, and 1.1 blocks over 22 games with Dallas.
Obtaining Noel would require a sign-and-trade effort on the Mavericks part, as the Nets have nearly run out of cap space for this summer. His impact type play, massive dunks, and length would make for an awesome one-two punch next to Rondae Hollis Jefferson.
Not to mention a report from ESPN's Zach Lowe that Brooklyn and Philadelphia previously held talks around Noel. Marks, however, wasn't willing to part with anything of value for a player he could potentially land in free agency. There's prior interest.
It's unlikely that we'll see Noel in any uniform outside of Dallas–but even a low chance is enough for Sean Marks to roll the dice.
is a former Brooklyn Net, one who has yet to receive an offer sheet. After being traded from Portland to Denver, it's unclear where the Nuggets stand on his re-signing. Last season, he averaged 10.4 points, 7.5 rebounds, and 1.1 blocks per game.
A strong, scoring big man, Plumlee has experience playing next to Crabbe. Placing them together on the second unit could help boost chemistry amidst the young talent featured as well.
Plumlee could be the best bargain on the market, a more than adequate back up to Mozgov and a positive mentor to Allen at the same time.
is coming off four strong seasons with the Phoenix Suns. Like the rest of the big men here, the former fifth overall pick (2013) has found himself without a lucrative offer sheet from another team this summer.
In his fourth year with the Suns, Len averaged 8 points, 6.6 rebounds, and 1.3 blocks per game. He's missed only nine games in the last two seasons and has fared well behind veteran Tyson Chandler.
Now, Len isn't any amazing big man by any means. His first four years are viewed as a slight disappointment after being drafted as high as he was. What better place for retribution than in Brooklyn, with a team looking to bounce into the playoffs after recording the league's worst record last year.
Len could very well be the best fit overall for what the Nets need. He has three weeks to sign Phoenix' qualifying offer of $4.1 million, which is coincidentally a few million less than what Brooklyn has in cap space.
---
---
The Brooklyn Nets are in desperate need of a third big man to share minutes with Allen and Mozgov. While Noel is the best outcome, and Plumlee the best bargain, Len may prove the best fit.
If they haven't inquired yet, I'd pencil a phone call to Alex Len at the top of Sean Marks' to-do list. This young guy can get rebounds, defend, and he's ready for some starting minutes.