The Brooklyn Nets selected Jarrett Allen with the 22nd overall pick of the 2017 NBA Draft. What are some standards they can set for a successful rookie year?
G
eneral manager Sean Marks made some key acquisitions for Brooklyn this summer, and one of those was drafting big man Jarrett Allen.
The 6-10 235 lb Texas Longhorn showed out his freshman year, earning a spot in the draft's first round.
After trading away franchise player Brook Lopez, Allen has the potential to fill in the gap at center. It won't happen this season, but as far as signs go, he's definitely on the right path.
Rebounding, and Lots of It
Though Brook Lopez was the Nets' starting center, and star player, his offensive contributions took away from his rebounding.
In his rookie year with Texas, Allen averaged 8.5 rebounds per game. At 6-10, he's got more than enough length to compete off the glass.
However, his frame isn't bulky enough to win the rebound battle over some of today's top centers. Allen is well aware, and working on bulking up before the season.
Last season, Brooklyn was ranked 10th out of 30 teams in total rebounds per game (43.9). Though Lopez only averaged 5.4 per game, his seven foot frame will be missed down the stretch.
If Jarrett Allen can use his monster wingspan (7″5) to his advantage (see Giannis Antetokoumpo), his actual build may not be an issue. More importantly, he may outshine the other centers in his draft class.
Three-Point Shooting
Actually, let's put a hold on that. Maybe next year.
---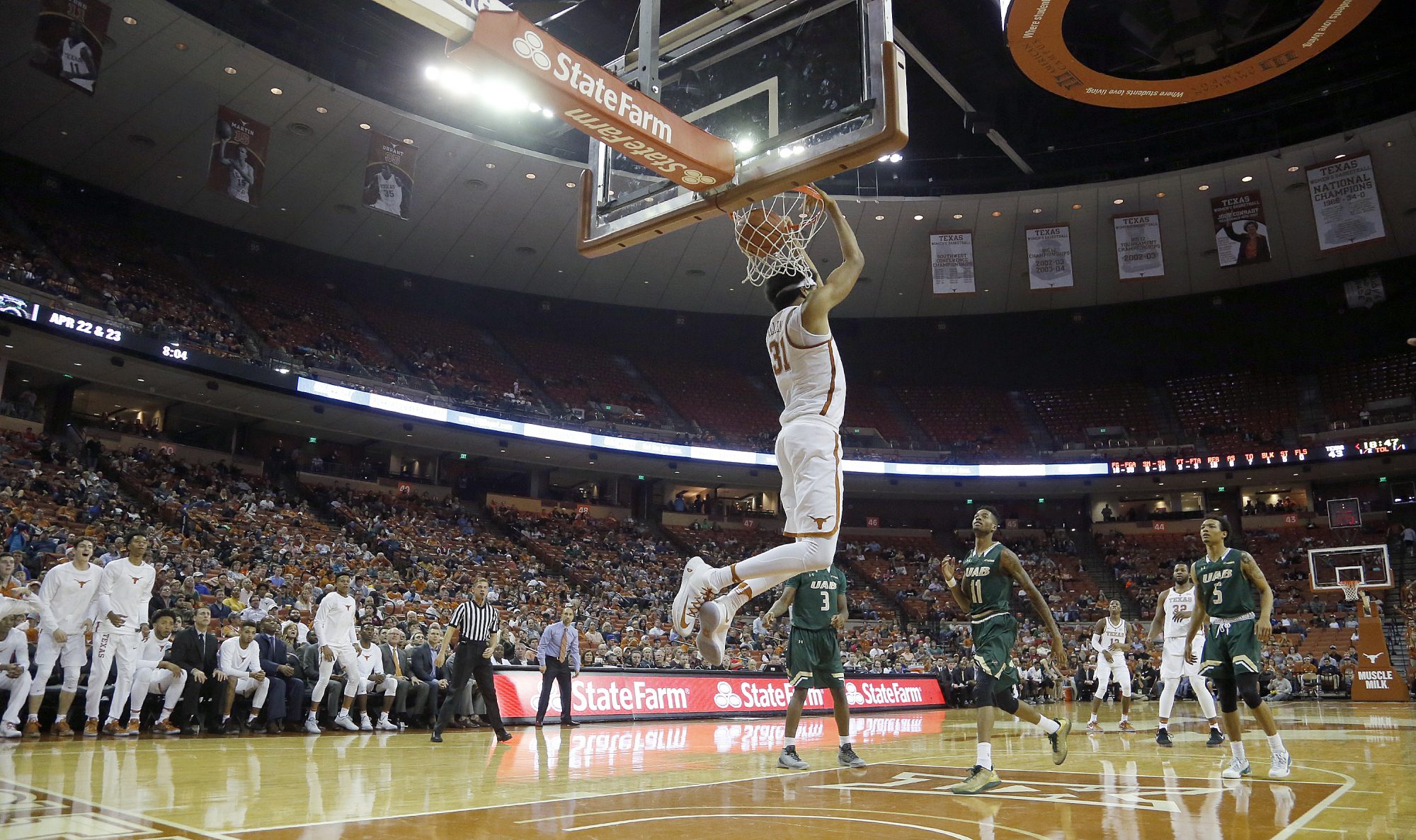 ---
Confidence
As a rookie, Allen needs to come out of the gate cautious, but running nonetheless. In game dunk attempts, taking the open shot, making that extra play to put points on the board.
With the Longhorns, his offense held a decent range. Forget his moves in the post for a second, the kid has some mid-range to his game. When found as the open man, banking those open jumpers and finding his place on the floor will be key to his development.
In his freshman year at Texas, Allen put on a highlight reel of dunks, including this nasty poster over this West Virginia defender.
https://www.youtube.com/watch?v=gNzCZKGh7Ho
Nothing shows a big man that's confident in himself more than a nasty in game poster. For Brooklyn Nets fans, having a play on the SC Top 10 is a luxury, but may be something Allen can provide next season.
Brooklyn Grit
Allen is one of two centers on the Brooklyn Nets roster. After averaging over 30 minutes a game in Texas, he may still see 20+ a game in the pros.
His overall ability to maintain the predicted workload, in his rookie year especially, will be something to watch. It will take some real Brooklyn grit to hold down the front court with NBA champion Timofey Mozgov.
Defense, Defense, Defense
The Brooklyn Nets ranked a lowly 18th in blocks per game last season, with a seven footer at center. Allen averaged only 1.9 blocks per 40 minutes in Texas. Given his size advantage, his in the post defense could use a boost.
Rim protecting, and overall foot work in the paint needs to be a focus. The Brooklyn Nets are looking to upgrade from last season, and were ranked 1st in defensive rebounding. This rookie maintaining defensive discipline will keep them at the top.
---
---
Jarrett Allen has the potential to be the top rookie big man at the end of the season. If he can come out and grab rebounds, while showing he's in it to win it with lockdown defense, he may do just that.