When it comes to the future of the New York Giants, there's just one aspect superstar receiver Odell Beckham Jr. has his sights set on. 
EAST RUTHERFORD—Late into New York Giants training camp, Odell Beckham Jr. expressed a big problem with team management on Monday afternoon. Beckham's complaint referenced Quest Diagnostics Training Center's fieldhouse, which currently houses a quartet of banners in each corner, proudly displaying the complete roster of the Giants' four Super Bowl winning teams.
Simply put, Beckham thinks the fieldhouse needs a change of decor fairly soon.
"See that banner? That's all I care about," Beckham said, pointing to the most recently earned tapestry, representing Super Bowl XLVI. "Honestly, there's one, two, three, four in here. I don't where they'd put the fifth one, but they're going to have to make room because we need it."
So this just happened at #GiantsCamp ?? pic.twitter.com/w3kFtK7gbK

— New York Giants (@Giants) August 14, 2017
The remarks were part of just another day at the office for Beckham, who made a spectacular one-handed catch for the second day in a row (seen above). In a carefree and positive mood after the Giants' penultimate training camp practice, Beckham stated his he does't intentionally go after the football in his direction with one hand in mind, mentioning how while they make for good viewing, the highlights can irk some of the coaching staff.
"You're supposed to catch the ball with two hands, obviously," Beckham said. "Sometimes it just happens. If you catch it, hey, great play. But (the coaches will) definitely still sit there and be like, 'Use two hands'."
Speaking just before Beckham, head coach Ben McAdoo briefly personified that irritation, saying "I like two hands on the ball better than one", but added that he also liked "completions better than incompletions" and that Beckham has "caught the ball very well" in camp.
Beckham has displayed an easy-going persona throughout camp, as he's been seen constantly dancing during down periods of practice, his showstopping moves bringing delight to the fans gathered. On Monday, he described himself as being "in a better place" during this training camp.
"You get older, you grow, things happen, incidents and things changing," Beckham explained. "So, I think it's just growth, which is a good thing. I feel like we all can grow and the moment you stop growing, you're not really getting any better as well."
To get to this better place, which Beckham also described as "good" and "different", the fourth-year receiver had to revisit one of the bleaker moments of his career in January's NFC Wild Card playoff game. Infamously photographed partying with several other of his receiver brethren on a yacht in Miami leading up to that frozen clash with the Green Bay Packers, Beckham became the scapegoat for the Giants' 38-13 loss, mustering just 28 yards receiving.
"Lambeau Field, ice cold, perfect conditions, everything that you can dream of and (I) wasn't able to capture the moment. And (I) did it in a horrible way and a way that, you know, I woke up out of my sleep to," he recalled. "But I used that pain and I turn it into positive energy. And I know that I posted it on Instagram the other day, I said, 'If you can't see it, you're going to feel it.' And that's just how I feel. If you can't see where I'm at, then I'll make sure that you do."
Beckham found this serenity while training in Los Angeles during the offseason.
"After the season, just the buildup of it all, the pain, everything that I turned into positive energy allowed me to be where I'm at today," he explained. "So, (I'm) just in a good place. Just got to keep it there, keep it going."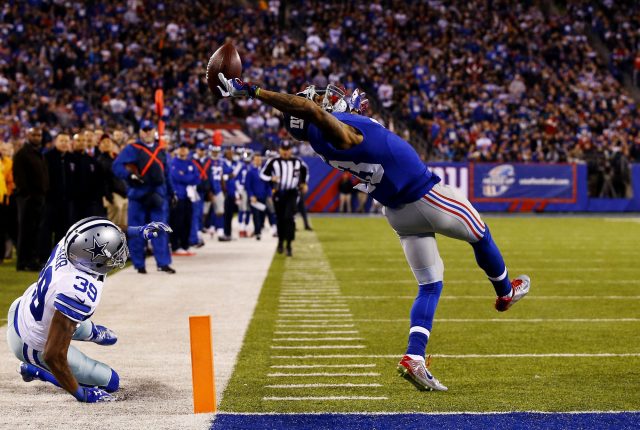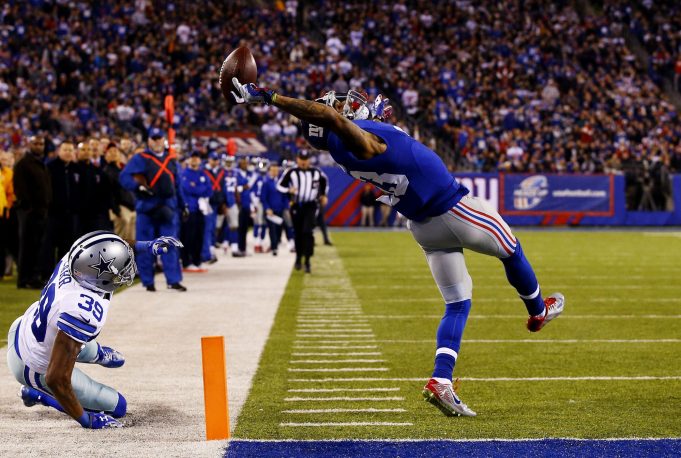 The nightmare of Green Bay behind him, Beckham's expectations for the 2017 season are as high as one of his leaping grabs. Four weeks before the Giants open their season in Dallas, Beckham is excited to hit the field with his unit, which includes Jets migrant Brandon Marshall and sophomore Sterling Shepard. In a league currently in the midst of an offensive renaissance, Beckham expressed confidence that he and his cohorts could soon be labeled the top receiving corps in the league.
"We're just going to be the very best, I'm going to be the very best me that I can be, Brandon is going to be the best him, Shep's going to be the best and the rest of the receivers in our room (are going to be the best they can be)," Beckham said. "The goal at the end of the day is to be the best. I feel like you (the media) want to write the best story, I want to make the best, everything is supposed to be the best. If you're not doing it to be the best, I don't know why you're doing it."
When pressed if he'd mind if his impressive numbers potentially reducing if Marshall and Shepard live up to their potential, Beckham went on his banner rant.
"We've got guys, Brandon coming in, Shep, we're trying to win games. We're trying to put up points," Beckham said. "It's just about being the best. I'm excelling at the highest level and I'm competing."
Beckham and the Giants will wrap up training camp with a final session tomorrow at 10:55 AM before reverting to a regular season practice schedule. They return to action next Monday night in Cleveland (8:00 p.m. ET, ESPN).
Geoff Magliocchetti is on Twitter @GeoffMags5490