The Henrik Lundqvist era with the New York Rangers has been a thrilling ride. Even still, the free pass he receives must end immediately.
W
ho wants to have some fun? Now, before you answer, are you just saying you wanna have some fun or do you
really
wanna have some fun?
Whether it's the real or pretend fun, we have the answer. First off, don't steal 600 Titleists and put 'em in the trunk of your car. Don't drive to Rockaway. And most certainly don't start hitting 'em into the ocean.
Instead, go to the fun-loving domain of twitter.com and conjure up a post that criticizes Henrik Lundqvist. For ultra fun, use the hashtag #NYR.
The comments, replies and even hate mail that will come your way will have you shopping for a bulk version of your favorite popcorn.
When Hank is spoken badly about, fans of the New York Rangers lose their ever-loving mind. They go nuts. They panic. They become defensive. They fall apart at the seams while talking gibberish nonsense only a fellow irrational fan can truly grasp. What makes the Rangers fan base the most loyal and passionate in the city is what also makes them the most irrational most of the time. They cannot see straight through their Broadway blue-colored shades.
I love Henrik Lundqvist.
As a diehard Rangers fan myself, who, as a 12-year-old youngster, witnessed the foreseen low of Valeri Zelepukin to the unforeseen ecstasy of Stephane Matteau, I do love me some Hank. He's this version of Patrick Ewing on the hockey side of Madison Square Garden. He represents a complete Rangers "era," as an eventual Hockey Hall of Fame goaltender when his time comes.
Hanky is one of the greats the NHL has ever seen.
This doesn't mean he should skate free of criticism.
In 12 seasons with the Rangers, a Cup has yet to come the Swede's direction. There's been an Eastern Conference Championship, two Presidents' Trophies, a Vezina and much success in the International rink of play. Yet Lord's Stanley Cup has eluded, arguably, the greatest overseas goaltender in the history of ice hockey.
Now, at 35-years-old (turning 36 on Mar. 2), this man is more of a negative for the club than the usual brilliant prowess he's showcased for so long.
Consider the baggage. Lundqvist rakes in an incredible $8.5 million a season. This astronomical number carries on for another four more seasons. New York won't be free of Hank's money until he's 40-years-old. In terms of where he ranks at his position in the league, oh yeah, folks, he's No. 1.
Here's the top 10 from a season ago:
Henrik Lundqvist: $8.5M
Sergei Bobrovsky: $7.425M
Tuukka Rask: $7M
Pekka Rinne: $7M
Carey Price: $6.5M
Braden Holtby: $6.1M
Cory Schneider: $6M
Corey Crawford: $6M
Semyon Varlamov: $5.9M
Kari Lehtonen: $5.9M
Notables:
Now, I don't know about anybody else, but that $8.5M seems a little excessive.
Never should a player be heckled or harassed when looking to earn as much as possible. When in the NHL, he is fully within his rights to earn as much as possible in this free market. At the same time, there's also nothing wrong with the front office of the Rangers and loyal fans understanding when a mistake has commenced.
For the last few seasons, Lundqvist has been disappointing considering this hefty salary. This is not to day he's a downright net-negative for the team, but all things considered, it's a bad slot of 23.
Look at the list. Entering this summer, Hank's been the leading money grabber between the pipes. In fact, it's been this way for many years now — four years, in fact. Now that Montreal Canadiens goaltender Carey Price has inked his eight-year extension for a cool $84 million, finally, Hank is out of the No. 1 spot (as Price's $10.5M average tops the list).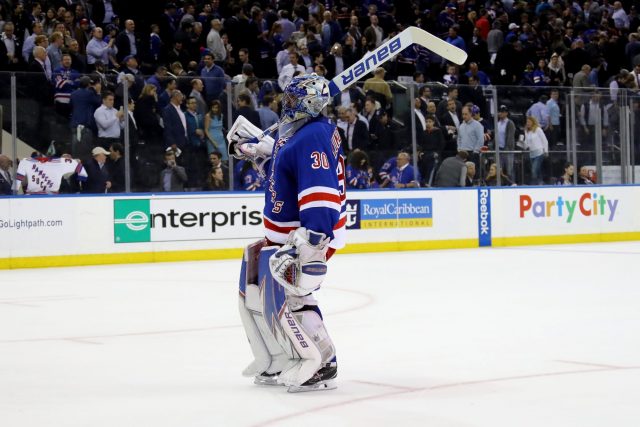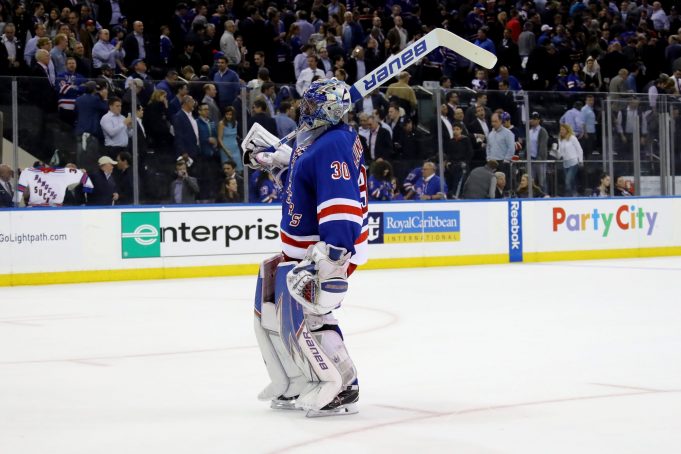 Even still, has Lundqvist performed like a top three or even five NHL goalie the last few seasons? Many could argue the guy who was traded to Edmonton two summers ago, Cam Talbot, is already better. If not better — already more "valuable" considering his more flexible salary (allowing more talent to be paid up front and along the blue line).
Even worse, the last time the Rangers were truly a dominant squad came when Talbot was in between the pipes, all the way back during the early months of the year of 2015. Talbot's run when Lundqvist was smacked in the throat by a Ryan McDonagh stick earned the Rangers their second Presidents' Trophy this decade. When Lundqvist returned, the club had to fight all the way to the final whistle as seen in the second-round against the Washington Capitals (overcoming a 3-1 deficit) and then losing to the Tampa Bay Lightning in the ECF.
Obviously, never is one man the sole issue or reason, but the fact is, the Rangers were a better team on the ice with Talbot during the 2014-15 campaign. Perhaps it was Talbot's stick-handling that greatly blended with Alain Vigneault's uptempo transitional system. Perhaps it was sheer luck. With Talbot continuing to outplay Lundqvist north of the border, it's tough to think it was the latter.
Never would I suggest Talbot is a better goaltender than Lundqvist — when the two careers are glanced at. Perhaps now, he is, but he can't hold a candle to Lundqvist's NHL and Rangers career.
What fans can't grasp is that's not that issue at hand.
What really matters is true "value." Talbot's flexible $4.16M salary with a younger age far outplays Lundqvist's hefty $8.5M with four years left at 36-years of age. This is why I suggested the smarter move was to trade Hank two summers ago. Much to the dismay of most Rangers fans, of course. If Hank was convinced to waive his no-trade clause, New York could have kept Carl Hagelin, re-signed Derek Stepan (as they did), and still had extra money to bring in a stud forward all with a goalie who is younger and outplayed Hanky that season.
Moreover, take a look at recent Stanley Cup Champions. It doesn't pay to dish out big bucks to goalies these days. The goaltender position has gone down the same road as the NFL running back has. Both positions have become devalued (even though the goalie is still much more important). All of the top paid goalies are Cup-less. The teams who save their cap space for skaters while finding the hot goalie usually win the chips.
This all brings us full-circle to the issue at hand.
Glen Sather, Gorton and the rest of the suits in the front office can't undo what they did with Lundqvist. The only thing they can do now is pray that he doesn't drastically fall off that cliff he looked to be tumbling down for the better part of the 2016-17 regular season. When tournament time came, Hank shined (for the most part).
We're not the front office. We are the general public who holds these organizations responsible. Without us, the fans, there would be no accountability.
We're allowed to love Lundqvist, admire everything he's done for a franchise that struggled so mightily before his arrival and still understand he needs to perform to his expectations. He must perform to that absurd $8.5M level he asked for and received without hesitation.
No. Criticizing Henrik Lundqvist doesn't mean you're any less of a Rangers fan. It means you hold him accountable just as much as he does the same with his teammates who bust their ass in front of him.
Don't ever think everybody else always lets down Hank. He's part of the equation. Another big save here or there coupled with a little less on his salary might have made all the difference in the world.
So now, that you're ready, go out on Twitter and craft a post that criticizes Henrik Lundqvist. Hit send, put your feet up and start laughing your day away at the nonsensical reaction.