Despite the stinging loss that is Quincy Enunwa for the entire season, the world of the New York Jets hasn't yet crashed down around them.
O
n a dreary Monday in the big city, northern New Jersey and Long Island, news broke surrounding area football that had too many torturous souls uttering the same thing over and over.
This is so Jets.
Fourth-year pro Quincy Enunwa was proclaimed as out for the entire season due to a neck injury, via Mike Garafolo of NFL Network.
Jets WR Quincy Enunwa is out for the season with a neck injury, sources say.

— Mike Garafolo (@MikeGarafolo) August 7, 2017
The #Jets WR corps is likely to take a big hit in 2017.

More on Q's injury → https://t.co/YMs87JqiJ8 pic.twitter.com/PGnAytkM0I

— New York Jets (@nyjets) August 8, 2017
Who else but the New York Jets? Who else would experience a stinging injury such as this to a young exciting pro who was ready to assume the No. 1 wide receiver title after both Brandon Marshall and Eric Decker were allowed to spread their wings in free agency?
Nobody, really.
There's no skating around this one. Losing Enunwa, the most recognizable and exciting offensive player on the club who recorded 58 catches, 857 yards and four touchdowns during a terribly down season, is a blow that cannot be rationalized. If the same fate had gone to Matt Forte, we'd all say, "Oh, well." If it was Robby Anderson, OK, it's a livable situation. But having it happen to Enunwa is simply crushing.
There's just one key to this blow that's causing Armageddon in and around Florham Park, New Jersey.
Enunwa isn't a disaster from a team perspective.
For the 25-year-old kid on a personal level, it's brutal. And yes, the news hurts the weaponry on the offensive side of the ball. But he's still a wide receiver on a weak team loaded with plenty of talented but unproven wide outs.
This is already a terrible football squad. What does Enunwa's absence really mean?
Many are already hopping on the bandwagon that is, "Christian Hackenberg really has no shot to develop, now." But Enunwa shouldn't be the make or break factor when considering that. Instead, it's the offensive line that is really up on the cross in determining of Hack has a legit chance to shine in 2017.
Without time, there are no weapons. Without a running game, there is no full playbook in terms of a legitimate seven-step drop passing attack. The offensive line has always been and always will be the backbone of offensive football. It isn't coincidence that this is the case when the O-line consists of almost half of the entire offense (5-of-11 individuals).
When turning that page, who exactly are these no-name youthful weapons that'll act as the pass catchers for the Jets in 2017?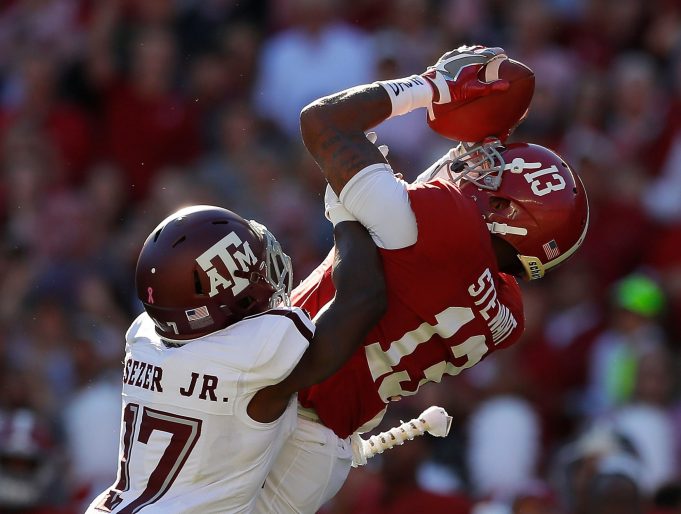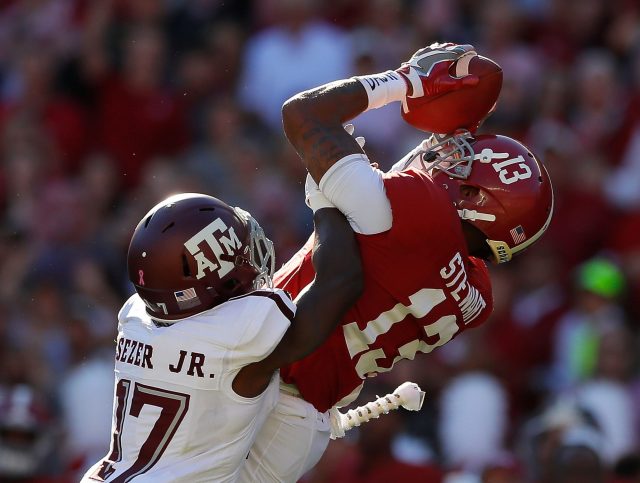 1. ArDarius Stewart
Yes. I put ArDarius Stewart No. 1 on this list for a very specific reason. Of all these no-namers, this Bama product is equipped with the top shot to lead a WR group.
He's not the speediest weapon of the group, but he's crisp with his actions. With a 40-yard-dash around 4.50 and a stature of 5-foot-11 and 204-pounds, Stewart will need to execute proficient route-running in order to become that possession guy he can be at this level.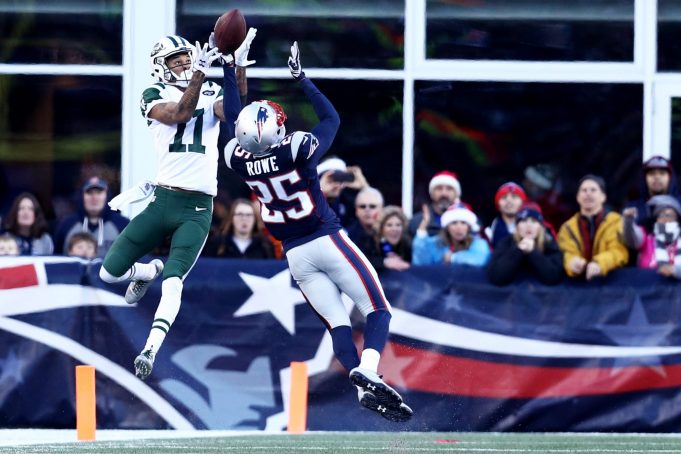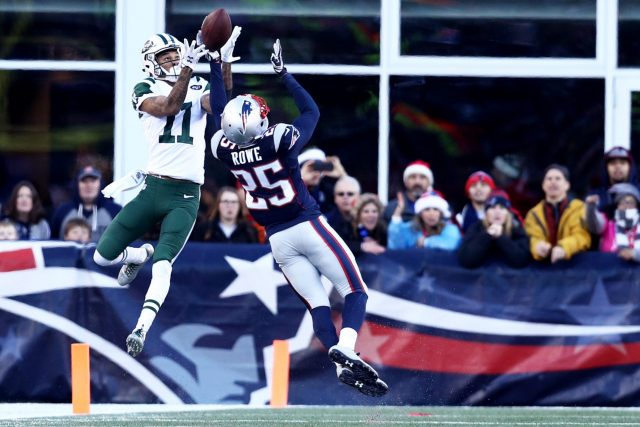 2. Robby Anderson
Equipped with a blazing 4.34 time in the 40, Robby Anderson, unlike Enunwa, is the lone speed demon of the group. This makes him ultra critical. He's the lone deep threat for the Jets QBs.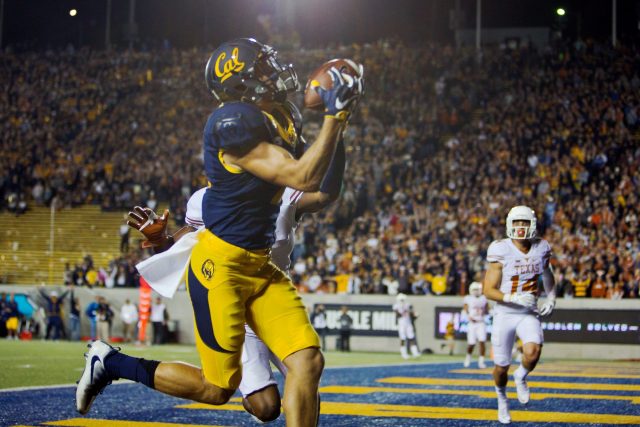 3. Chad Hansen
After choosing Stewart in the third round, Mike Maccagnan swooped in and took another receiver in the fourth, Cal's Chad Hansen. And yes, we put Hansen ahead of Jalin Marshall for that starting slot role.
Hansen falls along the line of a Julian Edelman or Wayne Chrebet, that perfect shifty slot man who, if uses his smarts and outstanding awareness along his route tree, will excel.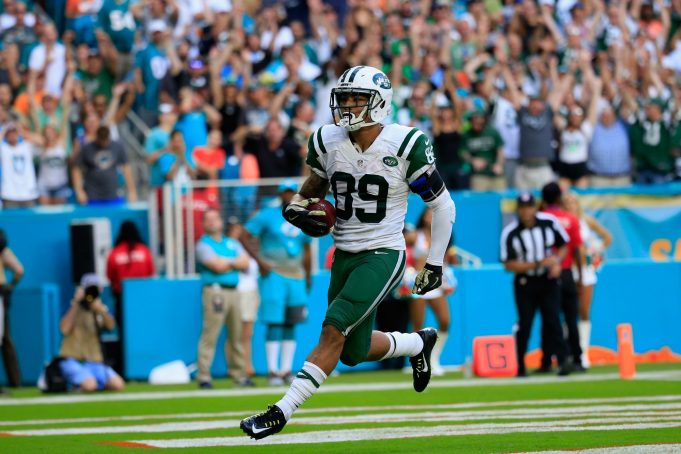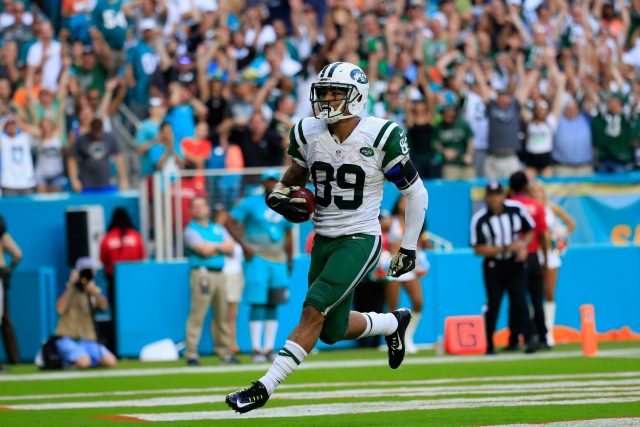 4. Jalin Marshall (4-Game Suspension)
Due to his four-game suspension for violating the league's substance abuse policy, Marshall will have to prove himself heading into Week 5. Much like Hansen, he also falls along the line of that prototypical NFL slot man.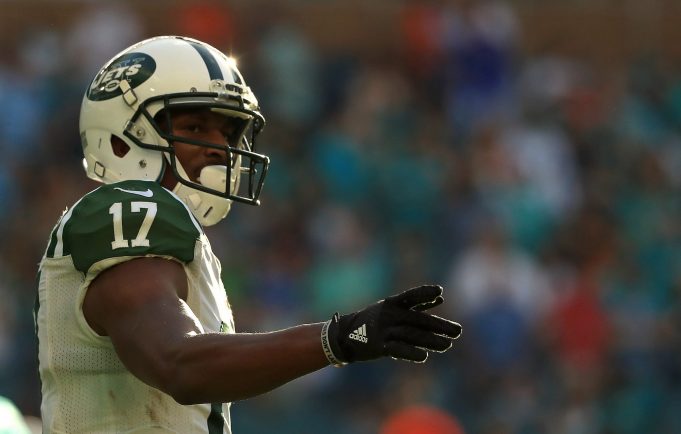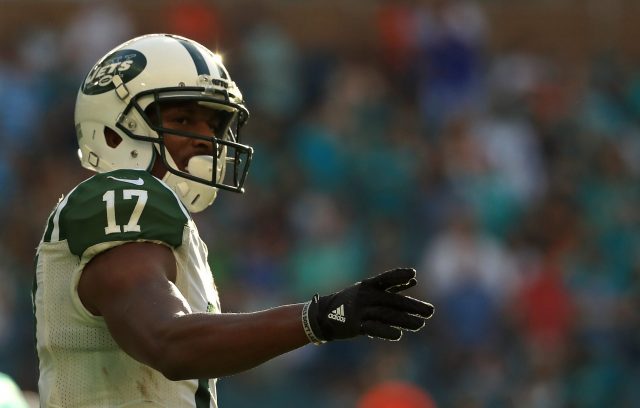 The tall, lanky weapon has every opportunity to snag the No. 1 receiver slot this August. Despite his seventh-round pick status two drafts ago, Peake impressed enough in 2016 to earn his spot within the top five.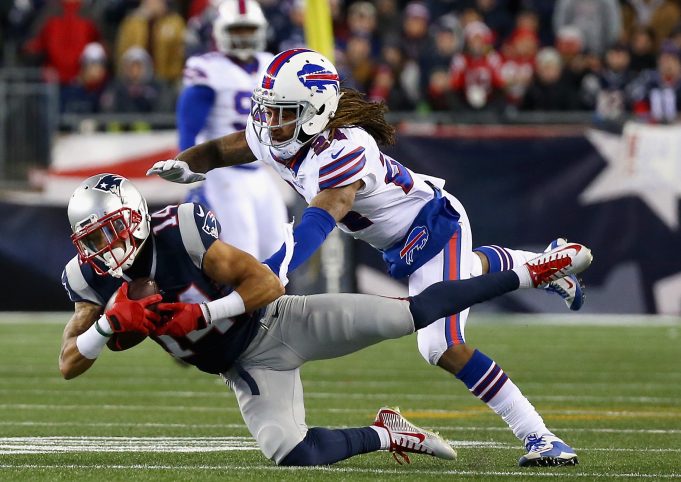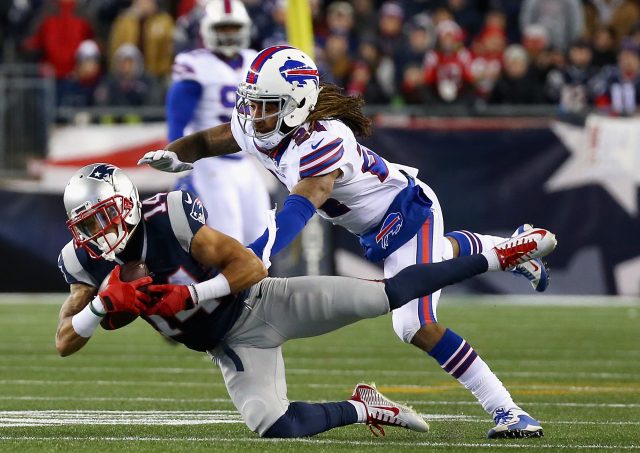 This kid is still a virtual unknown despite his bomb of a touchdown from Josh McCown this past Saturday night at MetLife Stadium during the Jets annual Green & White Scrimmage.
WR @ItsChrisHarper just continues to make plays at #JetsCamp pic.twitter.com/vkkbWjyoI8

— New York Jets (@nyjets) August 7, 2017
Light at 175-pounds, Harper's electricity on the field is enticing and he could be that fill-in the Jets are looking for at the position.
Without Enunwa, think of the group like this: Hansen should be in line for the slot spot. Stewart, Anderson and Peake are battling for the top two spots, the two starting wide receiver positions. When Marshall comes back, he'll be inserted with Hansen at the slot.
As you can see, there are no big name Jets wide outs. Even with Enunwa, there weren't any big names. Still, there is depth. We just listed six young kids who'll continue to compete until the final whistle in Week 17.
What matters more than Enunwa's loss is the performance of the shaky offensive line. Let's ask them to do their job before we start worrying about weapons.
Pass protection and a running game are entirely more important for Christian Hackenberg than Quincy Enunwa.