The Brooklyn Nets have commenced their rebuild, and collected some young talent in preparation. After trading away their franchise player, what can fans really expect for next season?
G
eneral manager Sean Marks has pulled off one of the best summers across the league and prepared the Brooklyn Nets to take big strides this season.
Just how big those strides are, fans have to wonder. Well, if we're being honest …
A Rough Start
Brooklyn traded away their franchise player in big man Brook Lopez and added four starting players afterward. Chemistry doesn't happen on its own–nor will it.
Jeremy Lin and D'Angelo Russell are two point guards expected to share the back court together this season. Lin has little to some experience in this system after his year in Charlotte, but Russell is used to facilitating the entire time.
They'll certainly need more than one game to sort things out. Hell, it may be the end of the season before they catch on.
The Nets only played seven games without Lopez last season, and this year, they'll have to play all 82. Last year's starting center, he averaged 20.5 points and 5.4 rebounds per game.
An impact on both the defensive and offensive ends, the void of his production will be more than apparent from the start of the season.
With a new wrinkle in the offense, expect Brooklyn to take off walking–but not forever.
---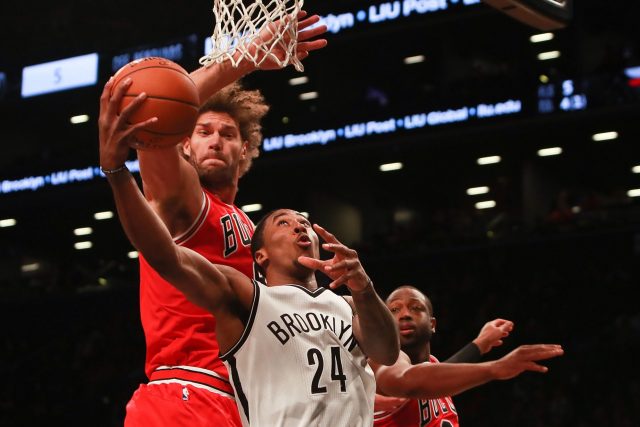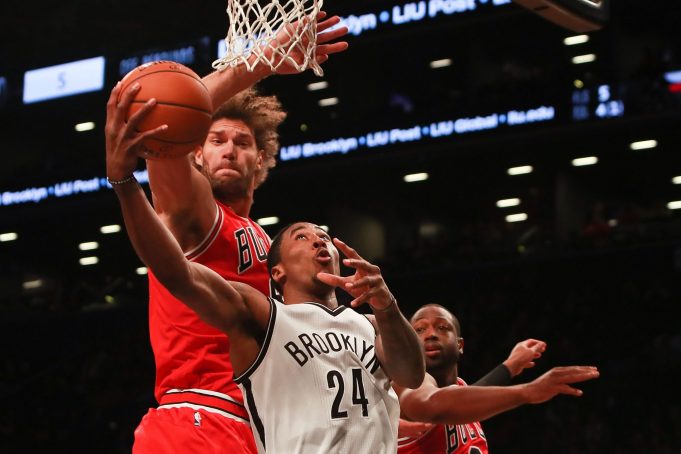 ---
Drafted 23rd overall by the Portland Trailblazers in the 2015 NBA Draft, Hollis Jefferson was traded to Brooklyn on draft night.
After an injury-ending rookie season, he truly took to learning the ropes his sophomore season. Now, he's being rewarded. Zach Lowe reported that Hollis-Jefferson will open in camp as the starting power forward.
The former Arizona Wildcat plays well in a starting role, and now may have secured it. He will be competing with DeMarre Carroll, which may push him even further. Last season, however, we saw enough potential to justify coaches' decision. He too made his case, in the NBA's Team Africa vs World Game earlier this week.
Rondae Hollis-Jefferson is airborne! #SCtop10 pic.twitter.com/nCXBCocSz3

— SportsCenter (@SportsCenter) August 5, 2017
As seen there, this young forward has a vertical and moves quickly in the open floor. He scores efficiently in the paint (44 percent), and moves well in the post for only 22 years of age. Rondae's biggest weakness certainly lies in his deep shooting.
Last year, he averaged 22 percent from behind the arc, and only connected on 15 shots through the year. In today's NBA, the development of the three ball is monumental to a young player's game. If he can find his stroke from deep, Hollis-Jefferson may secure the starting four spot for next season.
Through 78 games, Hollis-Jefferson averaged 8.7 points, 5.8 rebounds, and 1.1 steals per game. He posted a season-high of 20 points on two different occasions, wins over the Phoenix Suns and New York Knicks.
---
---
Some Not So Big Games from Jarrett Allen
The Brooklyn Nets drafted big man Jarrett Allen with the 22nd pick of the NBA Draft back in June, likely as a replacement for Lopez. It won't be an immediate replacement by any means.
Allen didn't see the Summer League floor due to injury caution, so fans didn't get a sneak preview of his current readiness. At 6-10 and 235, he certainly has the frame to go up against today's top centers, just not the size. In his first press conference with Brooklyn, the rookie himself agreed he needs to bulk up.
Nonetheless, Allen's length and versatility have set him up for tremendous growth this year–just not off the bat. After trading for Timofey Mozgov, who's owed nearly $60 million through 2019-2020, Allen will most definitely serve as the backup big man.
That's not a role that's going to expose him immediately, which is better for Brooklyn and the rebuild alike.
A New York Takeover
That's right–the Brooklyn Nets will be New York's basketball team next year. Maybe not the most popular, but they certainly are on track to best them in overall record.
After signing trading for three immediate impact players, and hoping for a healthy Jeremy Lin, Brooklyn may prove better off than the aftermath of Phil Jackson's Knicks empire of mediocre basketball.
Last season, the Knicks and Nets finished 13th and 14th in the Eastern Conference respectively. New York won nine more games than Brooklyn, who recorded a (20-62) record.
With a Carmelo Anthony exit pending, and a rebuild commencing, the Knicks will be facing a losing season next year. Heading into this, it wouldn't hurt General Manager Steve Mills' to read up on Sean Marks recent moves.
The New York Knicks are headed into next year with no direction–while the Brooklyn Nets have all eyes set on young talent and a possible playoff appearance.
---
---
The Brooklyn Nets are on track with their rebuild plans, which will continue through this season. Rondae Hollis-Jefferson has earned a starting spot, and Jarrett Allen will begin working to earn his. The New York Knicks will fall, and Brooklyn will watch it happen in the rear view.