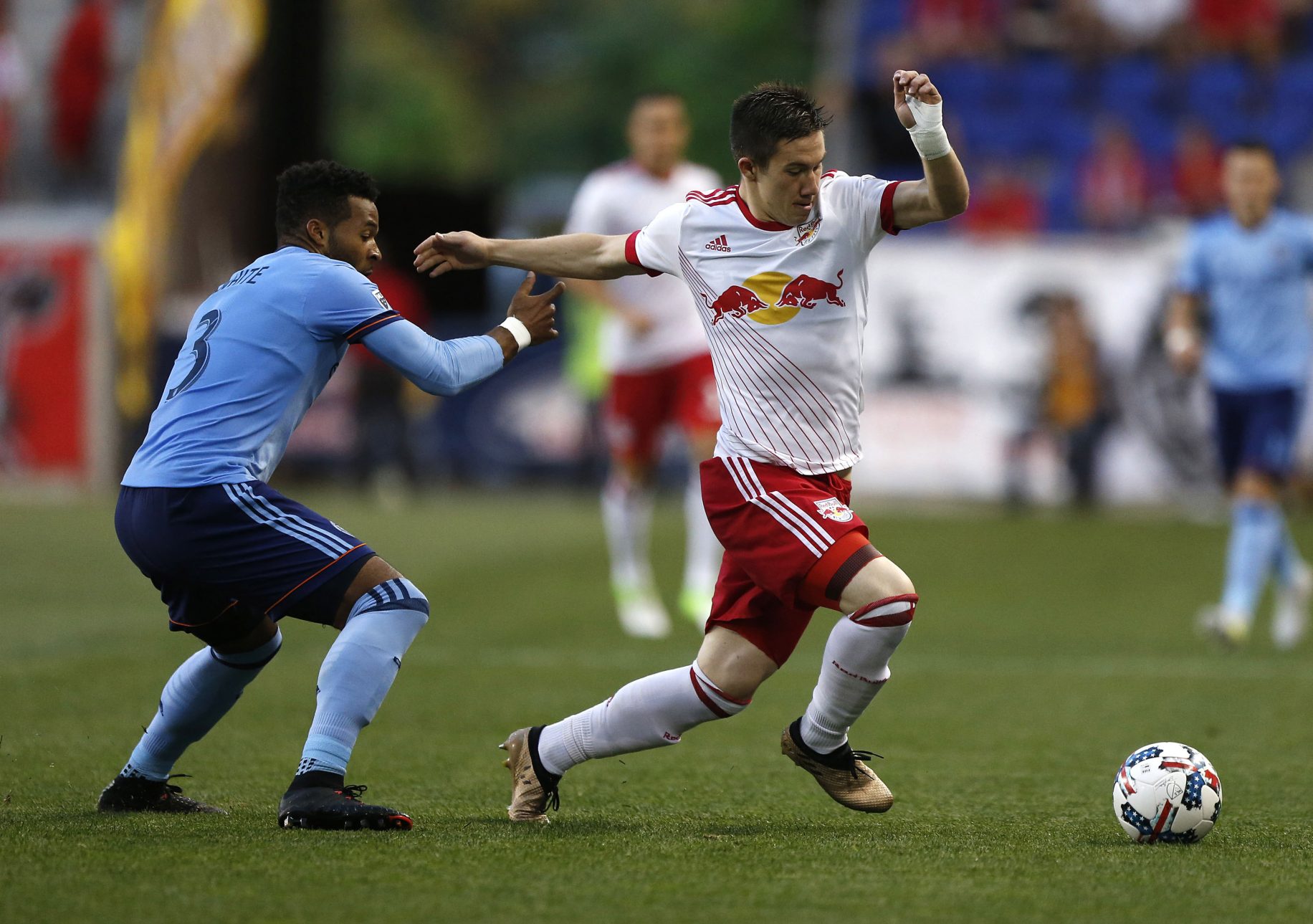 The New York Red Bulls train optimistically as they head into the second-to-last Hudson River Derby of the 2017 season.
T
he New York Red Bulls' amorphous formation dubbed "The Santa Maria" will be on full display this weekend against NYCFC.
Without a definite form, RBNY's attacking-heavy formation will surely prove to be a handful for NYCFC. As a result of the offensive-minded high-pressure attack RBNY has seen increased opportunities. A fruition of RBNY's attacking strategy is proven by more shots, shots on goal, and goals.
A noticeable contributor to RBNY's attacking numbers has been Daniel Royer. Voted Alcatel MLS Player of the Month, Royer has seen outstanding numbers. He scored six goals in his last four starts.
Daniel Royer has been voted Alcatel @MLS Player of the Month! Congrats, Dani!!! ?‍♂️

?➡️ https://t.co/UZB6uUHoNe#RBNY pic.twitter.com/6evxtuwUA8

— New York Red Bulls (@NewYorkRedBulls) August 4, 2017
Royer also posted one assist and 15 shots. 10 of those shots were directed toward the goal. Bradley Wright-Phillips and Sascha Kljestan, amongst others, have seen their games improve.
As the New York Red Bulls head into Sunday they will have to be cautious. A cautious, yet confident game plan is exactly what Jesse Marsch has in mind.
In a practice interview, he determined that RBNY's formation will take shape according to their opponents. The observant Jesse Marsch is a coach of strategic planning and he plans to provide a flexible and reliable solution to the attack-heavy NYCFC.
The "Santa Maria" has also proven quite helpful defensively. What should also be looked at as a "the great defense is a great offense" formation, the RBNY goal has been producing goose-eggs.
Luis Robles, honing his sights on the game Sunday as opposed to previous successes, commented on the importance of winning.
"They came to our place and took three points from us. We'd like to return the favor."

? https://t.co/GNqsNypuRs#NYisRED | #RBNY pic.twitter.com/dorU2dSK23

— New York Red Bulls (@NewYorkRedBulls) August 3, 2017
He highlighted RBNY's placing at fourth in the East and NYCFC's place at third as the motivational focus for Sunday. Additionally, Robles wants to return the disappointing home loss experienced earlier in the season at Red Bull Arena.
What is your prediction for Sunday's game? Will RBNY's newfound attack bring three points back home to the Jersey side of the Hudson? Will NYCFC gain their second Derby win of the 2017 MLS season?