We know Eli Manning has done a lot for the New York Giants and now his role is even more important for rookie Davis Webb.
The New York Giants drafted Davis Webb in the third round of the draft, with the hope that he will be able to develop into Eli Manning's replacement. With Manning entering the season at 36 years old, the team is all too aware that he won't be around forever and hope they have addressed the future at his rock-solid quarterback position.
No player ever wants to sit out. While Webb has come to an understanding that Manning is the guy for now, it's going to be frustrating for him to sit behind Manning. But if he's smart, he'll learn all he can from Manning, who should be a great teacher for Webb.
If you think that Manning doesn't see the future coming at full speed in the rearview mirror, think again. Manning fully understands that he's coming up to the end of his career. He told Tom Rock of Newsday that he understands why the team got Webb.
"We drafted a quarterback four years ago with Ryan Nassib so I understand they have to draft a quarterback and they have to draft players on the board who are going to help out down the road," Manning said in an interview with Newsday.
No player ever wants to face the fact that their career is coming to a close, but Manning has a better perspective on it than most. All he needs to is watch how his brother, Peyton Manning, struggled in his final season to be reminded that Father Time remains undefeated.
Manning will make the perfect teacher for Webb in his journey into the NFL in many ways. First, Manning understands Webb's inevitable frustration with sitting behind a veteran. Webb probably won't publicize it, but no player in the NFL wants to be riding the pine. Manning spent half of his rookie season sitting behind Kurt Warner while he adjusted to the NFL.
Manning will be able to explain to Webb the benefits of not being rushed into action. By sitting behind Warner, he had the ability to see the game live at NFL speed before stepping in, as well as taking time to get familiar with the playbook. He will be able to relate to Webb's frustration, while also reminding him that there are positives to taking in the game on the sideline.
Another benefit is that Manning and Webb are similar heights (Manning is 6-foot-4, while Webb is 6-foot-5). Thus, Eli is very familiar with both the advantages and disadvantages of playing in the NFL at that height. He can help explain to Webb how to use his height to his advantage against rushing NFL linemen. He can show Webb what arm slots are ideal for certain blitzes or coverages. This may seem like a small detail in the grand scheme of things, but it could go a long way to helping Webb's confidence on the gridiron.
Perhaps the most important aspect of Manning's career is how he has experienced significant highs and lows.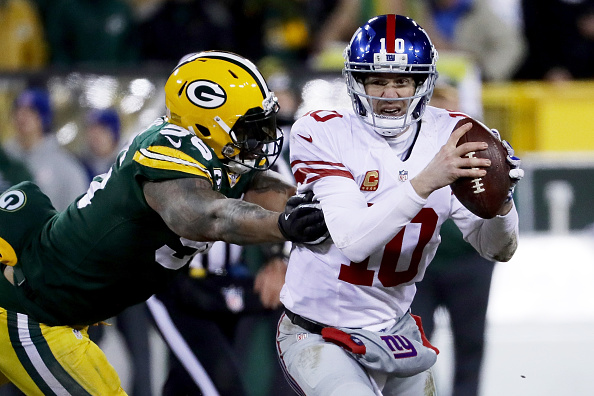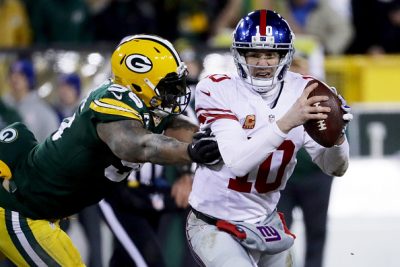 He's had some horrible lows. He's led the league in interceptions three times. His rookie year was absolutely dismal (6 TDs against 9 INTs with a 48.2 completion percentage and a 55.4 QB rating). He's had two games in which he threw five picks, plus he's had four more contests in which he threw four.
Manning has had some very, very bad moments in his career. He's had games where he's looked like he forgot that the cornerbacks aren't on his team. But he's also had some great moments.
He's had six seasons where he completed over 60 percent of his passes (and a seventh when he hit on 59.9 percent). He's made four Pro Bowls between 2008 and 2015. He's won two Super Bowls and taken home two coveted Super Bowl MVP Awards.
He's won a playoff game on the road in Green Bay, against one of the greatest quarterbacks in history, Aaron Rodgers.
And of course, he's beaten arguably the greatest quarterback in the 21st century, who plays on what is probably the greatest NFL team since the turn of the century. As everyone knows, he's crushed Tom Brady and the New England Patriots in two Super Bowls.
Oh, and New England was undefeated going into one of them. No big deal.
Manning had had tremendous highs, and agonizing lows. He understands more than most that failing but one time does not prevent future success, nor does current success guarantee success in the future. If he can instill that lesson in Webb, it increases the chances of Webb being a suitable replacement tenfold.
Manning is a great quarterback to learn from. Whether it's sitting behind a veteran, throwing a ton of picks in a game or a season, or winning two Super Bowls against a true dynasty, he's done it all. And if Webb listens, he should be well-prepared to take over as the starting QB when Manning is ready to hand over the reigns.
Davis Webb is in very good hands. Hopefully he knows what kind of a treasure he's got when he's learning how to maneuver through the NFL.