For newly acquired guard D'Angelo Russell, this NBA season, 2017-18, with the Brooklyn Nets is no ordinary year.
A
fter two years with the Los Angeles Lakers, D'Angelo Russell has landed in Brooklyn. Set to start anew, he has more to prove this season than most.
Everyone's familiar with the infamous phone scandal of 2015. Russell secretly recorded teammate Nick Young talking about cheating on his girlfriend. The "prank" went haywire, and lead to Young's break-up.
He violated the sanctity of the locker room. He broke the bro code. That alone is enough to have you theoretically sleeping on the couch for weeks—especially when a rabid Lakers fan base finds out about it.
But it didn't stop there.
A former number two pick, Russell was met with heavy criticism when the Lakers' recorded a league worst (17-65) his first season. His arrival was supposed to commence the new era in Los Angeles and fans were growing impatient.
---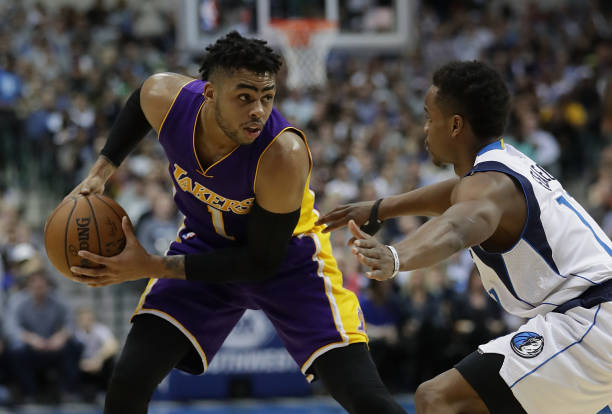 ---
The criticism only grew the next season, as the Lakers only recorded nine more wins, failing to berth playoffs again. They received the second overall pick in the draft and were set to draft point guard Lonzo Ball.
No one expected Russell to remain on the team with a new point guard on the way, and he was traded to Brooklyn on June 20th.
But it didn't stop there.
Magic Johnson, the President of Basketball Operations for Los Angeles, had some criticisms for Russell at the post-draft press conference.
"We want to thank him for what he did for us. But what I needed was a leader. I needed somebody also that can make the other players better and also somebody that players want to play with."
At the Gatorade Athlete of the Year Awards in Los Angeles however, Russell gave high praise for such a low comment.
"Magic is one of the greatest of all time. For him to say something like that, for me, is still an honor. Whatever criticism he has for me, I'm going to take it and make the best of it. I don't look at it as a negative."
It showed incredible maturity, but nonetheless, he's still walking into this season with something to prove.
This season with the Nets will be pivotal to the shaping of his career. Does he develop into the leader Magic Johnson says he wasn't? Could he be selected as an Eastern Conference All-Star?
My gut says yes, and here's why.
D'Angelo IS a Leader,  but the Lakers Won't be Led
Despite Magic Johnson's excellent knowledge of all things basketball, I have to argue his comment about Russell being a leader. After just two years in the league, he has been all the leader he can be at his age.
In his sophomore season, the point guard averaged 15.6 points, 4.8 assists, and 1.4 steals per game. Even through injury, he never missed a beat.
Did he have bad games? Yes, but don't all second-year players that are forced into a leading role?
His good games, however, were so good. You can really see the kid's potential once he gets on, and it's scary stuff.
---
His most recent encounter with his new team:
Russell was the Laker's offense that night, and even got a couple assists next to his seven three-pointers made.
---
As far as his capacity to facilitate, here's his double-double in a win over the Denver Nuggets:
He was the Lakers' offense that game again, and it helps that his favorite target was Nick Young. As a young leader on a young team, it's hard to find the balance in your contribution to the offense. Especially at point guard.
Last season, the Lakers went (7-12) when Russell scored 20+ points. When he scored between ten and twenty points, the team went (12-17). They only won one game when he scored less than ten points (1-13), excluding games he sat with injury.
His impact is obvious, but his scoring displays may have been detrimental. Nonetheless, it's all a learning process.
---
---
Dealing with the scrutiny of Lakers' fans can't be easy (see Kobe Bryant early years), but overall Russell handled himself well.
With eyes set on a new beginning in Brooklyn, there's no doubt we'll see him playing with a newfound fire in his gut; and of course the infamous ice in his veins.